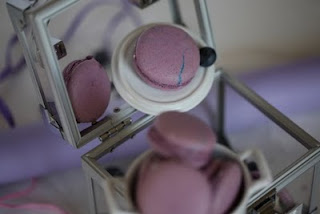 I was delightfully surprised two weeks ago when a contact of mine sent me flavors I have had a hard time purchasing. My gratefulness soon turned to ideas for macarons and some recipes I am still perfecting. Of course I sent this very generous person pictures of these heavenly pastries.
Pomegranate Macarons with White Chocolate Crème Mousse and
Macaron aux Bleuets with White Chocolate Crème Mousse
As any one who has ever read my blog knows I have an obsessions with the French Macaron and love to play with flavoring the shells as well as the filling. So when I received an early Christmas present, the natural, organic flavors, (yes to me this was an early Christmas!) I cracked open a dozen eggs and proceeded to separate the whites. No worries I created more desserts with the 
yolks
, but that is another blog.
Placed them, the egg whites, safely away in the back refrigerator and waited four days. Believe me the wait was excruciating, but I survived by baking with
Sydney!
Since I don't want to bore you with the four days of waiting I will just fast forward to Saturday.
We decided to work with the blueberry macarons first, since it is blueberry season, they're more accessible, and I happen to love blueberries.