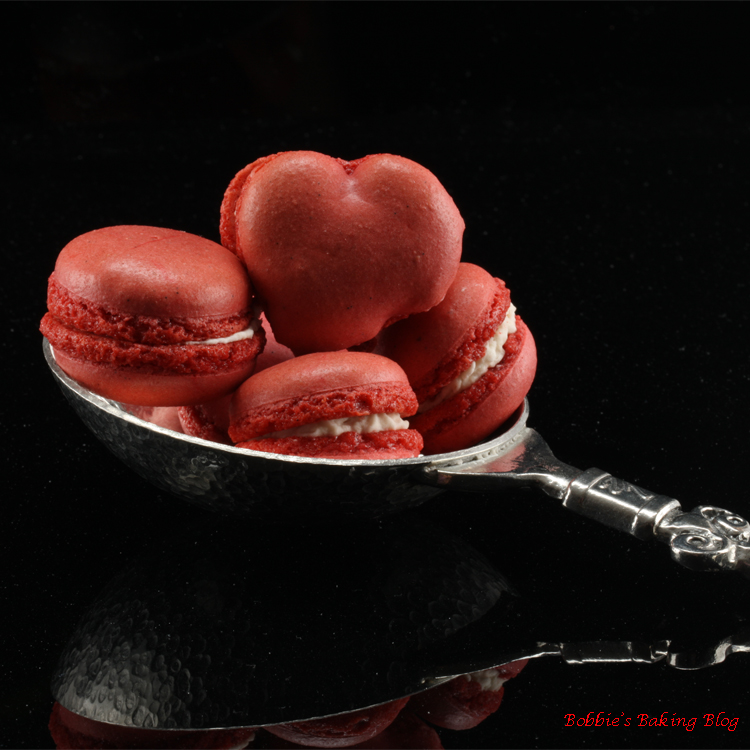 Strawberry Vanilla Macarons
Okay, before I begin this post I am warning you this is a "mushy" heart felt post. Anyone who has read my blog knows Sydney is my heart from the day she was born. As she has journeyed through her life, I have been there to help and guide her. If she was hurting, I tried to reduce the pain. However, there are some pains that I cannot reduce. I am having a difficult time with the pain she is experiencing now; she has come to me for guidance. I know through my own journey that the guidance she seeks comes with experience and wisdom of living through the pain. A disturbing place to be for a mother; my heart is breaking for her, I want to seize the situation and fix it. Even if I had the ability to put all the pieces together, the way she wants them to fit, the out come would be more painful later.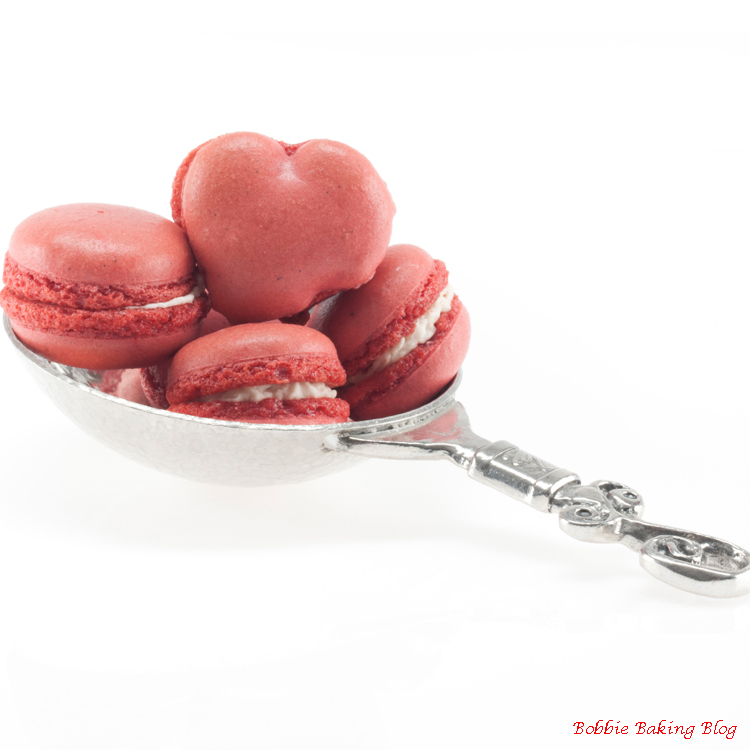 I pronounced we needed a girls day out, lunch first, pedicures, waxing, hair, and make-up lessons (we both wanted to learn the smokey-eye look). I arrogantly believed if she had a special day of pampering and the end result was her looking even more beautiful (not easy, she is eye "poppingly" exquisite without any make-up) she would feel better. Since her pain runs deeply, just the opposite happened, she became more melancholy than ever, and Valentine's Day exaggerated the issue. Please don't miss understand, she was thrilled to be pampered, and during the day and early evening she was blissful and grateful. As the night wore on the distress eked  it's way into her heart.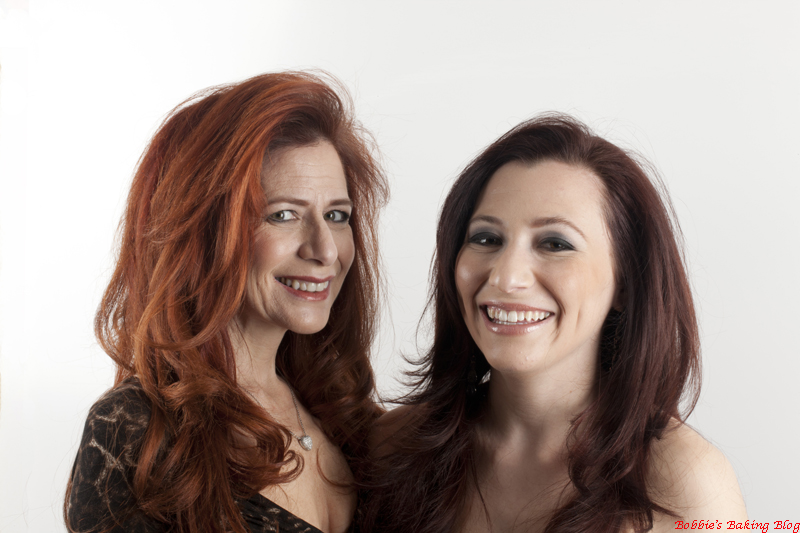 The night of our day out!
As any parent knows there is nothing worst than not being able to help your child. The psychologist in me knows the best way to guide through this experience is to let her figure things out herself and come to her own conclusion. Knowing I was unable to say anything that wouldn't sound condescending, I decided we should bake up some of her favorite macarons, Strawberry-Vanilla. Believe it or not I always have at least 200 grams of liquid egg white "aging" in the refrigerator.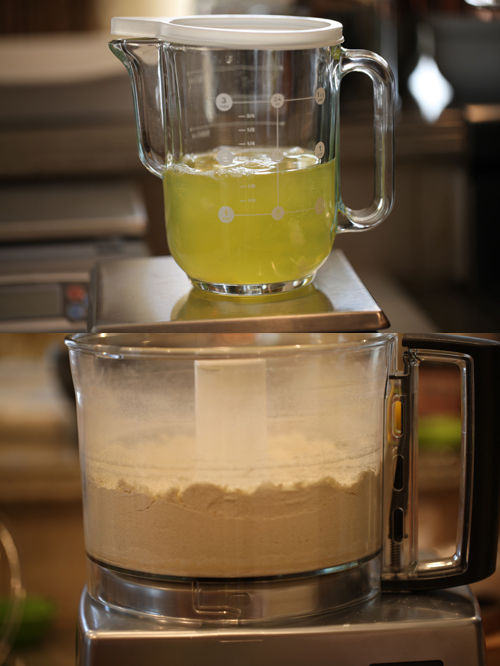 With almond flour and egg whites, we were ready
It astounds me the way food can help heal the heart. From the moment we dug our heels in the kitchen floor Sydney's disposition changed. She was smiling and we were joking around.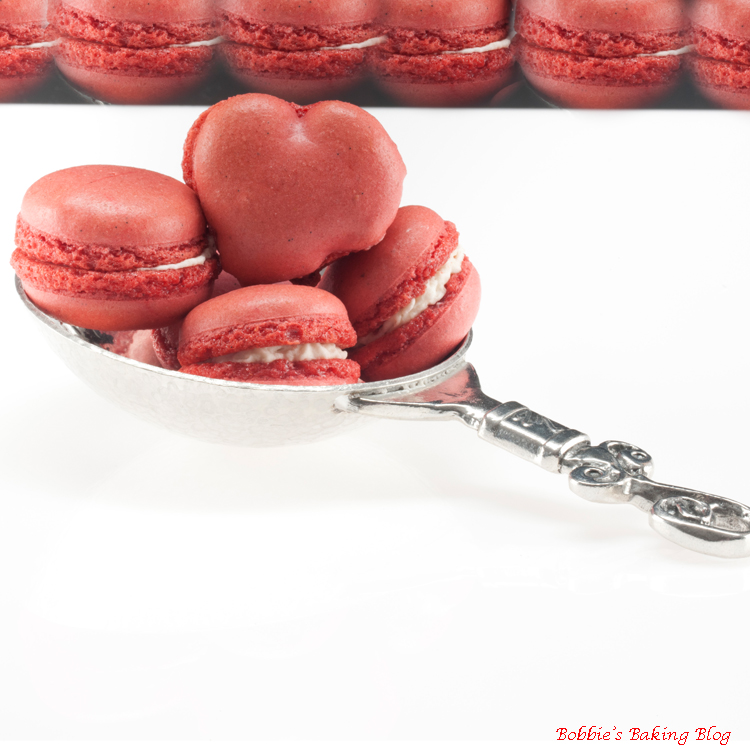 You can never have enough macarons
Strawberry-Vanilla Miracle Macaron:
For the macaron shells:
99 grams egg whites, divided in half, at least 3 day old separated
48grams egg white/ about 1.5 egg whites, room temperature
2 grams/1/8-teaspoon egg white powder, optional & helpful
104 grams/7/8 -cup icing sugar
88 grams/7/8 almond finely ground
Sugar Syrup:
26 grams/ 1/8 water
103 grams/ 1/2-cup sugar
1 vanilla bean, scraped for seeds keep skin
10 grams/ 1-Tablespoon super fine sugar
50 grams egg white, about 1.5 eggs whites room temperature
1/8 -teaspoon cream of tartar
Pinch of salt
7 grams strawberry powder
Powdered pink food coloring, a dash to 1/8-teaspoon
Prepare your mise en place, this is extremely important, everything should be weighed or measured and set aside prior to beginning.
Pour half of the egg whites into the bowl of your mixer.
In a small pot over low heat, combine sugar, vanilla skin, and water. Swirl the pot over the burner to dissolve the sugar completely. Do not stir. Increase the heat and boil to softball stage (235 to 240 degrees). Use a candy thermometer for accuracy. Wash down the inside wall of the pot with a wet pastry brush, to prevent the sugar from crystalizing on the sides of the pot.
In the bowl of an electric mixer, whip the eggs whites, salt and egg white powder on medium low speed until foamy. Add the cream of tartar (if not using a copper bowl), increase the speed to medium, and beat until soft peaks. Add vanilla seeds, and  begin to slowly add the 10 grams of sugar to the egg whites. Whisk egg whites to medium firm.
With the mixer running, pour the hot sugar syrup in a thin stream over the fluffed egg whites. Beat until the egg whites are stiff and glossy. Do not overbeat your meringue or it will be too dry. The meringue should resizable a whipped cream texture, as my daughter says.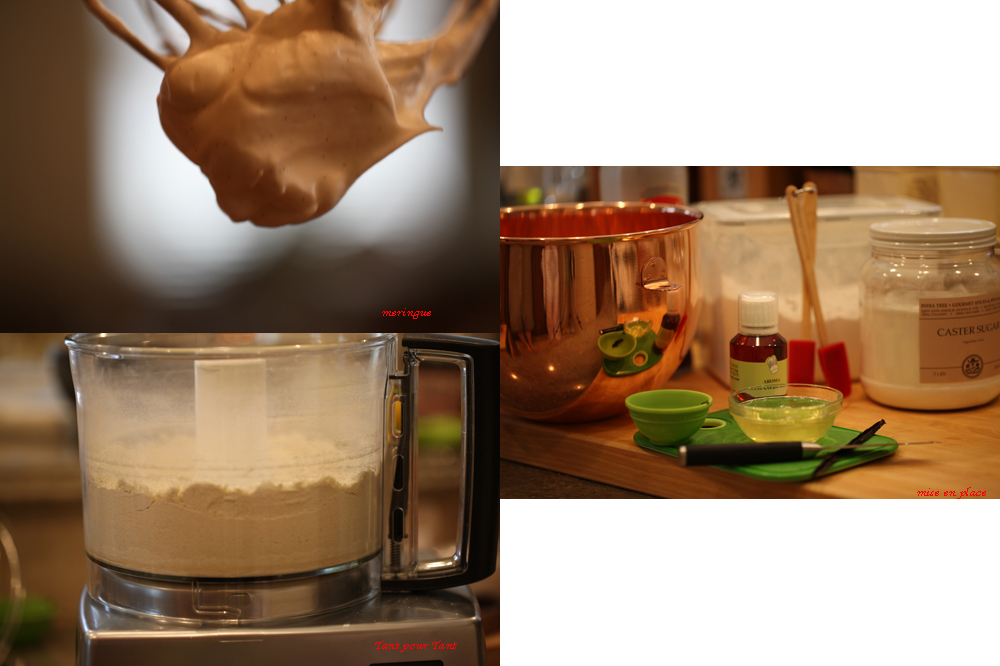 Place the almonds, powdered sugar, reserved powdered  strawberries in a food processor and give them a good pulse until the nuts are finely ground.
In batches of three add a third of the meringue to the almond mixture, give it a good fold to break some of the air. Keep folding till the almond mixture is mix into the meringue, and then fold another third of the meringue into the batter, continue to vigorously fold till there are no white streaks. Now add the last third of meringue to the batter fold till thick, shiny and ribbons fall from the spatula.  Fill a pastry bag fitted with a plain tip  with the batter and pipe small rounds (1.5 inches in diameter) onto silicone mats lined baking sheets.
Let the macarons sit out for about 1 hour to make sure the shells develop a skin. A well-made macaron features a crinkly "foot" on the bottom of each shell. I have found the best baking pans have ventilation holes.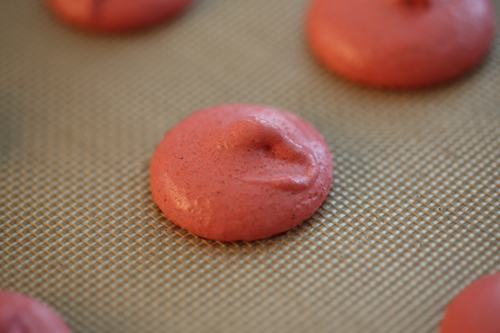 Preheat the oven to 300 F.
Reduce the heat to 280ºf.
Bake for 15 to 20 minutes, depending on their size.
Bake the macarons for 5 minutes, then quickly open, turn the pan, and close the oven. Bake them for another 5 minutes and open and close the oven again. Continue to bake the macarons until the tops are rounded and firm and a "crinklely" ridge, and the foot  has formed around the base, about 5 minutes more (check the macarons after a couple minutes, as the baking time will vary by oven).
Let cool.
Slide the silpat off the hot baking pan and onto a cooling rack and set aside until the macarons are cool.
If you have trouble removing the shells, gently twist the macaron and peel the silpat from the macaron. (Do not pull).
Don't let them sit there in the pans for too long or they will become soggy. Once baked and if you are not using them right away, store them in an airtight container out of the fridge for a couple of days or in the freezer.
Strawberry and Vanilla crème fraiche cream:
125 grams Crème fraiche, very cold
31 grams mascarpone cheese
23 grams powder sugar
1-teaspoon Fragoli
2 (66 grams) egg whites
Pinch of salt
Smidge cream of tartar
10 grams of super fine sugar
1 vanilla bean, split open and seeded
Place the bowl of a standing mixer along with the whisk attachment in the freezer ½ hour before preparing the filling.
In the very cold bowl place cold crème fraiche begin to whip to a very soft peak and add mascarpone cheese. Continue to whisk on medium high, slowly add powdered sugar, vanilla extract, and vanilla beans till stiff peaks form, be careful to not go to far and break the filling.
In a copper bowl whip egg whites (on medium low speed), a pinch of salt and cream of tartar till foam appears, and then increase the speed to medium. When medium peaks start to form slowly add sugar and increase speed to medium high and whisk till firm peaks form.
Fold the egg whites into the crème fraiche cream.
Prepare a piping bag with tip of your choice and pipe filling onto 1 macaron and than sandwich with another macaron.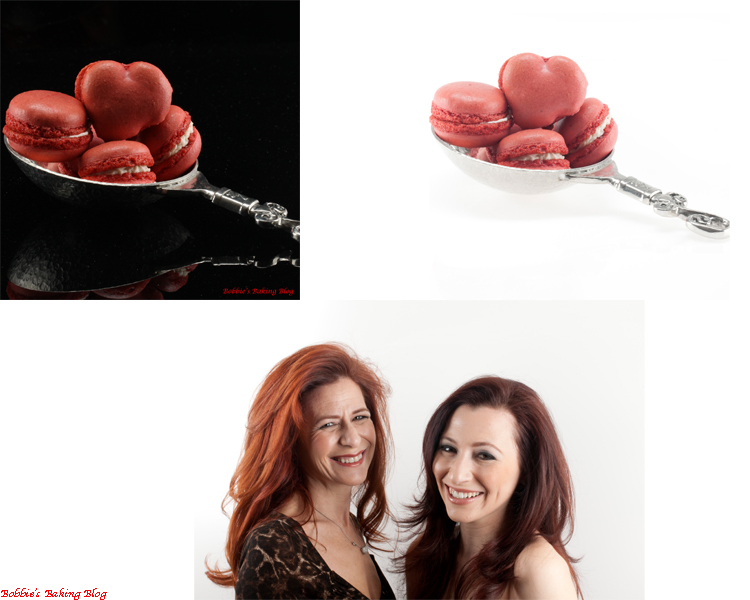 She is still distressed, but the macaron baking helped!