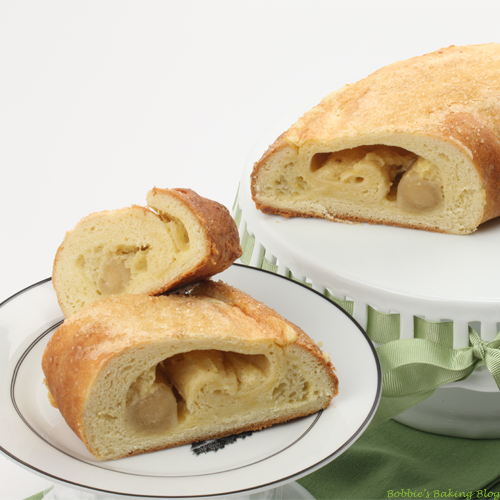 Crème Chiboust Brioche Coffee Cake
The March 2011 Daring Baker's Challenge was hosted by Ria of Ria's Collection and Jamie of Life's a Feast. Ria and Jamie challenged The Daring Bakers to bake a yeasted Meringue Coffee Cake. Sydney flashed back to the wonderful stollen challenge in December. She wanted to have an almond center with the meringue, so besides the Daring Baker's challenge we were also challenged with creating a coffee cake in which all the elements for the Daring Baker's challenged were met and were compatible with marzipan, which Sydney wanted.
Since the guidelines required were only to use a yeast dough and meringue filling there was a plethora of room for creativity. Brioche is our favorite yeast dough, we have made tarts, cinnamon roll, stuffing, savory pocket, sweet envelopes, têtes, and loafs; a coffeecake was screaming to be constructed from a brioche dough.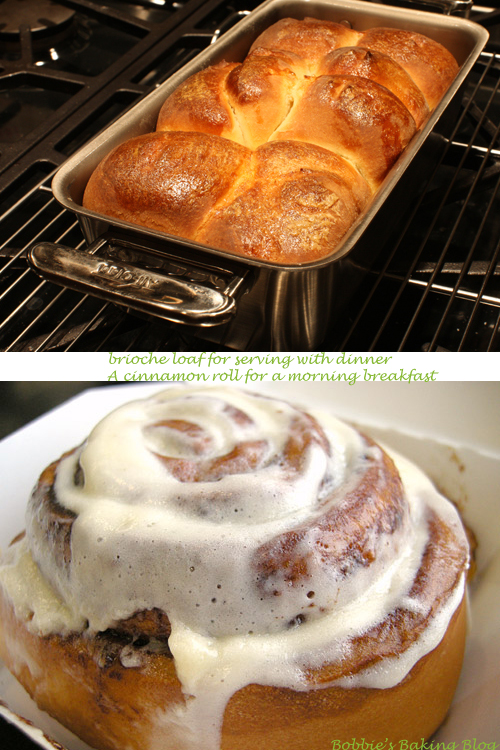 After the sponge for the brioche was completed, we set the timer for 34 minutes, and began to brainstorm the filling for the brioche coffeecake. Meringue was mandatory and Sydney's adamance for a marzipan center gave us a foundation to start with. I was having baking block as to what medium would marry well with both of those components. I was still blocked when the timer buzzed loudly, so continued to turn the swelled sponge into a sticky butter dough, and proofed it for about 125 minutes. Finally after gently defatting the large proofed brioche dough, allowing it to rest in a chilly refrigerator over night, did my "brain bulb" finally brighten: Crème Chiboust. We had just designed baby Gateau Saint Honorè with a delightful Crème Chhiboust; we both began to salivate.
Yeah, the coffeecake had a structure.
The next day we began to put all the pieces together.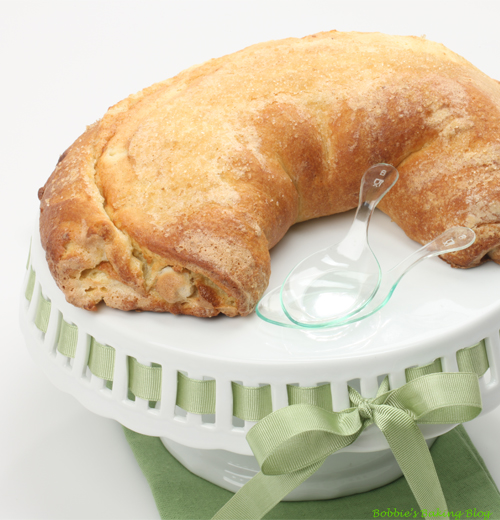 I am filled to the maximum!
Brioche Crème Chiboust Coffee Cake:
1/2 brioche recipe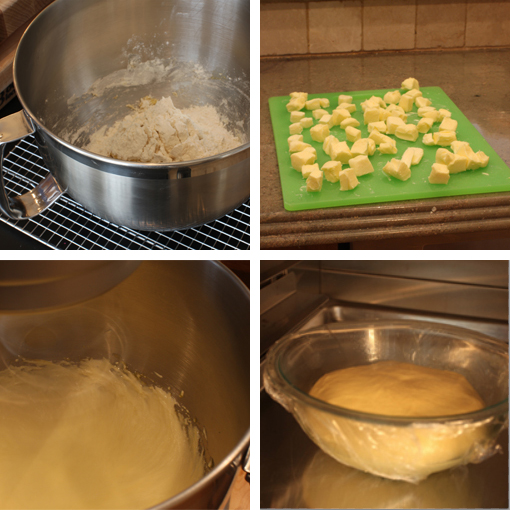 Crème Chiboust:
40 grams sugar
60 grams/3 large egg yolks
14 grams cornstarch, plus 1 grams vanilla powder
175 grams whole milk
½ vanilla bean
Prepare your mise en place.
Combine half the sugar with the egg yolks and pastry cream (cornstarch) in medium heatproof mixing bowl, whisking to combine well. Set aside.
In a medium heavy bottom pan place milk with remaining sugar, vanilla pod  over medium heat, and bring to a boil.
Remove the hot milk from the heat, scrape out the seeds from pod. Whisking continuously, pour about 1/3 of the milk into the egg yolk mixture to temper.
Still continuously whisking pour the egg mixture back into the milk. Return to a medium-high heat and cook, stir continuously with a spatula, until the mixture comes to a boil. Boil and constantly stir for an additional two minutes.
Remove from heat.
Italian Meringue:
47 grams/1/4-cup water
190 grams/7/8-cup sugar
1 vanilla bean, scraped for seeds keep skin
10 grams/1-Tablespoon super fine sugar
92 grams egg white, about 2.5 eggs whites
In a small pot over low heat, combine sugar, vanilla skin, and water. Swirl the pot over the burner to dissolve the sugar completely. Do not stir. Increase the heat and boil to softball stage (235 to 240 degrees F). Use a candy thermometer for accuracy. Wash down the inside wall of the pot with a wet pastry brush. This will help prevent sugar crystals from forming around the sides, falling in and causing a chain reaction.
Prepare your meringue.
In the bowl of an electric mixer, whip the eggs whites and egg white powder on medium low speed until foamy. Add the cream of tartar (if not using a copper bowl), increase the speed to medium, and beat until soft peaks and add vanilla seeds, and begin to slowly add super fine sugar to egg whites. Whisk egg whites to medium firm.
With the mixer running, pour the hot sugar syrup in a thin stream over fluffed egg whites. Beat until the egg whites are stiff and glossy. Do not overbeat your meringue or it will be too dry. The meringue should resemble whipped cream texture, as my daughter says.
Fold the warm meringue into the warm cream, taking care not to form lumps.
Cover the surface of the cream with plastic wrap to prevent a skin from forming, and set aside.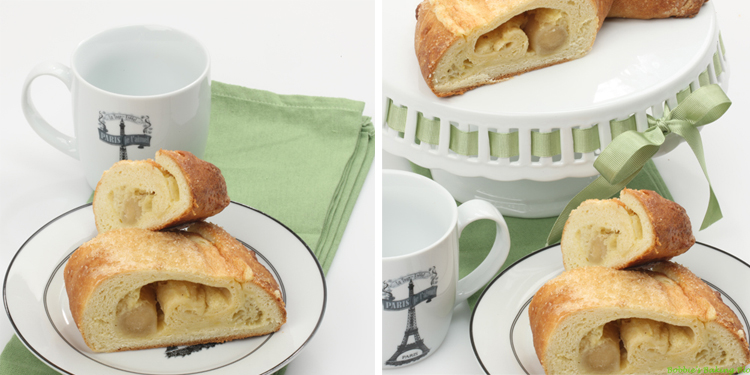 Marzipan:
112 grams/ 1/2-cup
26 grams glucose/3/4- Tablespoon glucose
26 grams inverted sugar/3/4-Tablespoon inverted sugar
85 grams/2/3-cup icing sugar, sifted..more might be needed
Prepare your miss en place.
Place almond paste onto your work surface and pour the glucose and inverted sugar on top, begin kneading the mixture with your hands just until blended.
Add the icing sugar and continue to knead until the sugar is incorporated completely into the almond paste. The marzipan should be a light pale brown and pliable, but not sticky or oily. depending on the consistency of the almond paste additional icing sugar may be needed.
Assemble:
Pre heat oven to  180 degrees F/ 350 degrees C. Line a 1/2 sheet jellyroll pan with either silpat or parchment paper and beat 1 egg for egg wash.
Remove dough from the refrigerator roll out on a lightly floured surface, roll into 33 cm by 38cm /13 by 15inches long and ¼ inch thick.  Using a pastry brush, paint the surface of the dough with the beaten egg; leave the top quarter of the dough bare. With an offset spatial spread an even layer of marzipan and an even layer of crème chiboust over the marzipan, taking care to make sure everything is evenly distributed. Lightly roll-up into a log, pinch the end close and bend into a crescent shape or a full ring. Wrap in plastic wrap well, and place in freezer for 45 minutes to 1 hour.
Allow the coffecake to rest uncovered, in a proofer or at about 78-82 degrees for 1 ½ to 2 hours
Baking the Coffeecake:
Sprinkle with demarara sugar. Place in the oven thats been heated to 177 degrees C /350 degrees F.
Place the jellyroll  pan in the middle rack.
Bake  for about 20 to 25 minutes or until just golden brown.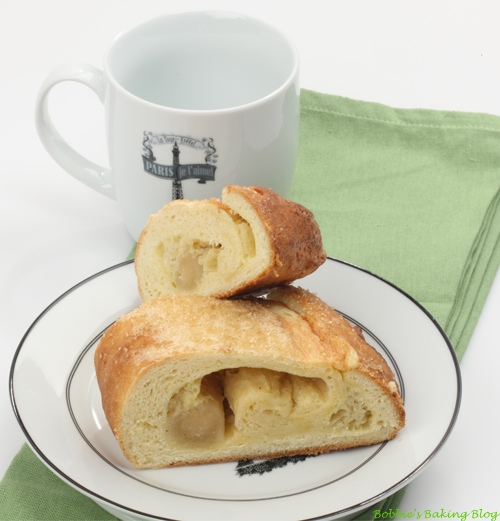 Eat and Enjoy!
Thank You Ria of Ria's Collection & Jamie of Life's a Feast