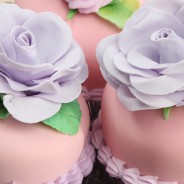 My esthetician, Jess, opened her own salon, and wanted to to host an open house for all her clients. She asked sydney and I if we could cater the event. Jess wanted to serve petit fours, small l'opéra cakes, and single serving cakes. Her salon colors are light pink with accents of purple and Jess wanted the pastries to stay in that color theme. The first flavor that came to my mind was strawberry; Sydney thought adding almond paste to the strawberry cake cake would be heavenly. Opening her own salon has been a dream of hers since...
read more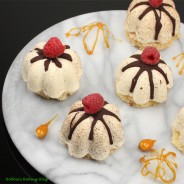 Framboise Double Chocolate Charlotte I can hardly believe it is already the second week of April. Springtime in Colorado is a unique experience, you  can ski in the morning and golf in the afternoon. Two days ago the temperature was 24 degrees C/ 74 degrees F, today it is 8 degrees C/ 45 degrees F. I feel teased, I can work in my garden on Tuesday, but need my winter jacket on Wednesday. I feel the same way about the produce, fresh berries are available one day and not the next. I so depressingly wanted to design a wonderful Spring Season...
read more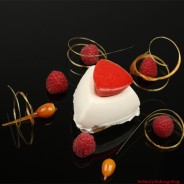 A Pastry Designed for Sydney I had originally planned to write only about la pâte feuilletée (the puff pastry), but changed my mind when I saw the finished result of our Pâte d'Amande Gâteau Mousse Blanc. I am giving you a heads up this will be a long post with quite a few elements. It might seem staggering at first glance, although each of the components can be prepared alone or you may fabricate the entire dessert; I will give the recipe for pâte feuilletée, mousse d'amande blanche, and gelée de citron-framboise...
read more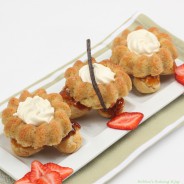 The Triplets of Yumminess! I was lost in thought reminiscing with my memories of the trip Sydney and I took to Paris, France, when I realized  it was just about the anniversary date of that prodigious trip. France, it self is a magical place, but that particular trip was the first mother and daughter vacation we had ever taken together. Our vacations have always been the three of us, The Noto Unit. Please don't miss understand, I adore our family vacations, having fourteen days with Sydney all to myself was immeasurable. It reminded me...
read more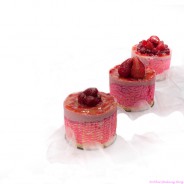 In The Pink: Pink Passion Cake These wonderful cakes were Sydney's creation, we have a friend/customer each year who hosts a Mardi Gras party, and this year she asked us if we would design the desserts. (she has always wanted to go to New Orleans for Mardi Gras) I am not quite sure why she has yet to go, but until the day she has a New Orleans Mardi Gras she will keep hosting her party. I did it again and went off topic; Sydney knew the pastries needed to have a "WOW' factor, to my surprise Sydney had a vision in mind. She...
read more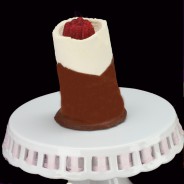 My Chocolate friends are waiting I'm always the last dressed and ready! All Dressed Up Since every year my Oscar invitation seems to get lost in the mail, rather then sitting around and sulking I implemented my own Oscar bash about 10 years ago! I am sure Leonardo DiCaprio, Natalie Portman, and Jeff Bridges felt badly they were unable to attend Bobbie's Oscar Party, but they did have another engagement! Walking the White Carpet The 73rd Academy Awards, in 2001, was the debut of my wonderful Oscar Party, it started with four...
read more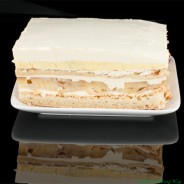 Layers of Crème Anglaise, Apples,  and Dacquoise "Oh My" I have never named a dessert after myself before; this one just seemed to match my name. When I agreed to be DF's wife the initial thought that entered my brain was: Bobbie Noto sounds like a caramel crunchy dessert.I promised myself that one day I would design a dessert that would accompany my name. This cake has a daquoise sponge bottom, layer of caramel, a layer of crème anglaise, another layer dacquoise sponge, a layer of honey crisp apples, and a large top layer...
read more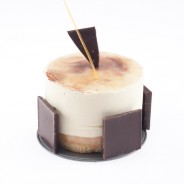 Sydney and I were trying to challenge ourselves with a dessert we had never made before. I recently purchased these amazing pans and a few books about working with these pans. We thumbed through the book and both us fell in love with " bergamotier," We changed the flavor to Framboise ( if you have read my blog than you know we love raspberry and strawberry), but we absolutely loved the look and concept. The composition consists of Framboise mousse with a caramel mousse submerged into the framboise mousse on top of a framboise...
read more