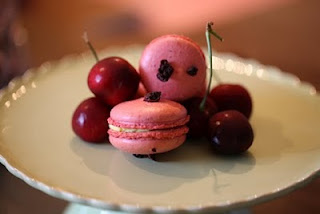 I guess its long over due, Sydney and I both need to take a little time to thank Dennis, my husband/ Sydney's father. He spends countless hours on the computer organizing the pictures I take of  food, plus he helped with the Culinary Calculator. He was the mathematical giant and spent long painstaking days to convert the common measurement into grams for the IPhone, Itouch, and Ipad, plus this app does so much more!
He tastes all the recipes we work on, there are some that have not yet been perfected. However with a smile he eats the food in front of him and always pushes us to keep trying( if he thinks the recipe needs something, if he likes it we are unable to keep up with his demand.)
as The Triplet Chocolate  Macaron
The batter above in a lined butter coated pan
But truth be told as much  as he loves these pastry sweets his all time favorite dessert is Ginger Pound Cake. I realized we had not made him his Ginger- Ginger Glazed pound cake in sometime.I actually had the idea for this cake while dining on sushi, at my favorite restaurant, I was offered a sample of ginger liqueur. A minute later I asked Sydney to have a sip, together we both proclaimed ginger pound cake!
When many hours later we were back in the kitchen still throwing ideas out on how to create a very special uniquely tasting pound cake, this could not just be like every other pound cake. It had to be personalized to my husband's taste and it also had to be appealing to guests and friends. We finally, 3 hours later, had a recipe, crystalized ginger, orange zest, and of course the ginger liqueur we had sampled earlier that day. Would my husband like it, well we would have to wait to find out, so we began constructing the first ginger pound cake.
Fresh from the oven waiting to be glazed
My husband is not as patient!
The glaze was easier to design: icing sugar, vanilla, ginger liqueur, and 1 teaspoon juice.
My husband did not even wait for the cake to cool down he sampled a piece as soon as the glaze set.
Did he like it? No he feel in "food love" with it, and when ever there is a loaf in the house he eats it every morning for breakfast! He proclaimed the cake's taste lingered with sweet and spicy notes hitting his tongue
The finished cake with glaze, and a special piece
all for him to snack!
It is with our dearest thanks and love we dedicate this cake and blog to him.
With our gratitude may you enjoy this flower along with you cake. Many, many, many Thanks!