Last weekend the weather in Colorado was cold and snowy, a perfect day to bubble up stock and Italian sauce. Now everyone always asks what type of sauce is this? The answer is always the same, I'm not exactly sure, I call it Noto Red Sauce. The recipe for this sauce has been past down 7 generations from my husband's paternal family. When it was past down to me over 20 years ago I was honored and petrified. This was a sauce DF grew-up eating all his life, the last thing I wanted was for my husband and in-laws to be disappointed. As I pondered this my father in-law pulled me aside, whispered in a low voice:"every generation has put their own person touch and to just have fun!" Which is exactly what I have been doing for  20 plus years. I must admit I change the meats each time I cook it. This time I used Osso Bucco, short ribs, and country pork ribs.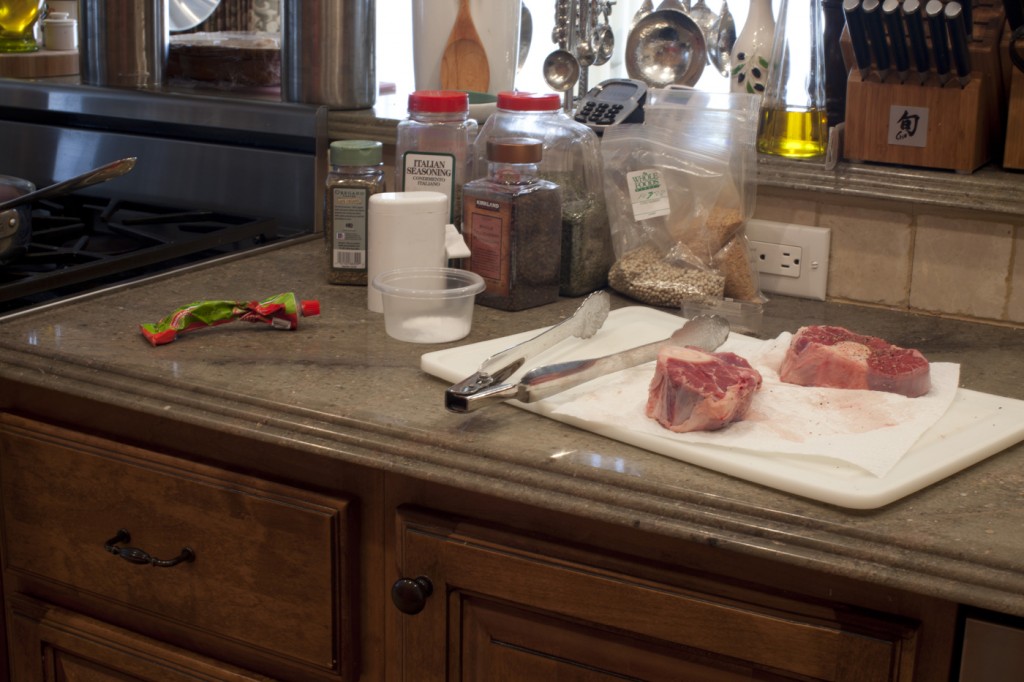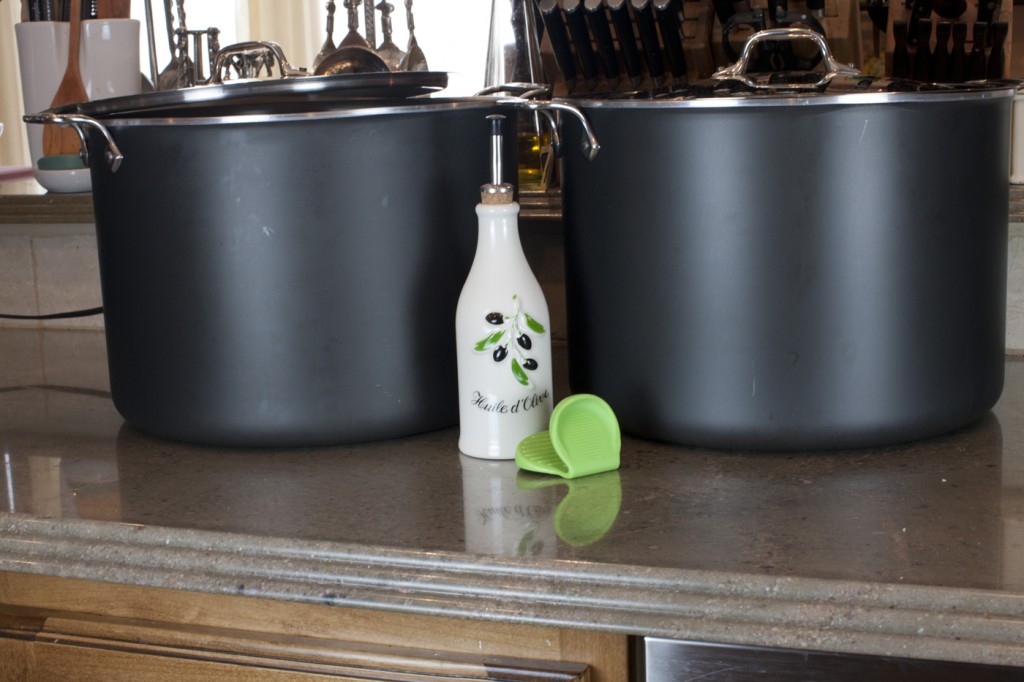 I grab the largest stock pots I own; 1 for sauce and and one stock!
I ended up using 8-28 ounces San Marzano tomatoes, juiced and drained. Also I used 2 small cans of tomato paste. The tubes are great if you only need a portion, but I need the entire can for the pot of sauce.
I brown the osso booco, short ribs, and country pork ribs with a diced medium yellow onion, flake kosher salt and pepper. When the meat is browned on all sides I remove it to a plate, brown the tomato paste, add 2 finely chopped garlic cloves, and deglaze the pan with red wine (I always have a bottle of red wine that we drink with dinner). It is pretty important to use a wine you like, because this sauce cooks for about 6 to 8 hours.
Once the meats are browned, we can start putting the sauce together. DF opens all the tomato cans, drains the juice from the tomatoes, breaks the tomatoes up, he prefers to use his hands, but a kitchen scissors works too, while Sydney adds the browned meats with juices, roasted tomato paste, and the tomatoes. We, Sydney and I, begin to add the seasoning; dried parsley, dried oregano, dried Italian seasoning, dried minced garlic, kosher salt, white and black pepper. Out of the corner of my eye I see Sydney adding about 1/4-cup red wine, this adds great flavor to the sauce!
Over a high heat with a long wooden spoon, we stir in the seasoning, and wait for the sauce to heat to a boil. Once the sauce is at a nice moderate boil the heat is turn down to a simmer and about every 30-45 minutes Df stirs the sauce, making sure to reach the bottom of the pot, so it doesn't burn.
In about 3 hours or so Sydney and I redo the seasoning and taste. This sauce truly is a Noto affair, we always have an incredible prodigious time. DF helps out so that we can cook chicken stock too, plus all the baking we need to do! This is one of my favorite times in the kitchen we are all together enjoying each other's company, its one of several times we can get the whole unit in the kitchen for the entire day.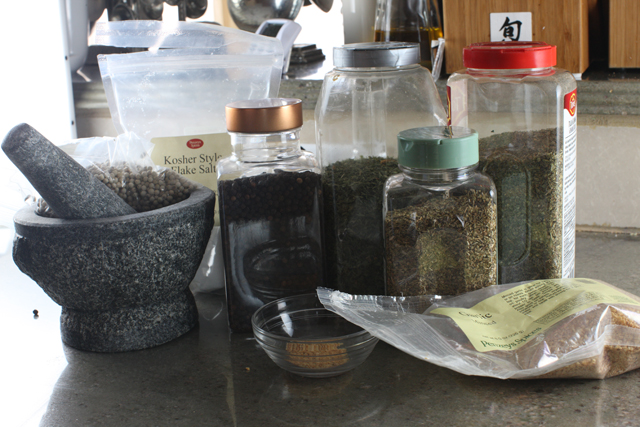 Noto Italian Sauce
While the sauce is simmering it is now time to start the chicken stock, DF has the job of cleaning the chicken. For this stock we use two whole roasting chickens, 3 pounds of chicken wings, and 2 breast halves. Sydney and I prepped the mirepoix, (onions, carrots, and celery) aromatics of thyme, parsley, dill, grey salt, kosher salt, white and black peppercorns. I have a secret ingredient: dry white wine , I pour the wine over the mirepoix, aromatics, and chicken, the wine lends a new depth of flavor to the whole stock!
I then add enough water to cover everything, bring the stock pot to a boil, reduce to a simmer, and skim the foam about every 15 to 20 minutes.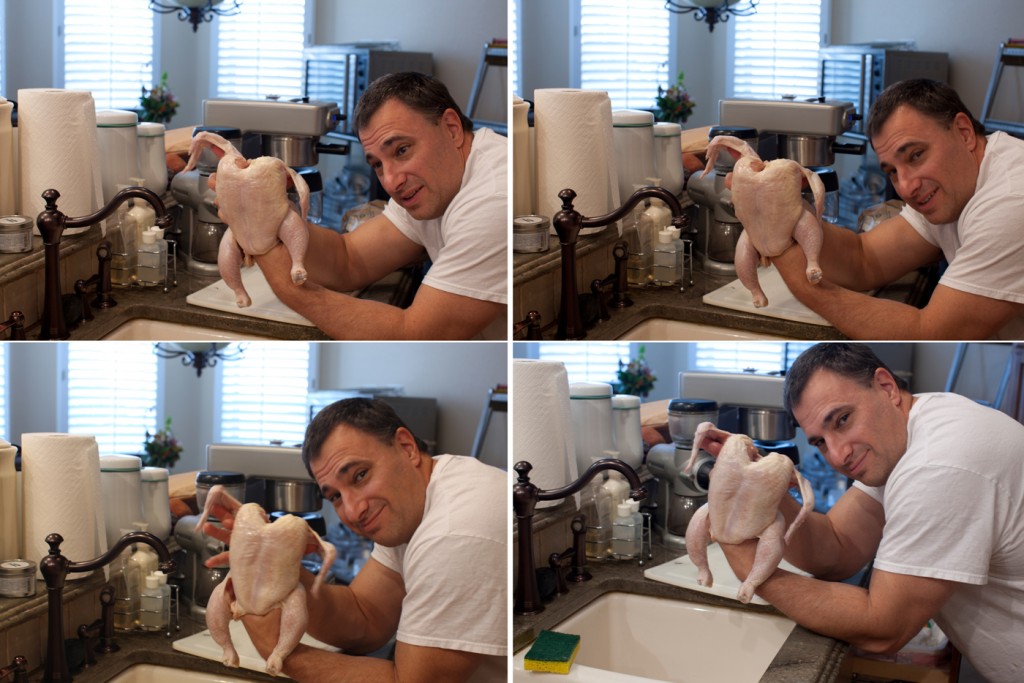 What a trooper, DF and the Chicken
Generally the stock simmers for a good 4 hours, so even though it looks a"tad" hectic to cook an Italian sauce and stock, it really is not. Cooking both simultaneous in the long run saves time, besides on a snowy cold Colorado day we have a wonderful time bonding as a family!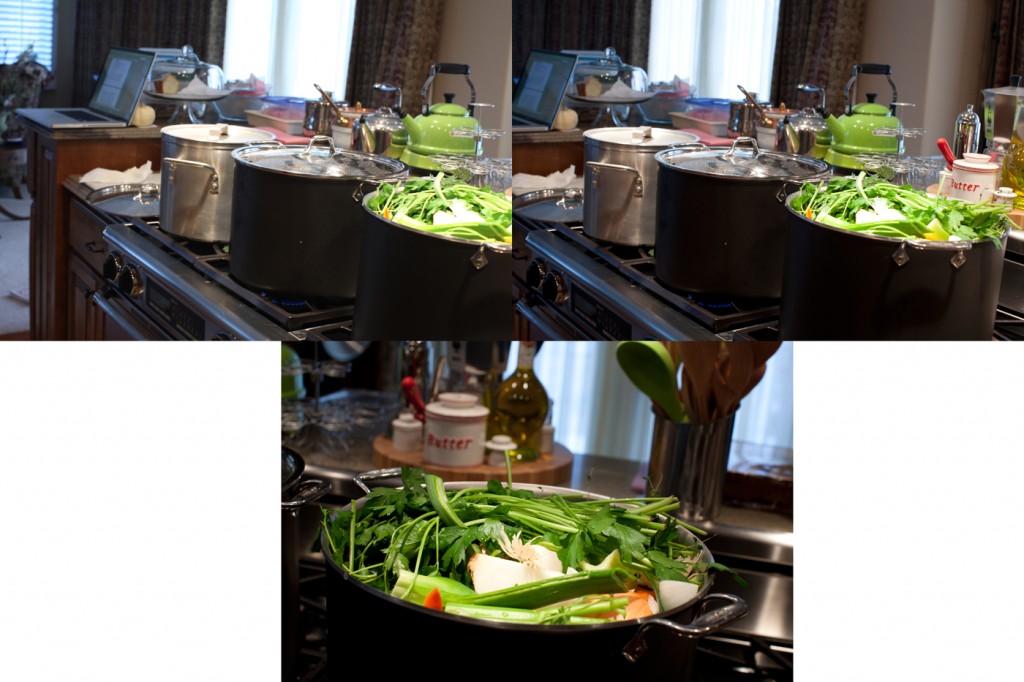 Though out the year we prepare both the sauce and the stock; about every four months.  November is my favorite of all the times, this is when we prepare the sauce for Thanksgiving and Christmas. We use the sauce for lasagna, and the stock is for mixing with turkey stock for Thanksgiving gravy and Christmas trimmings. The sauce defiantly does not go to waste, we use it for a multitude of Italian dishes!
For our family it is the start to the holidays!
Happy Thanksgiving!