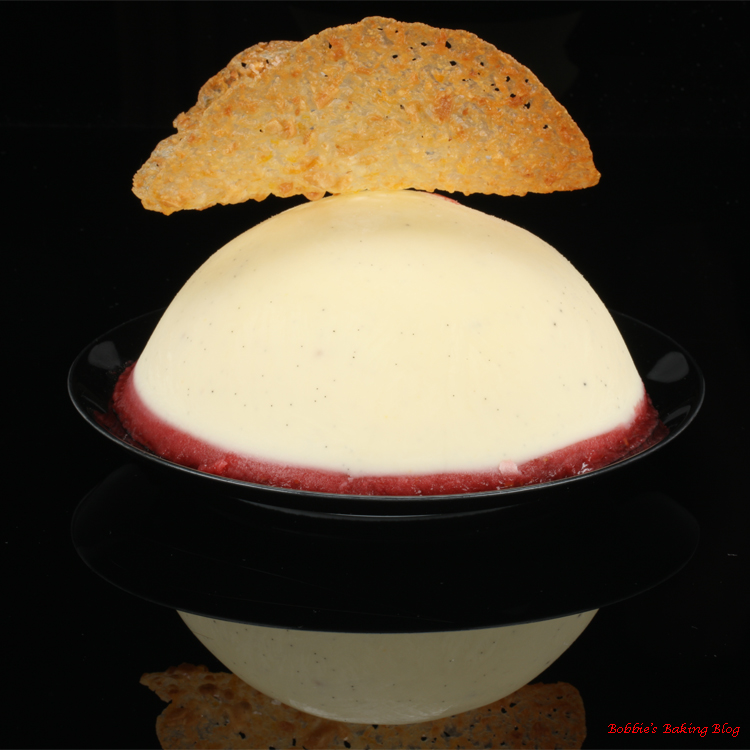 PANNA COTTA BOMBE
My sister's birthday is this week, actually it falls on the heels of Valentine's Day. Generally the people in her life combine the two events, it has become a yearly tradition that Sydney and I  create a special pastry for her birthday. This year Sydney and I chose a comfort dessert: Rose-Vanilla Bean Panna Cotta with a Red Currant jelled Coulis. Tush, that truly is her nickname. (Sydney started calling her "Tush" from the age of two and it just stuck). As I was saying Tush loves anything vanilla flavored, I thought why not turn the panna cotta into a bombe with a layer of jellified red currant, and a decorative Tulle d' Almond cookie.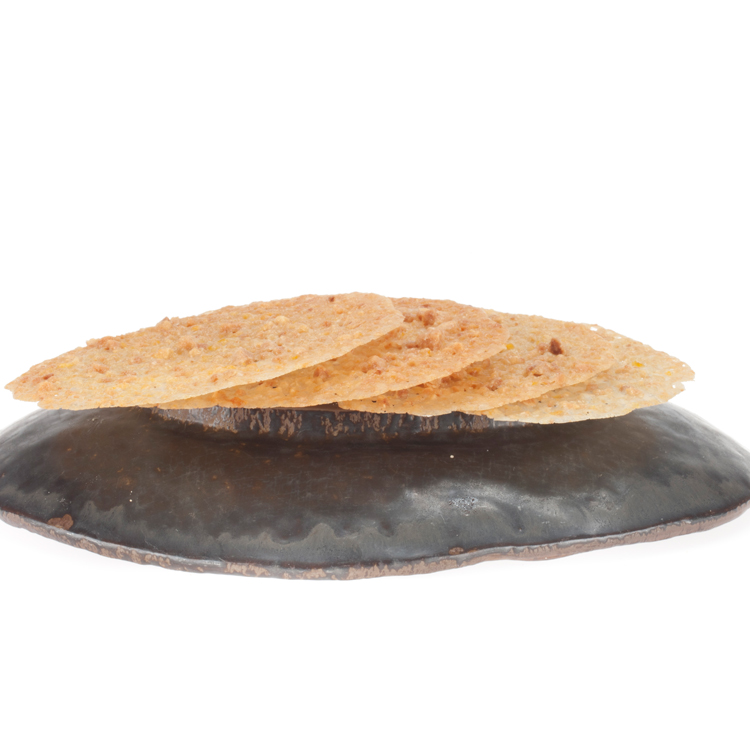 Almond Orange Zest Tuile Cookies
I am blessed with many bothers and sisters, but Tush is also my friend. We have been through everything together, my ten miscarriages, a move to Princeton, New Jersey (she visited almost every two weeks), her two divorces, both my niece and nephew being in the nicu after birth, and life's everyday growing pains (which of course after 40+years is quite a bit). Sydney has been raised with her cousins more like siblings than cousins.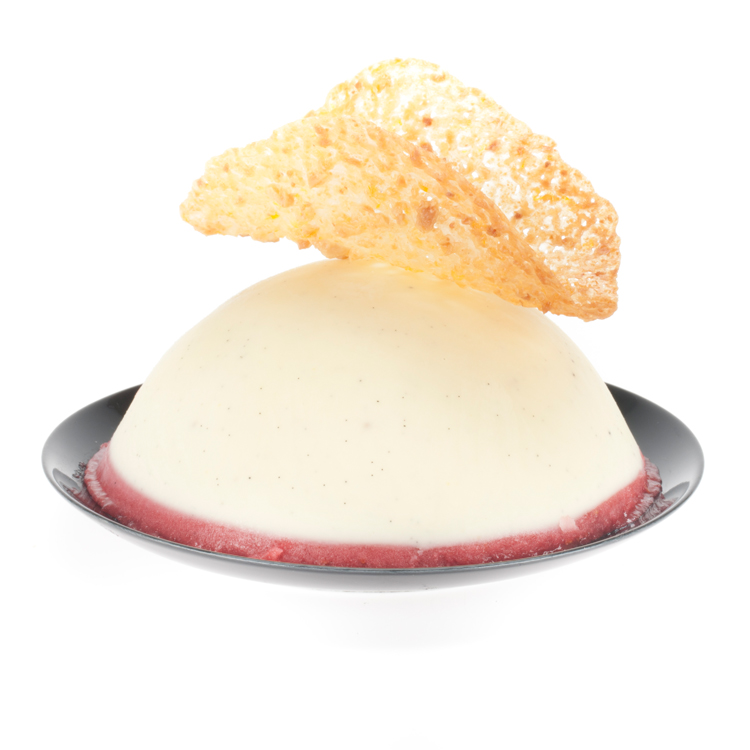 I love when you can see the vanilla seeds in your dessert!
There are many ways to show a sister, friend, or special someone they matter, but for Sydney and I it is with sweat of our brow creating beautiful pastries. As we have " more birthdays" it becomes challenging to add a "WOW" factor without repeating ourselves. Panna Cotta by no means is a new dessert, but it does remind me of a special, cozy, warm blanket of love. To bring Tush's birthday Panna Cotta over the "TOP" I decided to not only turn it into a bombe, but a frozen Panna Cotta, with the aroma and hint of rose flavors married with vanilla beans.
Tangy Rose-Vanilla Panna Cotta with Berries and Cassis:
8 grams (4 sheets) gelatin
400 grams/ 2cups heavy cream
100 grams/ ½ -cup granulated sugar
1 vanilla bean
1/2 teaspoon roes syrup or rose water
5 drops rose essence
Pinch of orange zest
330 grams/ 1½-cups crème fraîche
In very cold water bloom gelatin sheets for at least 7 minutes.
In a saucepan over medium heat, combine cream, sugar, vanilla bean and zest, and gently warm. Bring the cream mixture to a kiss of a boil. Remove from heat, strain, removing zest and vanilla pod (add the seeds), rose syrup, rose essence and stir in gelatin until dissolved.
Temper into crème fraîche and strain through a sieve or chinois. Spoon into half-sphere molds and freeze for at least 2 hours or until set.
Red Current Coulis Gel:
300 grams/ 1–cup red currant puree
100 grams/1/2-cup sugar
15 grams inverted sugar
1-cup currant jam
14 grams/ 7 sheets gold gelatin leaves
1 1/2 Tablespoon crème de cassis
5 grams/ 1-teaspoon nh pectin
Place the purée and inverted sugar in a small saucepan bring to a boil. Add together the nh pectin and sugar to the boiling purée.
Lower the heat, and simmer for 5 minutes, in the meantime, soften the gelatine sheets in very cold water for 5 minutes, remove from heat. Ring the excess water out of the gelatin sheets and add the gelatine into the hot purée and stir.
Pour the cooked currant purée, gelatine, the jam, and cassis into the bowl of a food processor fitted with a steel blade and process until smooth.
Pour the gel coulis over the panna cotta and freeze, overnight is best.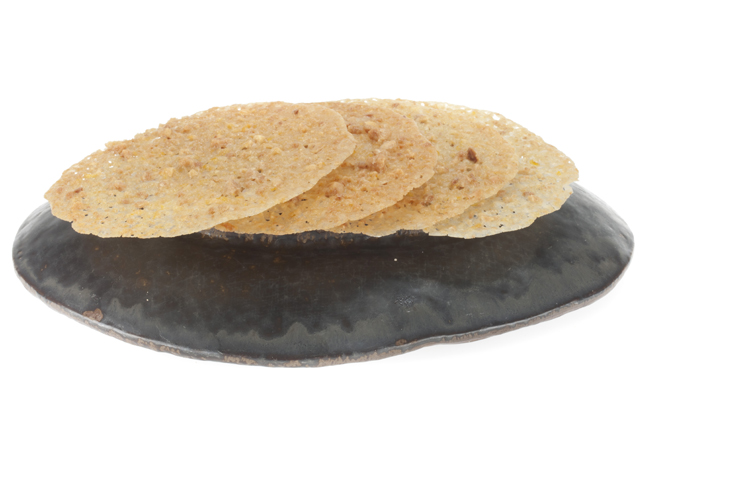 Almond Tuiles:
adapted from: The Fundamental Techniques of Classic Pastry Arts
180 grams/7/8-cup sugar
65 grams/ 5/8-cup finely chopped almond
65 grams/1/2-cup of flour
65 grams/ 1/4-cup warm melted butter
80 grams/ 4 tablespoon fresh orange juice
20 grams/ 2-Tablespons rose water
Orange zest
Combine the sugar almonds and flour in a large mixing bowl, stirring with a wooden spoon to blend. Add the orange juice, rose water, the zest, and melted butter and stir until just combined.
Cover the patter with plastic wrap and refrigerate for about 30 minutes.
Preheat oven to 162º C/325ºF. Line a baking sheet with a silpat.
Using a teaspoon ice cream scoop drop the batter onto the silpat living 2-inch/ 5cm apart (they spread). Bake 1 pan at a time, until the cookies are thin and an even golden brown color throughout, rotating pans halfway through baking time, about 10 to 11 minutes. Cool on baking sheet for till pliable, yet set .With an offset spatula remove about 1/2 of  hot tuiles to a rolling pin so they drape  over it (keeping the other half round), this way they will form a round shape. As soon as cookies have set remove to a cooling rack. They are fragile, so be careful. Repeat with remaining batter.
Serve. (This can be served as a light snack, or placed on top of an elegant dessert).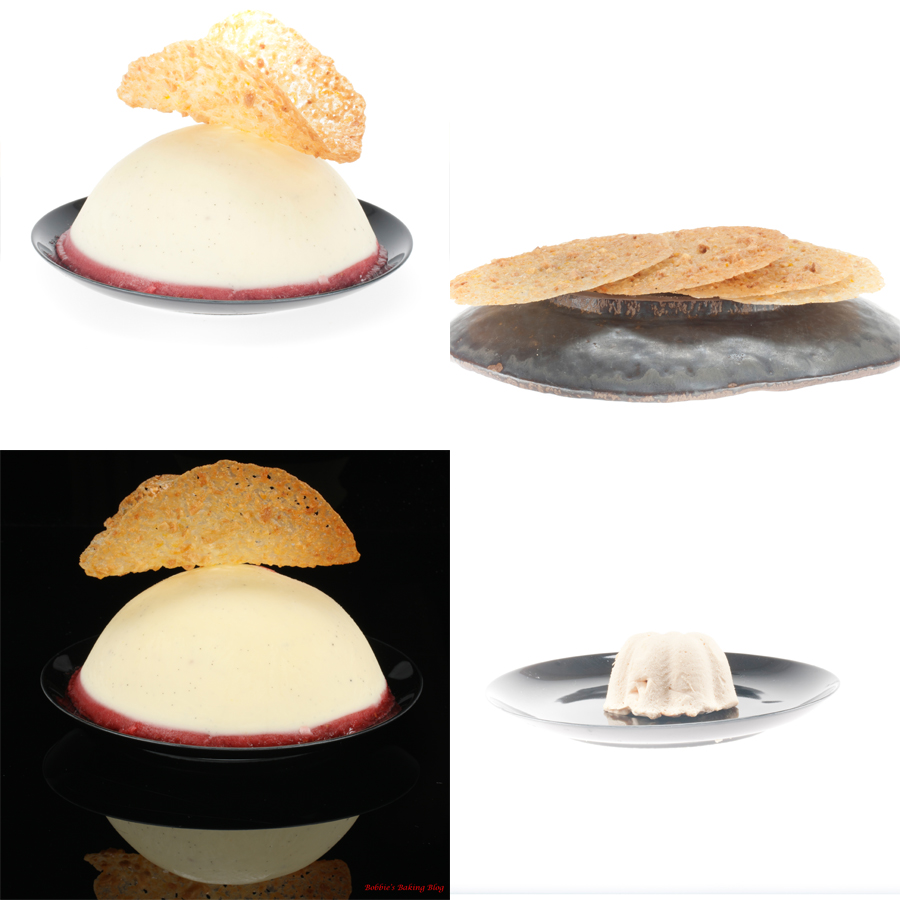 When Sydney saw the half fold tuiles she  proclaimed "That's Wicked"
Assembly:
Layer the Florentine cookie on top of the bottom of the half-sphere, invert  and serve, or as I have done invert the half-sphere place on a serving plate with a folded Tulle d' Almond cookie on the round top!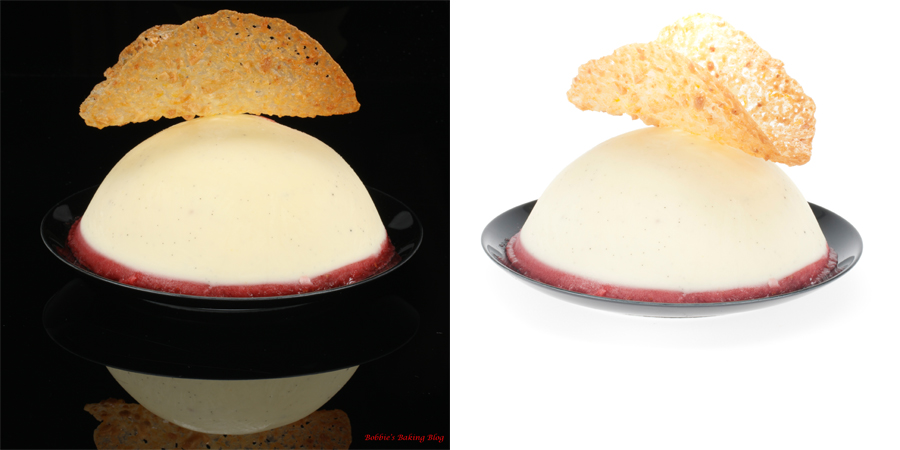 Happy Birthday Tush!