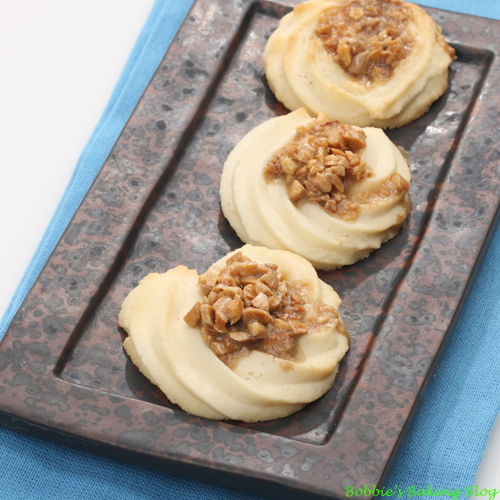 Not long ago Sydney was looking through some "old" family pictures and letters. Yes, there was a time when pictures were printed on photo paper. While she was laughing at my high school yearbook picture, she found a family envelope filled with partial recipes. My husband's grandmother wrote scribbles of family recipes on napkins, torn pieces of papers, the back of receipts, etc. When DF and I were married she gave them to me; I distinctly remember thinking one day I would ask her if she knew about the missing pieces of the recipes. I filed them with all the family mementos, regretfully she passed prior to me being able to fill in the blank spaces. Of course, Sydney found these recipes and wanted to restore them and create them. The idea that I had stacks of recipes past down through generations and had not even recreated one was obnoxious to her. We spent the weekend trying to piece together family recipes.
She found a recipe for a cookie that reminded her of a childhood pastry.  DF's grandmother had past when Sydney was only two years of age, but  had prepared treats for her each time we visited. I cannot actually remember Sydney consuming this exact pastry, but her recollection was so vivid, I could not argue. I am constantly preaching food is an amazing trigger to feelings and happy memories, I could not resist trying to build this recipe close to the original grander.
The original recipe was a name and a few ingredients, just to allow you to have an idea here is a sample: 1/4 pound butter, liquid egg whites a few, icing sugar bake in a hot 350 degree oven with filling. In all honesty the cookie is not  hard to create, once I was able to decipher the amounts and read the handwriting. There once was a time when everyone wrote in "long hand!"
The premisses of this pastry is a thick butter cookie piped with a special tube: Sultan tube to be exact.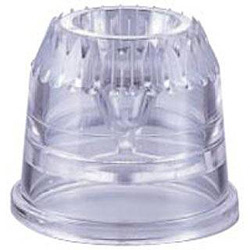 A large star tip works just as well!
Noto Romias-Almond Nougat Biscuit:
250 grams/2 stick, plus 1 3/4-Tablespoons
1 vanilla bean, scrape seeds only
40 grams egg whites/about 2 egg whites
300 grams/ 2 7/8-cups cake flour, sifted
Pinch of salt
100 grams/ 7/8-cup icing sugar
3 grams/ 1/4- Tablespoon
Prepare your miss en place, and preheat the oven to 177 degrees C/ 35o degrees F. Sift flour, salt, icing sugar,and baking powder together, set aside. Line a jellyroll pan with a silpat or parchment paper.
In the bowl of a standing mixer, with the paddle attachment, cream the butter and vanilla seeds on medium speed for about 2 to 3 minutes. Add icing sugar and salt continue to beat on medium speed till the mixture is creamed. Begin adding the egg whites with the mixer still on medium speed, turn the mixer down to low and slowly add the sifted flour-icing sugar mixture till completely combined.The batter should be thick and firm.
Pipe immediately.
Place the Romias batter in a pastry bag fitted with the sultan tip (or large star tip) begin to pipe on prepared bake sheets or jellyroll pans, set aside and begin preparing the almond filling.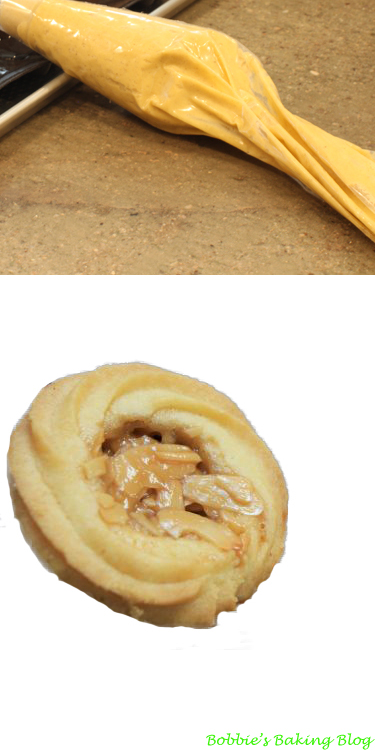 Almond Nougat Filling:
140 grams/ 5/8-cup cream
70 grams/ 2 Tablespoon inverted sugar
70 grams/ 2 tablespoon glucose
140 grams/ 3/4-cup natural brown sugar or demarara
140 grams/ 7/8-cup slivered almonds
In a heavy bottom saucepan bring cream, inverted sugar, glucose, demarara, and silvered almonds to a boil over medium-high heat. Once the sugars have completely melted  remove from heat. Using a 1-teaspoon ice cream scoop fill the center of the Romias with the almond nougat.
Bake for 8 to 10 minutes, the cookie should just be slightly browned and the center caramelized. Leave the Romais on the jellyroll pan to cool. Store in an airtight container.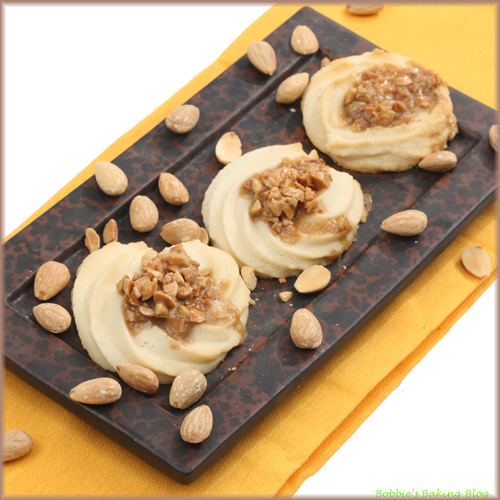 Viola!