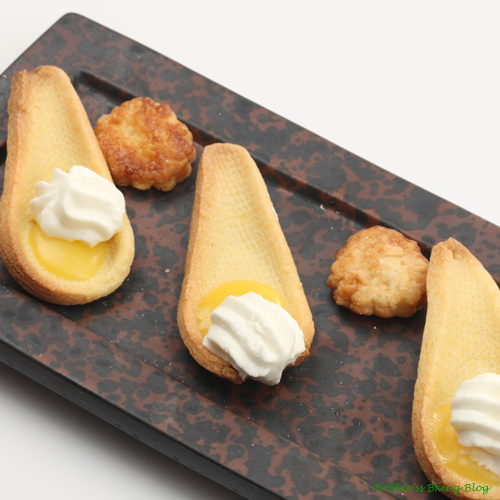 Lemon Meringue Spoons!!
Time flies by so quickly, it has already been over year since Sydney and I took our mother-daughter vacation to Paris. Its April, the first week has almost past, and Easter is just around the corner. Speaking of Easter Sydney and I have been trying to compose an Easter Dinner for family and friends, we have tested and eaten quite a few recipes and treats (no complaining here). Most of the celebration menu is filled with DF's and Sydney's favorite foods, but this year I insisted on a lemon pie or tart.
My favorite flavor of all time is lemon; I have been known to peel a lemon eat as if one would an orange. Lemon meringue pie has a shelf-life of about 30 minutes in my refrigerator. With each bite my palate experiences a taste sensational party, the special change from puckering tartness to smooth mousse sweetness, is almost indescribable.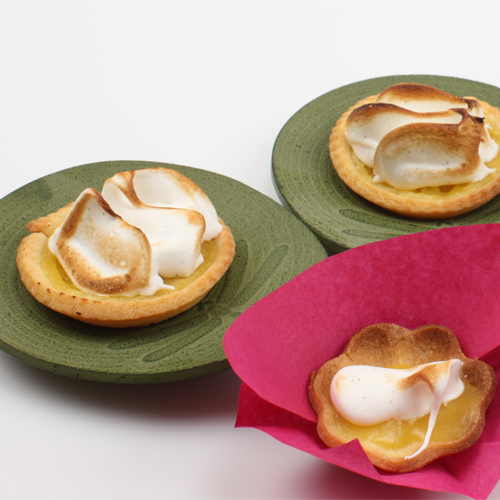 Generally when we need to prepare a batch of lemon curd, I reserve some for myself, grab a spoon and "dig-in." Sydney thought it would be apropos to design eatable spoons for the base of half of the lemon curd, the other half we created mini tart shells.
I admit the edible spoons were ingenious; however I still found myself sneaking lemon curd from the pot. I as bad as a child on Christmas Eve or "a kid in a candy shop".. Oh well I just can't help myself!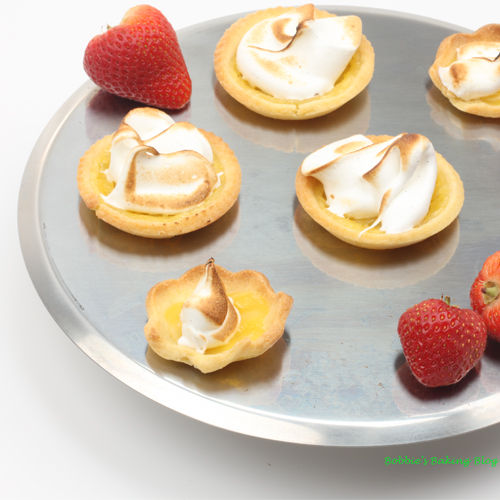 Lemon Meringue Mini Tarts
Citron Tart with Berries:
Almond Pastry:
Sweet Dough:
120 grams/ about 6 egg yolks
40 grams eggs, about 1 egg
290/1 1/2-cups grams sugar
290 grams/ 10-ounces butter
1 gram/ 1/4-teaspoon vanilla powder
360 grams/ 3-cups flour
65 grams/ 5/8-cup almonds flour
9 grams/ 2- teaspoons baking powder
Prepare your mise en place. Sift together the flour, almond flour, baking powder and salt, set aside.
Whisk egg yolks and sugar to a pale yellow, light and creamy. Beat in soften butter and vanilla powder, and stir in the sifted flour-almond mixture.
Mix to firm dough, cover with cling film and rest in the refrigerator for 2 hours.
Remove from the refrigerator and roll out to about 3mm/. 1-inch thick, cut with 9mm/ .35 fluted. Place the rounds in a flexipan or tart shells and gently push down, without stretching the dough.
Lemon Curd:
102 grams/ ½ cup fresh lemon juice
1-lemon peel strips
100 grams/ 1/2-cup sugar
120 grams/about 2 whole eggs
70 grams butter,/1/2-cup cut into cubes
½ teaspoon of corn starch
Prepare your mise en place and place gelatine sheets in ice water. Preheat oven to 180 degrees C/350 degrees F.
In a heavy bottom saucepan fill with just enough water for a double boiler and prepare your double boiler.
Bring the water to a gentle boil, then reduce to a simmer.
Meanwhile whisk eggs, lemon zest, sugar, and lemon juice in a heatproof bowl just until smooth (or the top of the double boiler), using a wooden spoon stir to blend. Quickly place the bowl on top of the saucepan. Continually stir with a wooden spoon, once the mixture begins to warm, stir the butter two cubes at a time. Cook, stirring often until the mixture coats the back of the wooden spoon, and has thickened, about 5-8 minutes.
Remove from heat, stir in the hydrated gelatine sheets, stir, and pour the mixture through a fine mesh sieve.
Using a piston funnel, fill the tartlets about 2/3 of the way up.
Bake in a preheated oven 15-20 minutes.
Italian Meringue:
Sugar Syrup:
47 grams/ 1/4-cup water
190 grams/ 7/8-cup sugar
1 vanilla bean, scraped for seeds keep skin
10 grams/ 1-Tablespoon super fine sugar
100grams egg white, about 3 eggs whites
In a small pot over low heat, combine sugar, vanilla skin, and water. Swirl the pot over the burner to dissolve the sugar completely. Do not stir. Increase the heat and boil to softball stage (235 to 240 degrees). Use a candy thermometer for accuracy. Wash down the inside wall of the pot with a wet pastry brush, to prevent the sugar from crystalizing on the sides of the pot.
In the bowl of an electric mixer, whip the eggs whites and salt on medium low speed until foamy. Add the cream of tartar (if not using a copper bowl), increase the speed to medium, and beat until soft peaks. Add vanilla seeds, and  begin to slowly add the 10 grams of sugar to the egg whites. Whisk egg whites to medium firm.
With the mixer running, pour the hot sugar syrup in a thin stream over the fluffed egg whites. Beat until the egg whites are stiff and glossy. Do not overbeat your meringue or it will be too dry. The meringue should resizable a whipped cream texture, as my daughter says.
Assembly:
Once the tartlets have baked and cooled pipe the lemon curd with a plain tip and rosettes of meringue, brown them with a torch.
Garnish with berries and candied lemon peel.