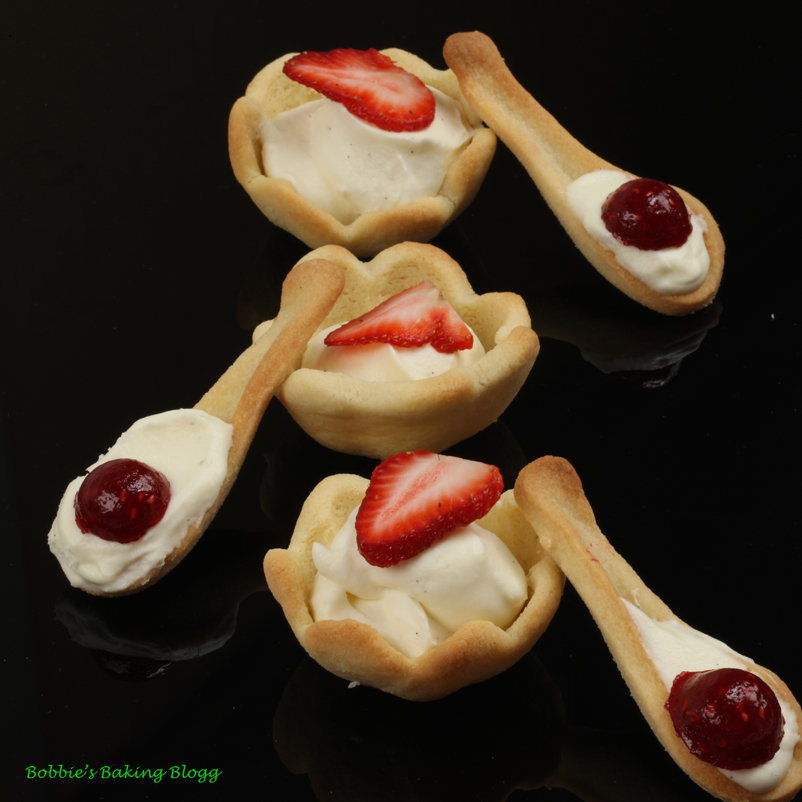 Eggs on a Spoon with White Frâiche Oatmeal
The April 2011 Daring Bakers' challenge was hosted by Evelyne of the blog Cheap Ethnic Eatz. Evelyne chose to challenge everyone to make a maple mousse in an edible container. Prizes are being awarded to the most creative edible container and filling, so vote on your favorite from April 27th to May 27th at http://thedaringkitchen.com!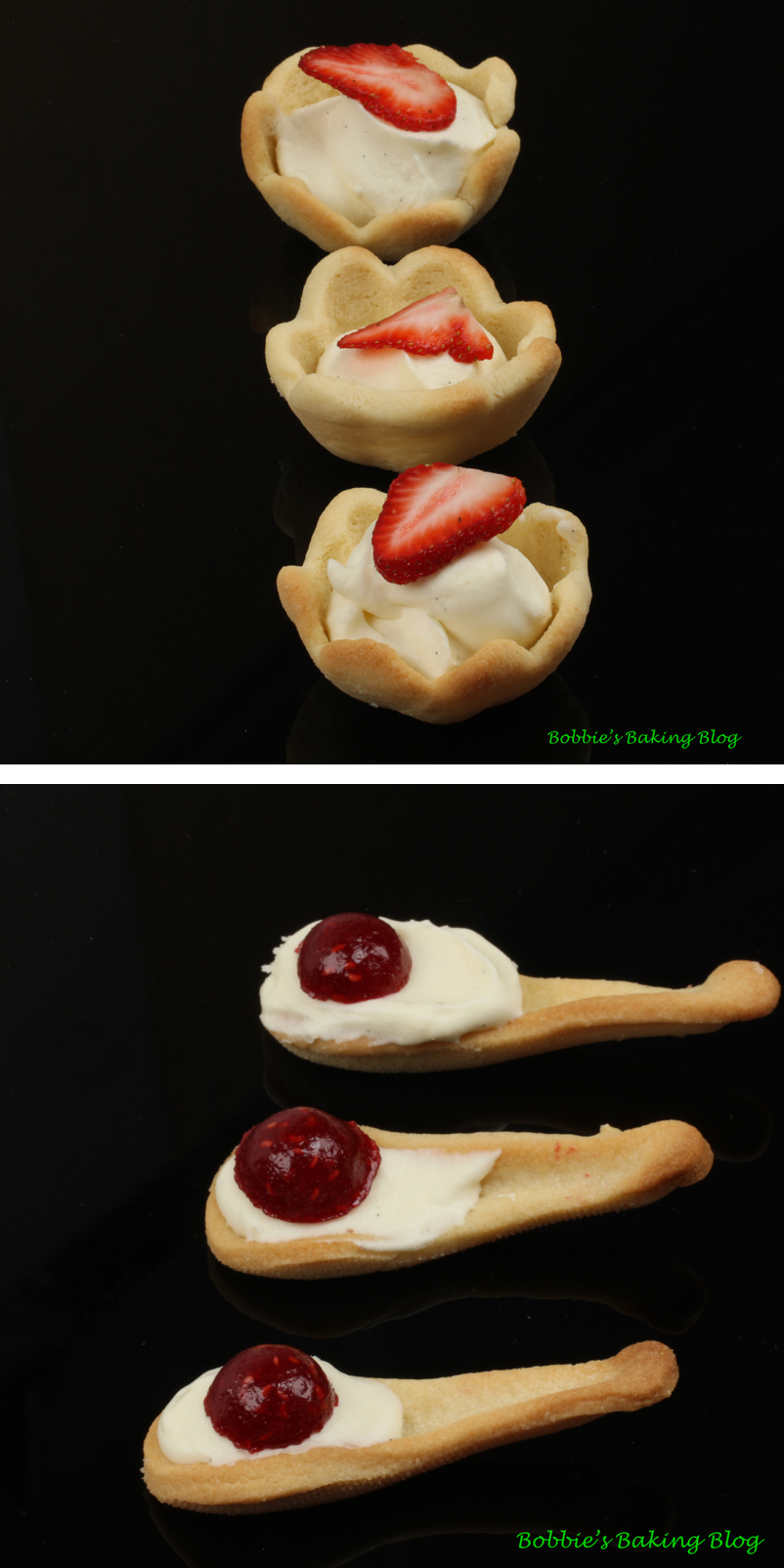 Mother Day is may 8th straight on the heels of my birthday, generally it is the Sunday of the week of my birthday, unless my day falls on a Sunday. Why even mention my birthday at all for a Daring Baker, I also host mother's Day every year. When  I read the challenge I thought to my self, what brilliant means to limit the dishes, eat them! Pecan short bread seemed a great place to start. I thought since Sydney and I were hosting a Mother's Day Brunch the spoons could have a fried egg look on top and bowls could resemble oatmeal.
Okay, yes I know eggs are an orange-yellow, but my family loves raspberries, and I love to push the envelope! I actually used a mixture of blood peach fruit purée and raspberries for the yolk and whipped white chocolate for the whites. Oatmeal was a no brainer: almond mousse.
Shortbread:
1o5 grams/ 1-cup pecan flour,
135 grams butter, cold cut into cubes
100 grams/ 7/8-cup  icing sugar
7 grams salt
142 grams/ 1 cup flour
84 grams/ about 3 yolks
1/8-teaspoon salt
28 grams/ 2-Tablespoons heavy cream
Prepare your mise en place.
In a food processor with the metal blade, pulse almond flour and sugar. Add butter and pulse about 18 times or until no loose particles of sugar or nuts remain. Add the flour and salt, pulse 15 additional times or until the butter is about the size of small peas.
In a bowl stir the yolks and cream. Add it to the mixture, pulse just until incorporated, about 7 to 10 pulses.
Dump the dough onto plastic wrap. Enclose the dough in the plastic wrap,  knead together,  and flatten in a disk about 1.25-cm / 1/2-inch disk.Refrigerate for 30 minutes, or freeze for ten minutes, until firm enough to roll, cut out spoon shapes and charlotte shapes.
Preheat the oven for 20 minutes at 180ºC/350ºF.
Bake for 10 to 15 minutes. Allow to set on pans for about 5 minutes and carefully transfer to cooling racks.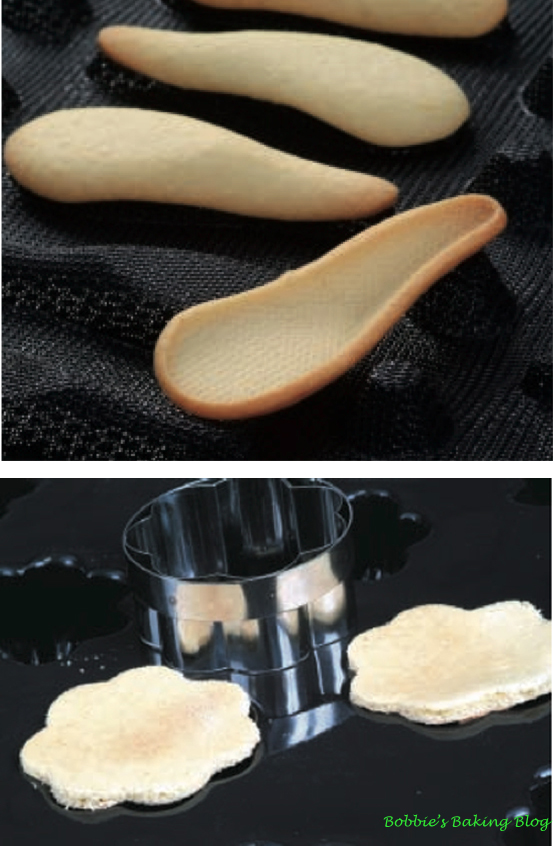 White Chocolate "egg white" Chantilly Cream:
150(300) grams cream
150 grams white chocolate
3 grams MYCRYO cocoa  butter (150 grams cocoa butter maybe substituted)
½ vanilla pod
200 grams whipped cream
In a heavy bottom saucepan heat the vanilla pod, cream, and glucose to a kiss of a boil, turn off heat and add the gelatine sheets. Immediately pour over chocolate and pulse till smooth. Pour into a bowl to cool. When the white chocolate is exactly 34 degrees C/ 95 degrees F whisk the micro cocoa butter till dissolved and should be silky- shiny.
Whip the cream to very soft peaks, add the white chocolate, and immediately fill the spoons and top with "egg yolks."
Raspberry and Blood Peacht "egg yolk:"
100 grams peach purée
100 grams fresh or frozen raspberries
65 grams sugar
2 grams xantana gum
Mix all the ingredients together until the consistency is even than pour into half-spheres.
Assemble:
Spoon eggs:
Once the Pecan shortbread cookie forms have cooled pipe the white chocolate onto spoons and top with half-sphere shape purée.
Bowl of Oatmeal:
Pipe with almond mousse into the bowl shaped cookies and top with a slice of strawberry!
Here a few other baked goods we prepared :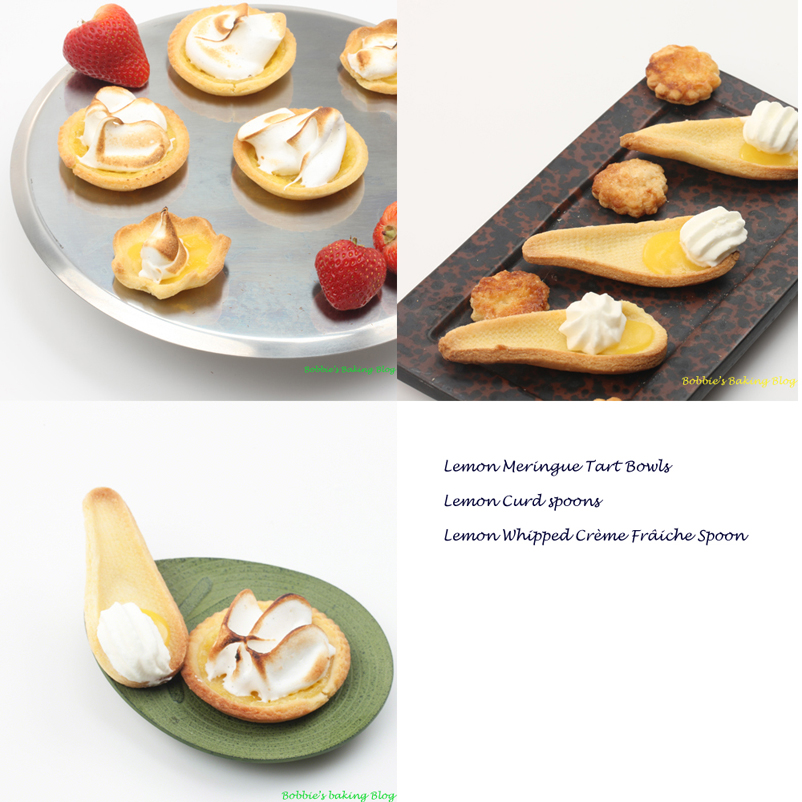 Just a Spoonful of Lemon Meringue, No Medicine Required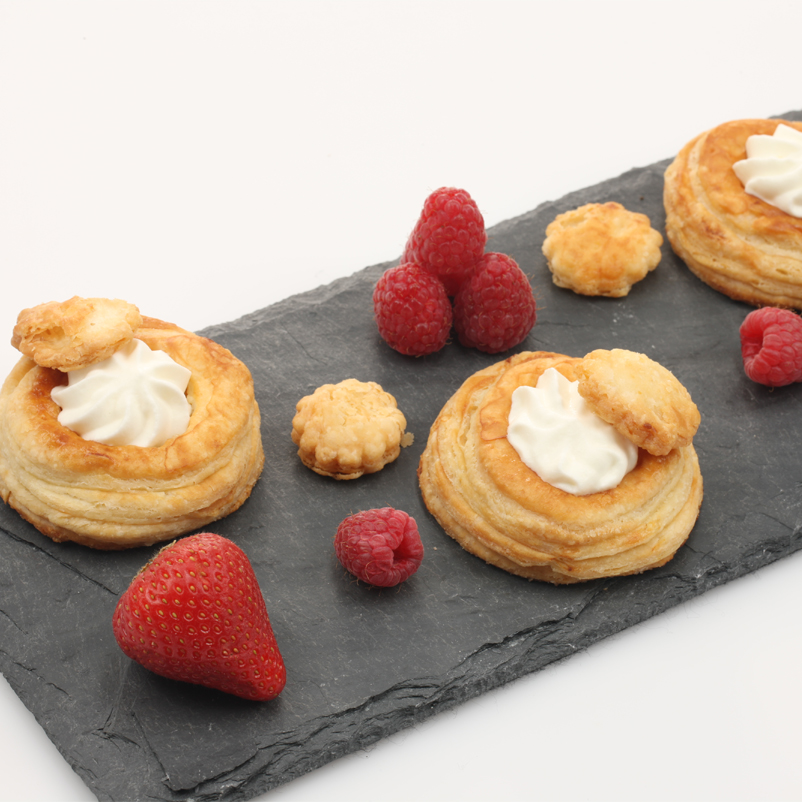 Gluten Free Vols-au Vent
I would love to report that Mother's Day Edible Serving was a huge success; however this charming challenge was also our sound board for the celebration!! I can expressively cheer the challenge was a grand achievement!