I must admit this week has been a comedy of errors, Sydney had surgery (first time under anesthesia), my husband was/ and still is on a business trip, I completely  forgot  to send Lis of Daring Bakers my article for food talk, and Sydney might need to go back to the doctor due to a bone fragment. To say I am over whelmed would be an understatement. I think I need to breathe, but here is my Food Talk Article.
Ginger is an amazing flavor, it can be used for savory dishes in a reduction with balsamic vinegar or soy-ginger salad dressing, but my favorite way to use ginger is in a pound cake.
Four years ago I was thrilled to find a Domaine du Canton, it just happened the rep was in my favorite restaurant, conversing with the owner. The rep sat down with both of us and asked us to taste the liqueur, my taste buds went into over drive. I couldn't stop thinking of different ways to add the flavor into recipes.
My husband adores pound cake, my first with Domaine du Canton was a mascarpone ginger-almond pound cake.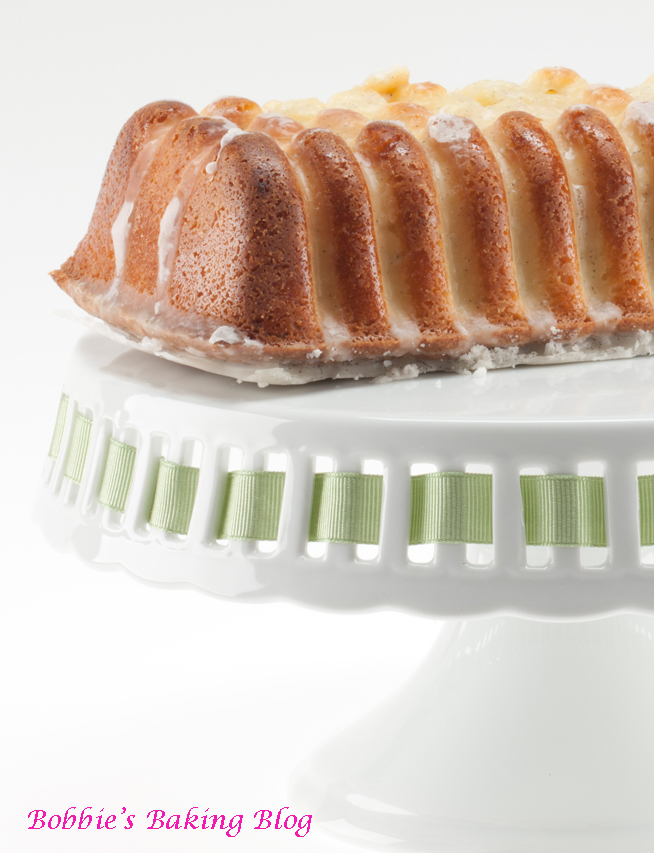 I was pleasantly surprised when just adding ½-teaspoon of candied ginger to the recipe, and using the liqueur in the glaze created a cake sensation!
I am always elated when adding one simple ingredient completely changes an old favorite.
Since that faithful day I served this cake for a half dozen events. The flavors are perfect for all seasons and depending on the pan shape it can be simple for a BBQ or dressed-up for a special occasion. I hope you will try this recipe, have fun playing with the flavors; maybe add lime zest to add to the depth of flavor.
Prepare your mise en place, preheat the 0ven to 160 degrees C/ 325 Degrees F, and either  spray a loaf pan with baking spray and line with parchment paper or use flexipan loaf.
Ginger glazed Lemon Pound Cake: 
Ingredients:
187 grams, 1½ cups plus 3 Tablespoons cake flour, sifted
26 gram s/ 1/4-cup almond flour
½ teaspoons baking powder
Pinch of salt
113 grams, ½ cup unsalted butter, room temperature  (*see note)
300 grams, 1½ cups sugar
1- teaspoon candied ginger or grated fresh ginger (optional)
115 grams, ½ crème frâche
116 grams, ½–cup mascarpone cheese
3 large eggs, about 165 grams
½ teaspoon vanilla extract
1/2 teaspoon Domaine de Canton
2 teaspoons lemon zest
15 grams/ 1-Tablespoon clarified butter
Ginger Glaze:
2 teaspoons Domaine de Canton (ginger liqueur)
2 teaspoons Disaronno
120 grams, 1-cup powder sugar
2½ Tablespoons fresh lemon juice
1 vanilla bean, seeds only
½ teaspoon vanilla extract
In an electric mixer with fitted paddle attachment, beat butter and sugar on medium speed until blended, about 4 minutes, add the lemon zest continue to beat until creamy, smooth, and incorporated. Add the crème frâche and mascarpone, and continue to beat on medium speed.
In a medium size measuring jug add egg,vanilla, and Domaine de Canton whisk till combined and foamy.
On low speed add dry ingredients, alternating with the egg mixture. Starting and ending with the dry ingredients, till the batter is homogenized.
Fold the ginger with about 1- 2-teaspoons of flour tossed with the ginger into the batter.
In a small heavy bottom pan heat the 28gram/1- Tablespoon of butter.
Pour the batter into prepared loaf pan, smoothing the top, gently tap the pan against the counter top, (to remove air bubbles). Pour a line with melted butter in the center of the raw cake. Bake for about 65 minutes, until the top of the cake is golden brown and a toothpick inserted comes out clean. Cool the cake in the pan on a cooling rack for 15 minutes. Remove cake from pan and cool on the rack. Meanwhile bring oven temperature down to 300 degrees or 150°
Prepare Ginger-Lemon Glaze:
Place sugar in a bowl; add Domaine de Canton, lemon juice, vanilla seed, and vanilla extract. Whisk the ingredients together. Pour the glaze on the cooled pound cake and put the cake in the  300 degree oven on a baking sheet lined with parchment paper  for 2 minutes to allow the glaze to set.