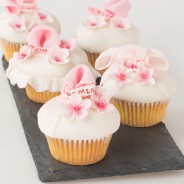 Sydney started noticing personalized fortune cookies and thought it might be fun if we created fondant fortune cookies with a gumpaste personalized message. I thought it would be perfect to add cherry blossoms gumpaste flowers  with  cherry blossom flavored cupcakes. As I have written prior, cherry blossoms are a major part of D.C. history. Sydney and I FaceTime and Skyped this post together, I must admit it was hilarious to watch us trying to figure the structure of the  fortune cookie over the internet (D.F. was in tears from laughing)....
read more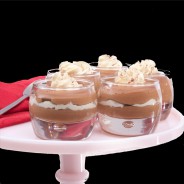 If you are taking your own photographs for your blog, photoshop is a necessary tool, it is also like walking through mud. The book is almost as many pages as War and Peace, but the characters are not Russian. I have found after reading and re-reading the Photoshop CS5 book I found that there needs to be an easier way to understand. I have found a few short cuts and will share these with you. I hope my experience will be helpful. For the The Mousse au Chocolate I started with a studio background, using the the quick mask tool to cut out the...
read more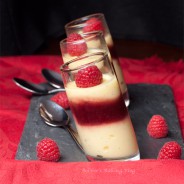 In the past month Sydney and I have found ourselves using glass for quite a few recipes ( the esthetics can be eye popping). Glass however can be problematic when working with studio lighting. I wanted the Champagne Pudding to have a romantic yet mysterious look. After spending time researching "false black" backgrounds, instead of masking in photoshop, Sydney and I put together a DIY macro table setting, Using an antique night stand, a black stone dish, and a red napkin Sydney styled the pudding beautifully. It was my turn to...
read more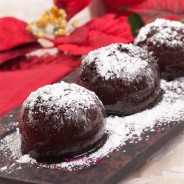 The days of winter become shorter and shorter, actually we do not lose hours, but daylight. For a photographer natural lighting is optimum, however it is not always available when you need to photograph. How do photographers make up for the lack of daylight? Our answer is studio lighting; the set up for the candied plums (above) was using a canon 100mm lens on a mark 111 with an ISO of 100, f-stop of 13, shutter speed was set at 1/5 of a second, and the lights were set to 96. There are many different types of lighting available, regardless...
read more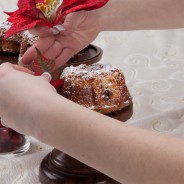 Life seems to send signs and guides; if we take a moment to listen: When Sydney and I began Bobbie's Baking Blog it was as a tool to keep us in touch by a common passion. In all honesty I was having a hard time letting go of a friend, daughter, and business partner, the blog eased the emptiness. We could bake the same treats at the same time. When Sydney transferred back to Colorado she became inthralled with food styling; she was a natural. The food began to have personality, it literally jumped off the page dancing with palatability ....
read more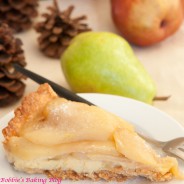 With days becoming shorten, the sun is disappearing earlier. I would rather use the natural light than my soft boxes in my studio, but the sun refuses to adhere to my schedule. In the case of the almond pear tart photos we started around 3:15 in the afternoon, but within 45 minutes problems roar their ugly heads. I prefer to use the manual mode on the camera, I seem to have more control. I checked the light with my light meter. I noticed the need to change my shutter speed to gain optimal day light. Sometimes it can be as easy as changing the...
read more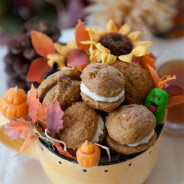 As Sydney and I were setting up this picture we began a conversation about the camera, odd. Let me explain in early June as I was placing my camera, a canon EOS-1D mark III, onto the tripod somehow it slipped out of my tiny hands. I watched as in slow motion my beloved camera hit the travertine floor. I was frozen, I didn't hear my husband run from upstairs to the kitchen fearfully yelling, "what happened?" I can't tell you how long I just stood there looking down unable to cradle my camera or see the damage I had...
read more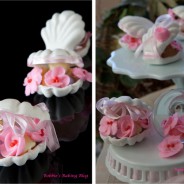 I was working with my camera on a cloudy rainy day; the clouds felt the need to move around and mingle with one another. I thought the first photograph (right side) looked nice until I viewed  the photo on my large I-mac screen; the exquisite pastillage shells looked dull and dark. The first thought I had was changing the exposure, but the photo looked over exposed (I couldn't believe it). After changing the iso and f-stop, to no avail, I finally tried using a completely different back ground. As you can see the pastillage shells...
read more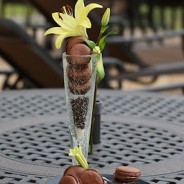 I love creating new recipes, trying them out (on family members first). When my husband came to Sydney and I with the idea of a food blog and website I thought it was a grand concept. I still do, but I must admit I went into this internet "thing" blind. I am not the most computer savvy user (that is an understatement), in fact when my husband and I ventured on The Culinary Calculator, our Iphone application, we both were ready to throw pie at each other. He is culinary challenged (expect for eating) and as I explained am...
read more