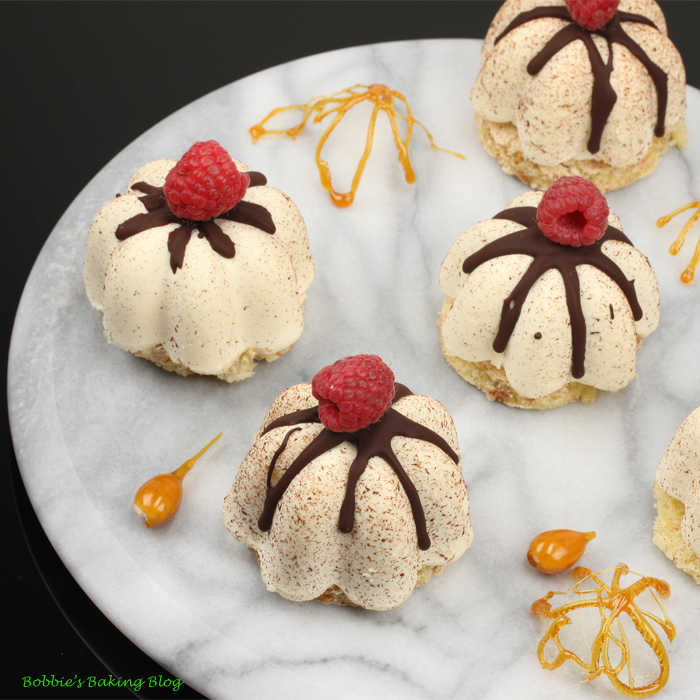 Framboise Double Chocolate Charlotte
I can hardly believe it is already the second week of April. Springtime in Colorado is a unique experience, you  can ski in the morning and golf in the afternoon. Two days ago the temperature was 24 degrees C/ 74 degrees F, today it is 8 degrees C/ 45 degrees F. I feel teased, I can work in my garden on Tuesday, but need my winter jacket on Wednesday. I feel the same way about the produce, fresh berries are available one day and not the next. I so depressingly wanted to design a wonderful Spring Season dessert to entice the senses while screaming Spring has sprung!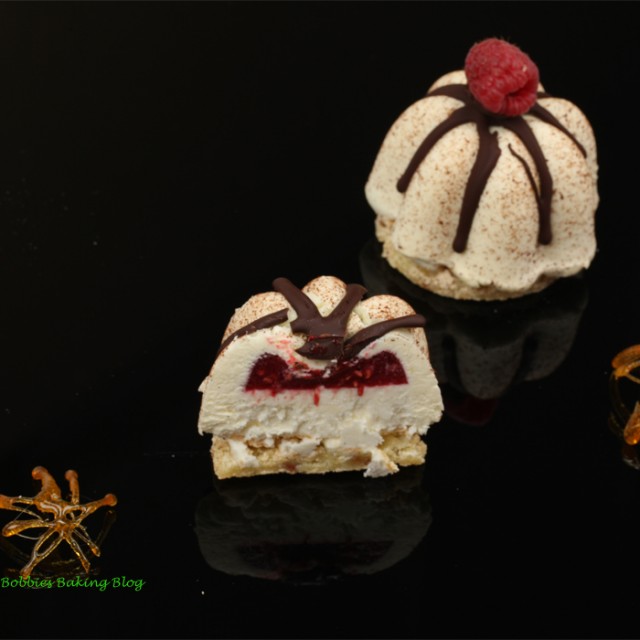 Layer of White Chocolate and Berries surrounded by Vanilla Bavarios
So as I was pondering the perfect pastry to represent spring, I looked out my front window and realized my tulips were in bloom. I had planted these beautiful fire tulips mixed with assorted flowers. Tulips exemplify early Spring, as they are one of first flowers to bloom, and as I looked upon the radiance of my first bloom Springtime flowers I knew exactly what type of pastry would embody early spring: A white chocolate berry Charlotte Mousse shaped like a flower.
Charlotte Berry Vanille:
Berry Coulis:
110 grams/ 1/2-cup white current purée
110 grams/ 1/2-cup strawberry purée
110 gram/ 1/2-cup raspberry p purée
14 grams gelatin sheets/ 7 sheets
50 grams sugar/ 1/4 cup
In a heavy bottom saucepan heat the purées and sugar to 50 degrees C/ 125 degrees F, remove from heat, and whisk in the gelatin. Pour the coulis into small charlotte molds, ¼ of the way.
Freeze.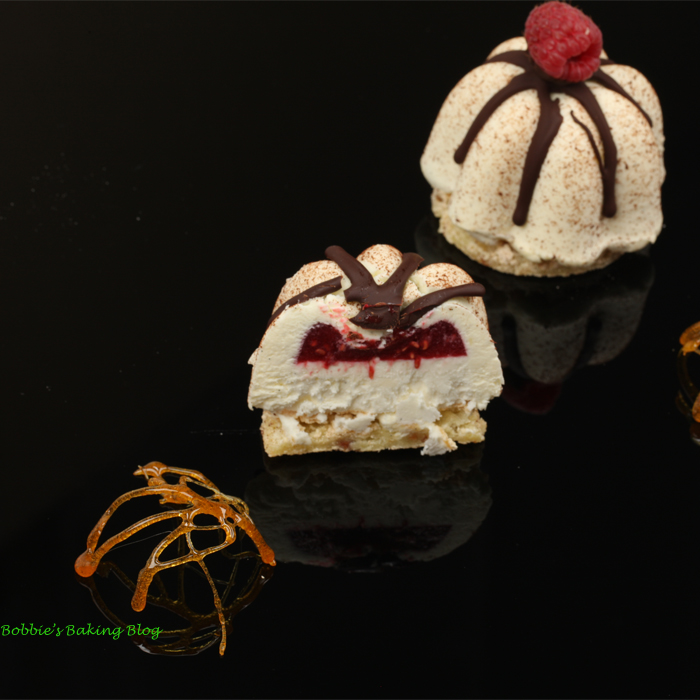 Berry chocolate Mousse:
25 grams/1/8-cup cream
25 grams/ 1/8-cup crème frâiche
50 grams/ 2-Tablespoons glucose
25 grams/ 2-Tablespoons white berry purée
25 grams/ 2-Tablespoons strawberry purée
25 grams/ 2-Tablespoons Raspberry purée
11o grams white  chocolate, chopped in a food processor
10 grams/ 2 1/8-teaspoons Crème de Framboise or raspberry extract
3 grams/ 3 gelatine sheets
85 grams/ 3/8-cup whipped cream
85 grams/ 3/8-cup crème frâiche
Prepare your miss en place. In ice-cold water soak gelatine sheets, and grind the chocolate in a food processor.
In a heavy bottom saucepan heat the raspberries, cream, crème frâiche, and glucose to a kiss of a boil. Turn off the heat and add the gelatine sheets. Immediately pour over chocolate pulse till smooth, and pour in the framboise liqueur.
Pour into a bowl and stir until cool.
Whip the cream and crème frâiche, add the chocolate mixture, and pour over the frozen raspberry coulis.
Freeze.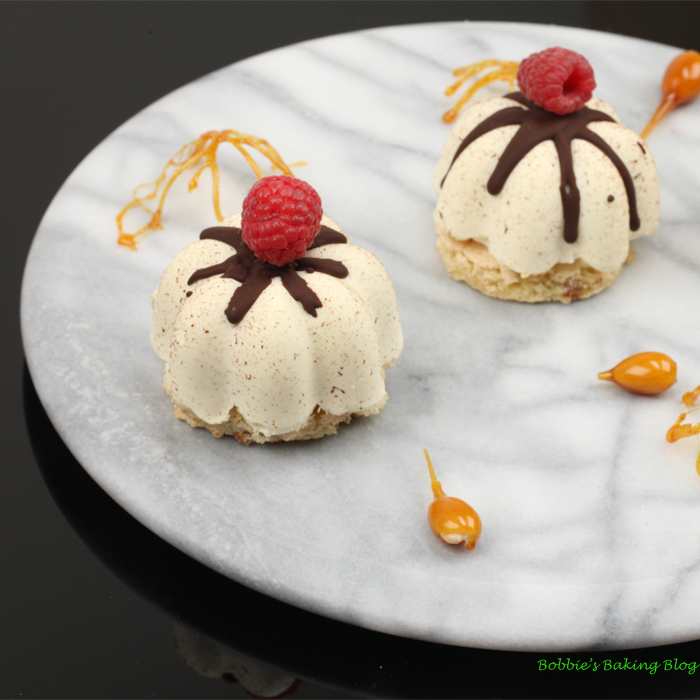 Almond Sponge:
Preheat the oven to 180ºC/350ºF.
60 grams egg yolk/ about 4 large egg yolks
50 grams/ 1 whole egg
400 grams/ 2-cups sugar
120 grams/ 1/3-cup cornstarch
190 grams/ about 6 egg whites
60 grams/ 1/4-cup almond paste
200 grams/ 1 3/4-cup toasted silvered almonds
Whisk the egg yolks, whole eggs, and half the sugar till ribbons form, then add the cornstarch and almond paste. Set aside.
In a standing mixer whisk egg whites and the second half of sugar till shiny and stiff.
Gentle fold the meringue into the egg-almond mixture and fold in the almonds.
Spread onto a flexipat and bake for about 15 to 20 minutes.
Cool in the pan slightly and remove from mold.
Once the sponge is cooled cut into rounds.
Vanilla Bavarios:
251 grams/ 1 1/16-cups whole milk
100 grams/ 1/2-cup sugar
70 grams/about 4 egg yolks
½ vanilla pod
7 grams/ 3 sheets gelatine
375 grams/1 2/3-cups whipped cream
Whisk egg yolks and sugar until pale and ribbons form.
In a heavy bottom saucepan place the milk and vanilla pod, bring to a kiss of a boil. Drizzle a fine line of hot milk to egg yolk mixture. Add the entire custard back into saucepan cook till 85ºC/185ºF, or until the mixture just begins to thicken.
Strain through a chinois and add soften gelatin.
Cool the custard.
Once the vanilla mixture has cooled to room temperature add to whipped cream.
Assembly:
In larger charlotte molds fill half way up with the vanilla bavarios, insert the raspberry-chocolate mini charlottes, and place a almond sponge on top.
Freeze over night.
Finish:
Spray with a chocolate-cocoa butter mixture on the diagonal.
250 gram white chocolate melted and cooled to 32 degrees c/ 88 to 90 degrees F. Add 2 grams of MYCRYO cocoa butter, stir until dissolved and pour into air brush.
Decorate with raspberries, crushed almonds, drizzle liquid chocolate sauce.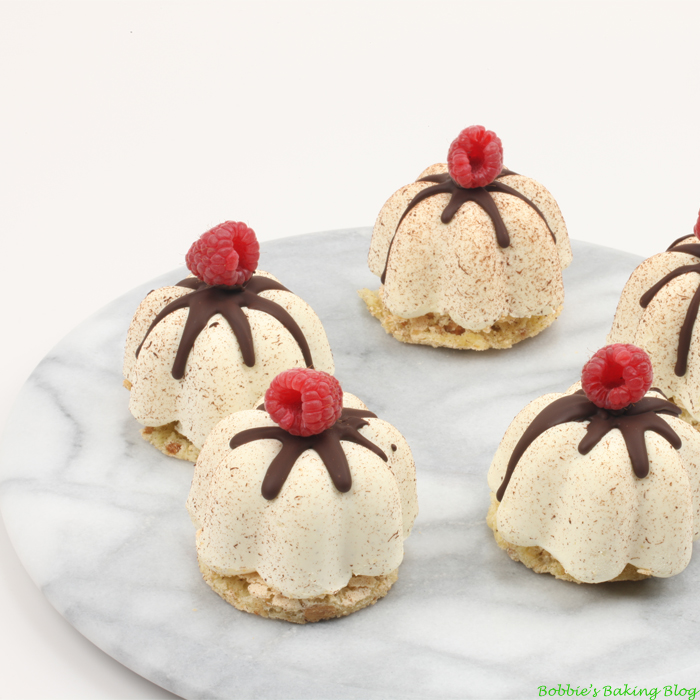 Voila!