I have been watching General Hospital for 48 of the 50 years it has aired on ABC, my grandma and I would await for every new adventure each day at 2:00 pm CT. I skipped school on November 17th 1981 to watch Luke and Laura"s wedding, I actually missed a few more days leading up to the event. I cried in 1994 when Maxie Jones needed a heart transplant; her recipient being her cousin BJ and again in 1995 when Stone Cates died. I inadvertently turned Sydney, my daughter, into a GH fan in 2006 when Luke remarried Laura on their 25th wedding anniversary.
This past week in half General Hospital has been celebrating their 50th anniversary by reinitiating the Nurse's Ball. In 1994 Lucy Coe had a wonderful idea to raise money for AIDS with a gala celebration where Port Charles's best and brightest could watch and participate. The event was a collection of musical performances starring doctors, nurses,   and a surprise guest or two. I was, of course watching the anniversary along with Sydney via FaceTime (she is in college in D.C.), when I spotted little Emma's purple dress and had to duplicate the garment with a delicious 3-D sugar cookie.
3-D Ruffled Dress:
Equipment:
Jewel mold
Ribbon cutter
Veining tool,HP
Celstick/Celpin
Fondant rolling pin
Fondant smoother
Fondant floral pad, OP
Mini pizza wheel, or craft knife
Toothpicks
Artist brushes
Cornstarch
Parchment paper cone
Materials
• Bobbie's Sugar Cookie Recipe
• Fondant, colored in ombre purple
• Fondant, ivory
• Food paste
• Petal dust,African Violet, NYCake & Violet, Ck
• Lustre dust, Old Gold, CK
• Vodka
• Edible glue,pre-made
• Royal icing, ivory colored and bead consistency
Visit 5th Avenue Cake Designs For supplies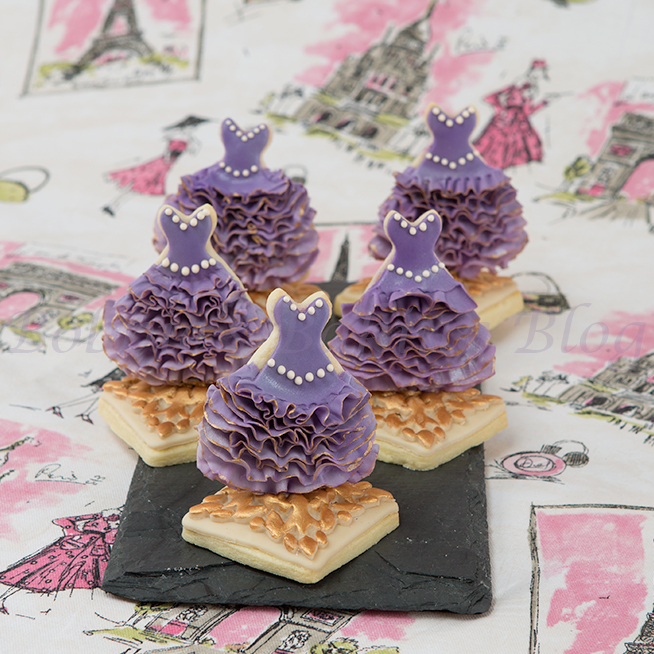 The 3-D cookie could be place card for a sweet 16 or graduation party!
You have a few mediums to attach the dress cookie to the jewel stand, Royal icing, chocolate melts with freeze dry, or what I chose fondant glue. Take the extra pieces of fondant add a few drops of water, at a time, smoosh the mixture with a mini straight frosting spatula until it become gooey. Apply the fondant glue to the stand and the bottom of the dress cookie, place the two pieces together, and hold for a few seconds or until the dress is standing without aide. If any of the glue peeks out paint it with the old gold/vodka paint.
My grandmother shared her love (or obsession) of General Hospital with me, and I in urn shared my love of General hospital with my daughter/best friend, Sydney. I wonder will she be sharing the soap opera with her child?
Enjoy!