DF has been going through pound cake withdrawal, as you know from reading past posts DF, my husband, LOVES my pound cake flavor combinations. He was used to having  a different flavored pound cake every other week (he would have a piece for breakfast each morning), until Sydney left for GW. Sydney and I would bake her brioche cinnamon rolls and DF's pound cake on the weekends, however when Sydney started GW I could not bring myself to bake either alone. Yesterday at lunch, I had an epiphany of a flavor combination, white chocolate limoncello with candy lemon rinds and a Hershey's kiss centre. I quickly asked Sydney her opinion, she liked the combination, but wanted cupcakes instead of a pound cake..Instead of baking two separate recipes I turned the pound cake recipe into cupcakes. Half we glazed with Godiva white chocolate icing and half we decorated and covered with fondant.
Limoncello-White Chocolate Chunk Pound Cake:
374 grams, 3 ½ cups plus 3 Tablespoons cake flour, sifted
24 grams/ 3-Tablespoons cake essence, optional
1 teaspoons baking powder
Pinch of salt
226 grams/ 7/8–cup unsalted butter, room temperature
400 grams, 2 cups sugar
115 grams/ ½ cup heavy cream
115 crème fraîche/ 1/2-cup
116 grams, ½–cup mascarpone cheese
6 large eggs, about 3oo grams
1 teaspoon vanilla extract
1-teaspoon Limoncello
1-Tablespoon chopped candied lemon rind
198 grams/ 7/8-cup white chocolate chunk
24 Hershey's kisses
Prepare your mise en place.
Place the Hersey's kisses in the freezer one hour ahead of preparing the cupcakes and prepare 2-muffin tins with liners.
After preparing your mise en place unwrap the Hershey's Kisses and dust with a little cake flour.
Sift together, 3 times, cake flour and baking powder. Set aside.
In a standing mixer with fitted paddle attachment, beat butter for 2 minutes, add sugar and continue to beat on medium speed until blended, about 4 minutes. Add candied lemon rinds and continue to beat for an additional minute.  Add the cream, crème frâiche, and mascarpone, continue to beat on medium speed until amalgamated.
In a measuring jug whisk eggs, limoncello, and vanilla extract. Turn the mixer off and scrape the bowl and paddle attachment.
Reduce the the mixer to low speed and begin with your sifted dry ingredients, alternating with the egg mixture, beginning and ending with the cake flour, mix until incorporated.
Using a ice cream scoop, scoop the batter half way up, and place a Hershey's kiss in the centre, do not press down. Cover the kiss with the batter.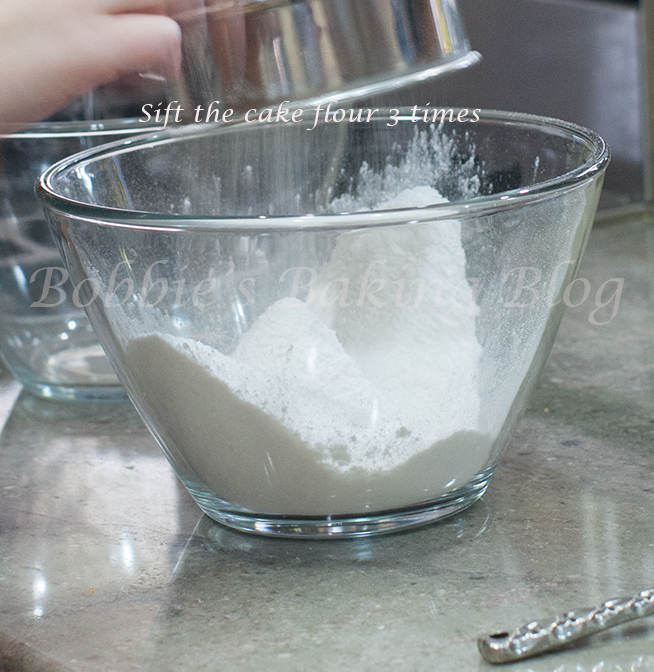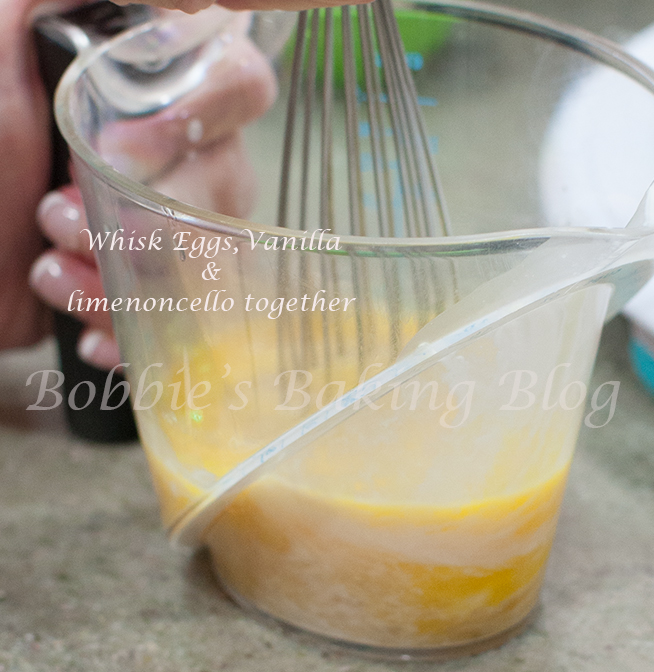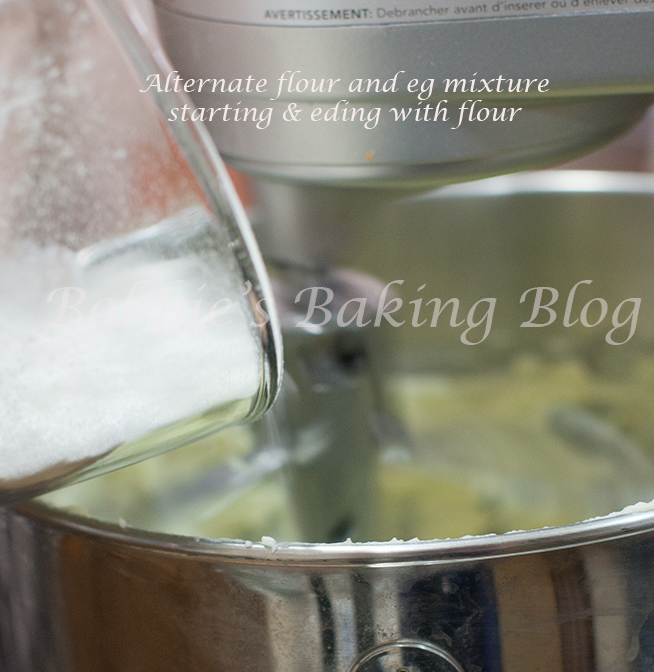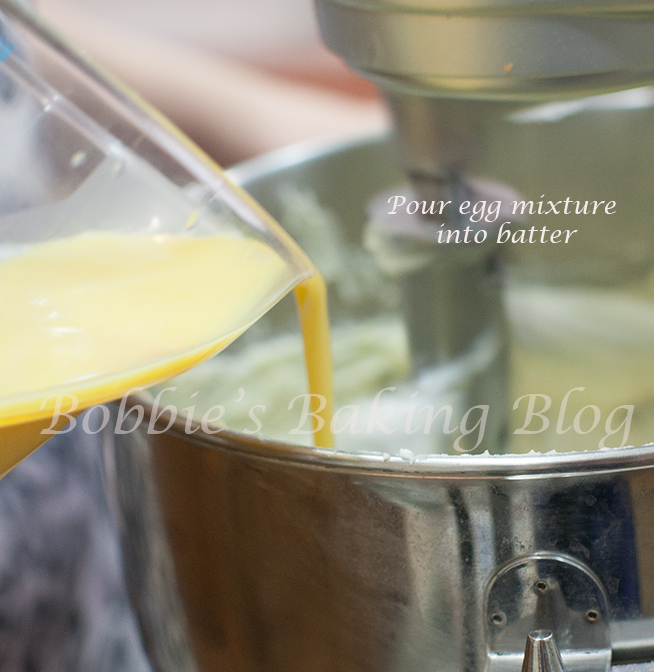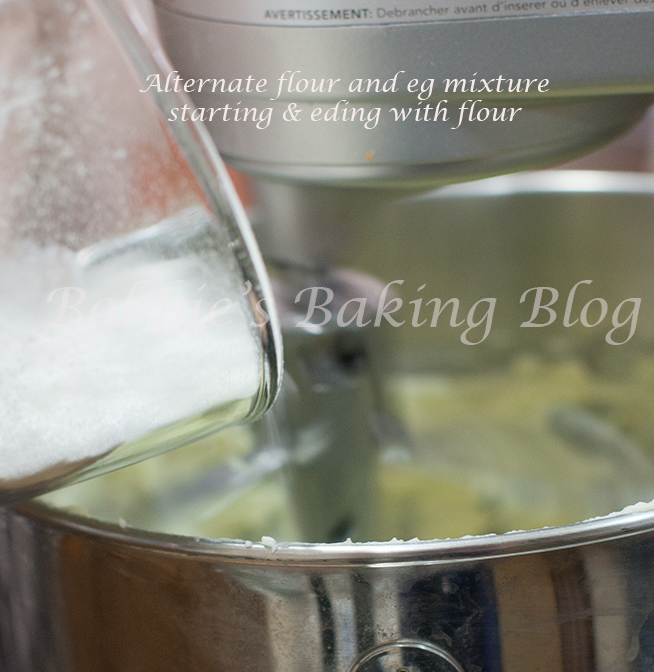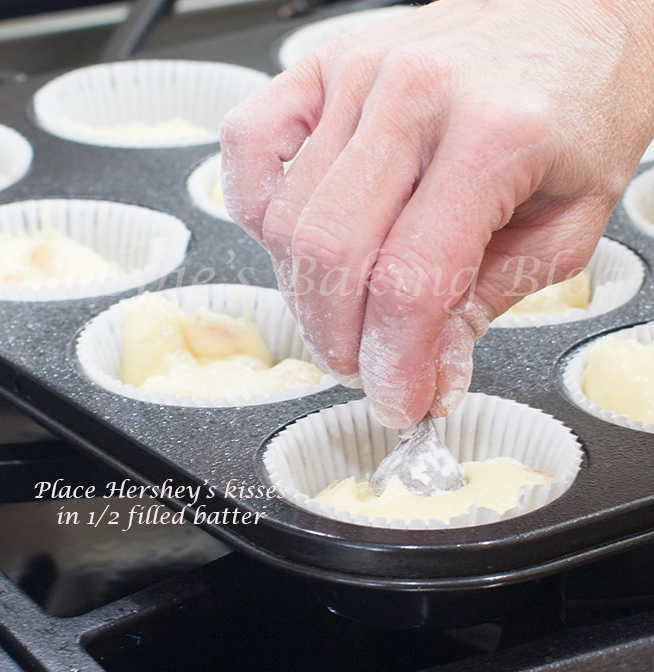 Bake for about 20 -25 minutes, until the top of the cake is golden brown, springs back when pressed lightly in the center, or a tester, inserted in the center of each comes out clean.
Cool the cupcakes in the pan on a cooling rack for 5 minutes. Remove cupcakes from muffin tins and cool on the rack.
When the cupcakes are  completely cooled cover with fondant and decorate with a lace and a bow, or coat with Godiva icing and top with a Heresy's kiss,optional (of course you could do half and half like us)!.
Sugar Paste/Fondant Bow:
Equipment:
Cutting wheel
Plastic bags, or torn Viva paper towel
Tap_It mat
Pasta machine, optional
Fondant smoothers
Rollin pin
Circle cutters
Stay fresh mat
Brush
Materials:
Fondant, fondaric
Gumpaste/sugar paste, Fondarific
Pink food paste, Chefmaster
Breakfast Blue, AUI
Royal icing
Water
Fondant-Sugar Paste Bow: 
Prepare and color 334 grams/ 10 oz of fondant, color half baby pink and half Tiffany blue. Place the pink in a bag and roll the Tiffany blue out to 1/4-inch think cut out 6 circles one at a time, you'll need 12 circles (or 6 circles) one for each cupcake.
Allow to dry for 4 hours.
We decided to cover half the cupcakes with fondant lace and a pink ruffled ribbon.
Knead your pink fondant and roll out in a pasta machine to #1. Cut the sheet of fondant into 2cm/ 1/2-inch strips, place under a stay fresh mat.
Condition and knead white gum paste/sugar paste roll out to a rectangle and place in a pasta machine to a #1.
Place the strips of fondant on the sheet of sugar paste/gumpaste 2cm/ 1/2-inch a part, roll with even pressure the strips to the sugar paste/gumpaste. Place the striped gumpaste in a pasta machine roll to a #4, or roll thinly without distorting the pink strips.
Cut 5 ribbons of the striped sugar paste/gumpaste lengthwise 3.5 cm/ 1 1/2-wide by 10cm long. Place the 4 ribbons under a stay fresh mat. Dust the back of the fifth ribbon with corn starch and fold in half, creating a light crease.
Brush the centre of the crease mark with water, fold the top edges in to meet the centre fold  of the bow and attach. Brush the edges of each of the ends, one at a time, with teensy amount of water, now gather the edge together.
Bring both gathered ends to the center of the bow, you may need a smidgen more of water to adhere.
 Centre Pleat:
Cut another strip about 1.9cm/3/4-inches wide 5 cm long, pleat the strip, without letting the sugar paste/gumpaste stick to itself.
Place the pleated  strip over the gathered centre portion of the bow.
Brush the back of bow with water attach the ends of the centre strip to the back of bow, tucking them away. Cut the excess if needed. Now you have a cute little bow for your cupcake!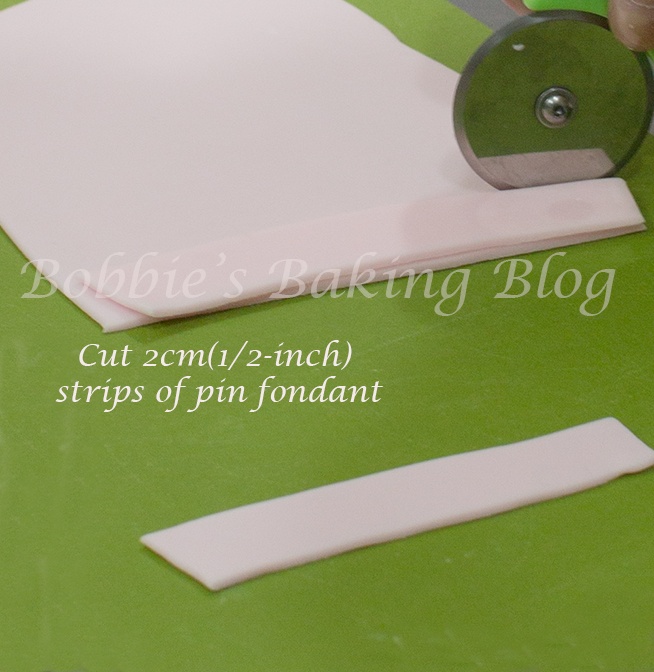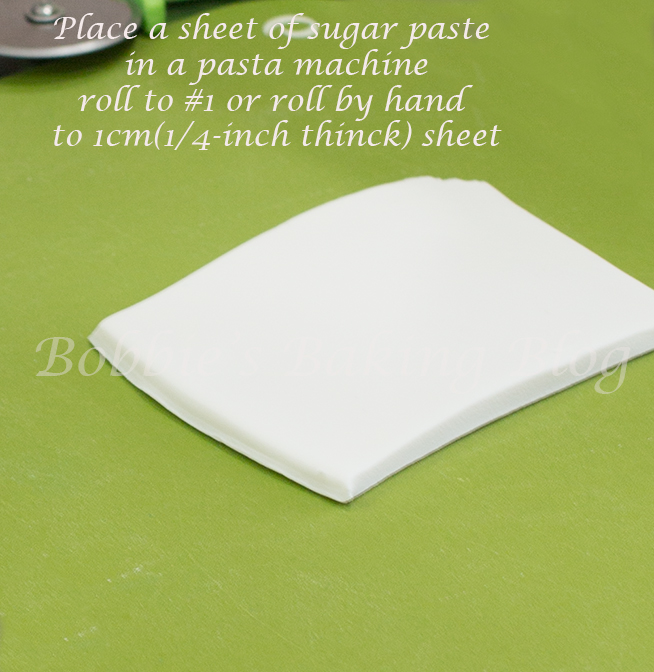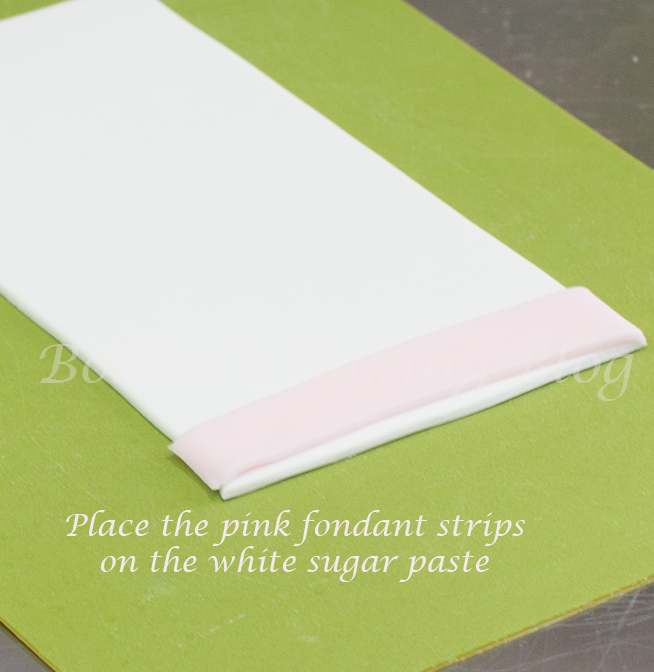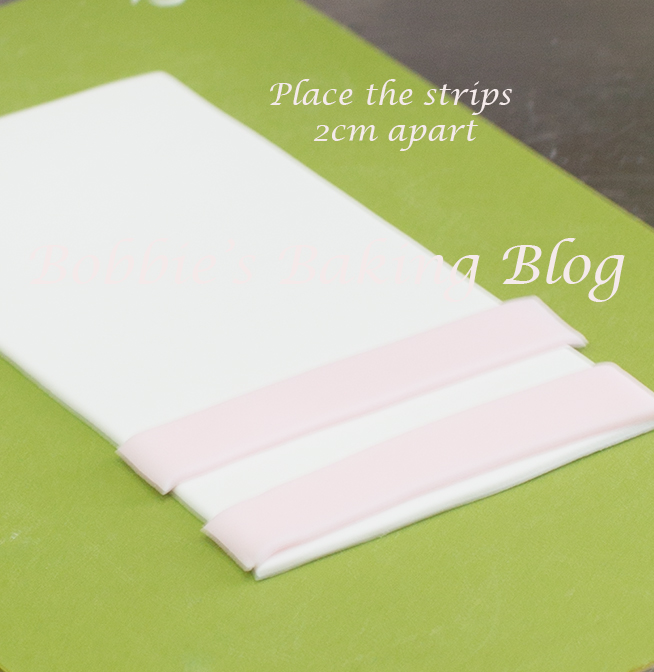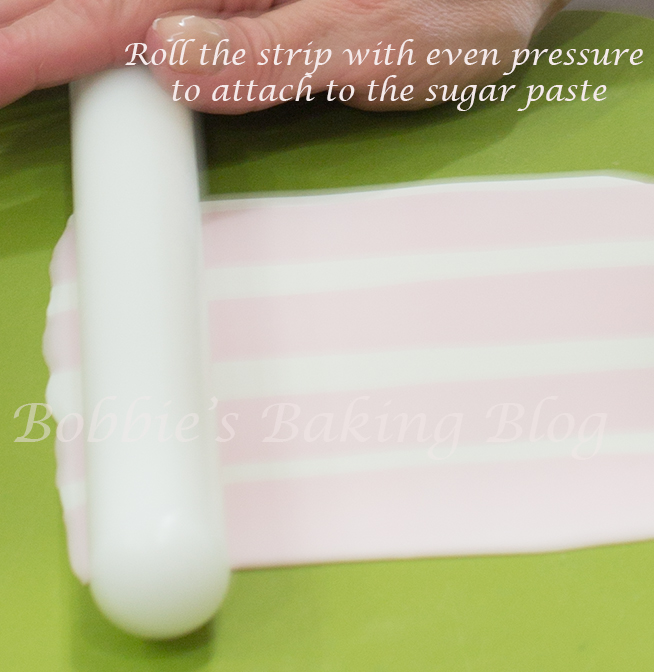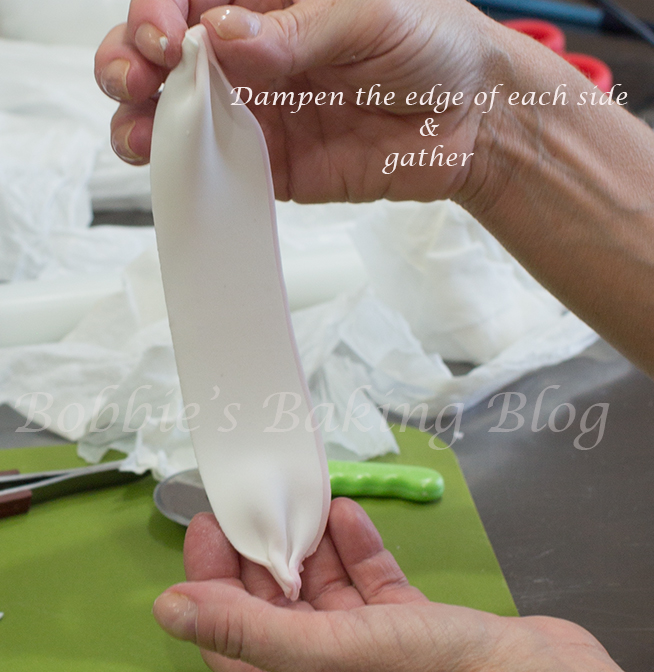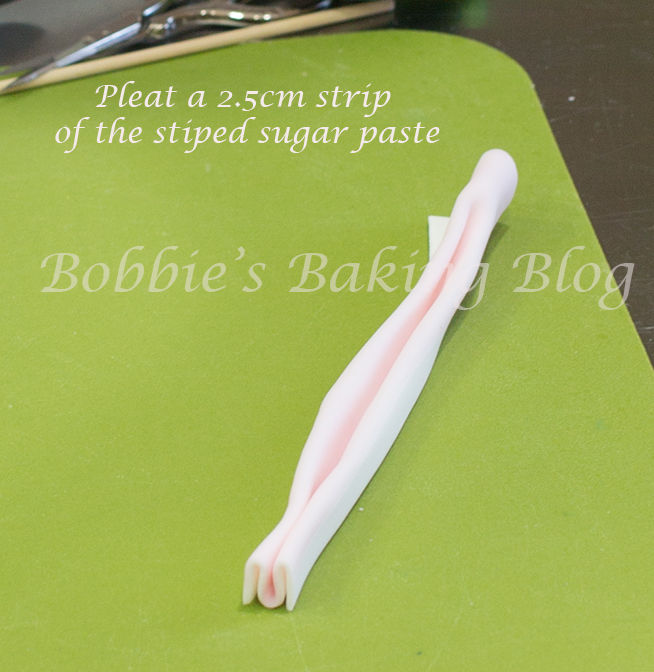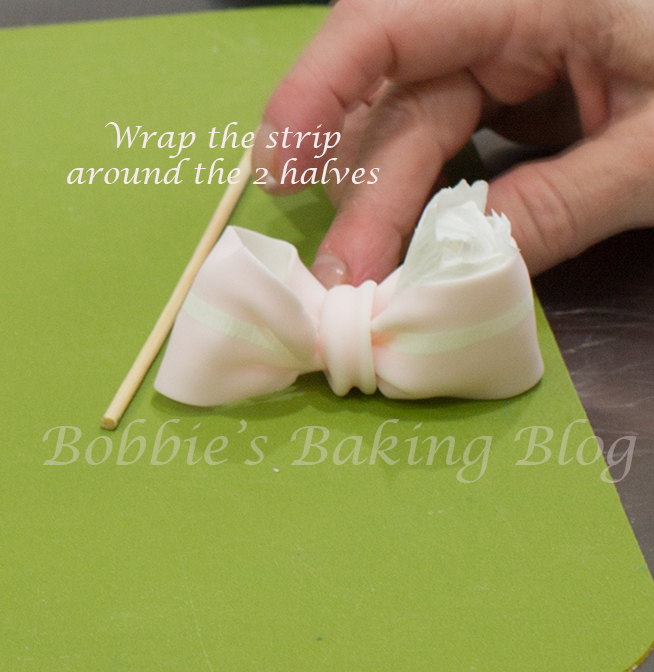 I adore recipes that have dual duty. I must admit this flavor combination is amazing..The sweet chocolate and tart candied lemon peel and the Hershey's kiss surprise!
Enjoy!