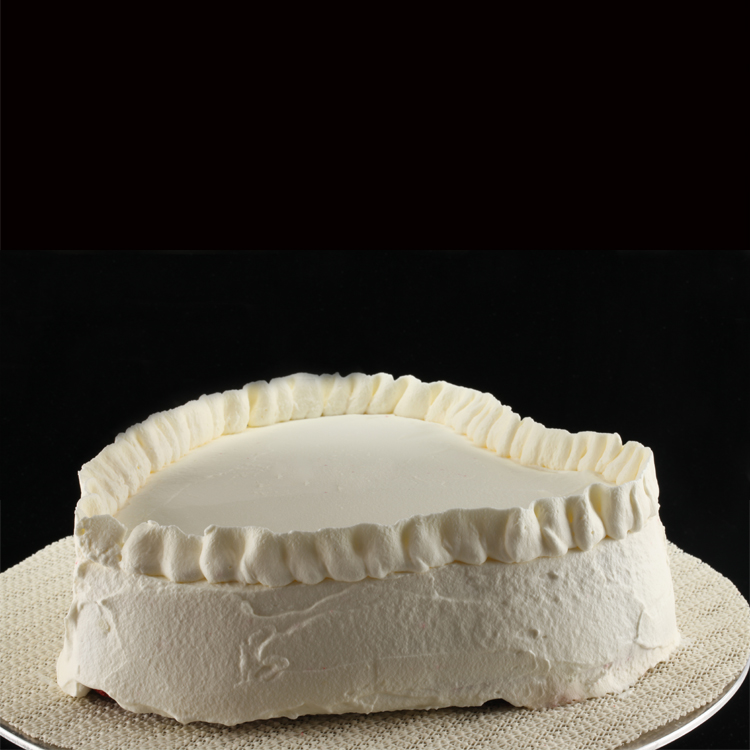 White Chocolate Crème Fraîche Frosting
The men, I am not being sexist, they happen to all be men, work in the mailroom at my husband's office have very graciously allowed me to have supply shipments to be sent to there mailroom. After the last few weeks of not only signing for the shipment, but delivering some very large and heavy boxes to DF's office, I decided I needed to show my appreciation. I began sending DF with pastries for them.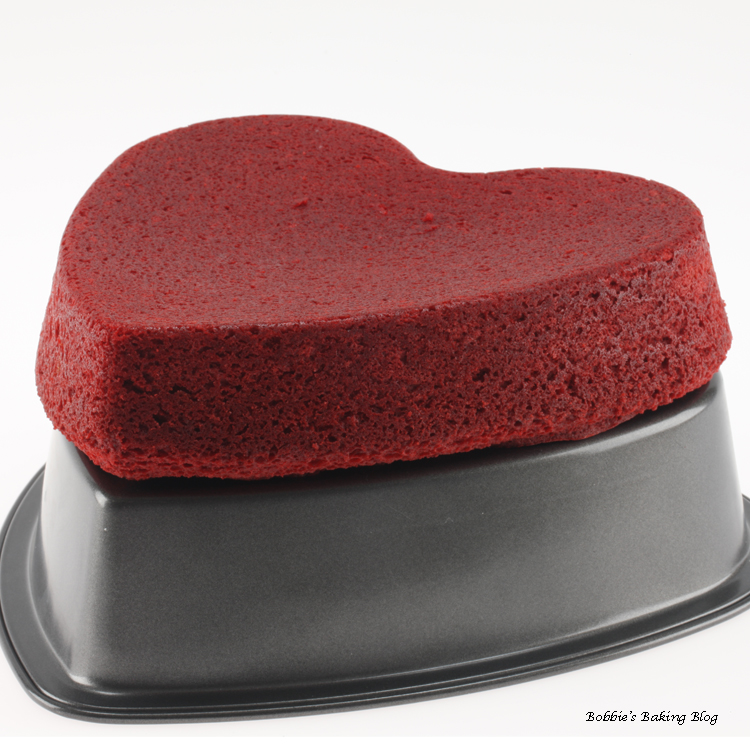 Prior to Frosting
I found out that Red Velvet cake is favorite amongst them. Originally Sydney and I were going to prepare cupcakes, but since Valentine's Day is just around the corner we decided a heart shaped cake would be apropos. Besides who doesn't like a heart shape cake?
Now Sydney and I had a plan we quickly began creating a red velvet cake.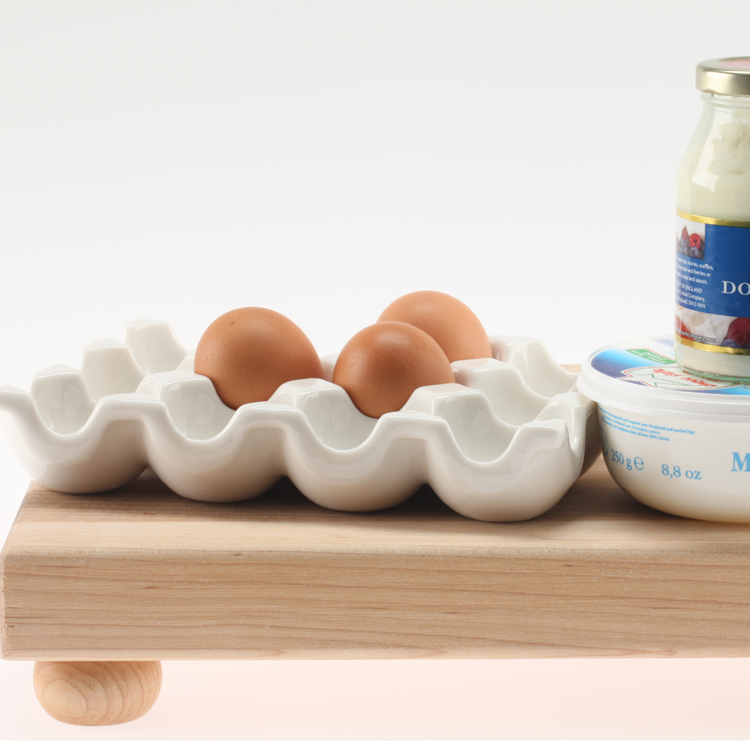 Now anyone who knows anything about me, knows I like to find the background history to popular (and not so popular) desserts/pastries that have been around for years. I rapidly found out prior to leavening agents, baking powder or baking soda, the red velvet cake was prepared more like a chiffon cake. Egg whites and yolks whipped separately and folded together is what contributes to the height. I wish I could claim Sydney and I did not use a leveling agent, but that would be false. We did find a way to omit the vinegar in the red velvet recipe and still have beautiful red colored cake though.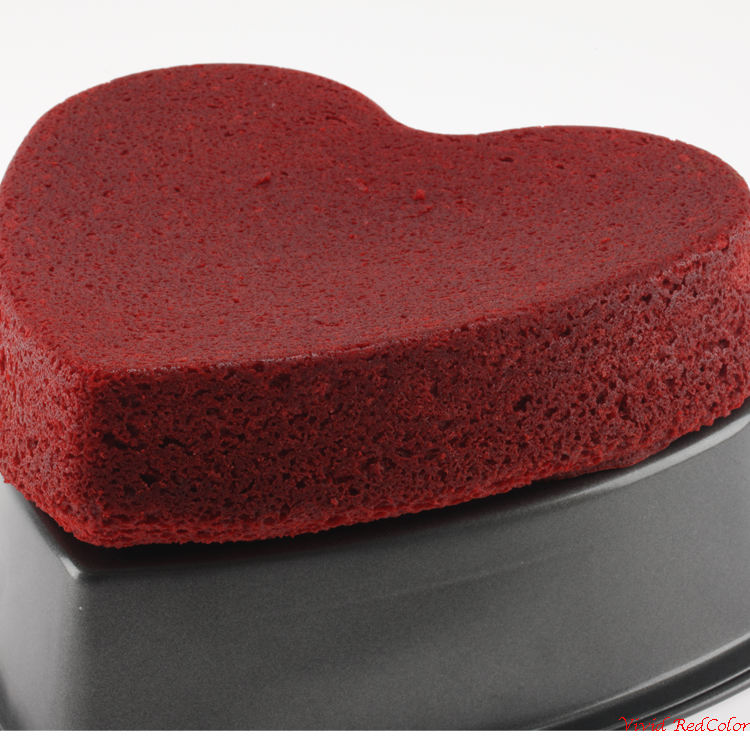 Premium Red Velvet Cake:
Inspired by Rose levy
99 grams/3 egg whites
20 drops red food gel or 1bottle red food coloring
1 ½ teaspoon vanilla extract
210 grams/2cups cake flour sifted
200 grams/ 1-cup superfine sugar
3  1/2 -teaspoons baking powder
Pinch of salt
11 grams/2-Tablespoon cocoa powder, sifted
48 grams/ 1/4 –cup of boiling water
110 grams/ ½-cup safflower oil
122 grams/ ½ -cup buttermilk
Prepare your mise en place, spray a 9×2-inch heart shaped pan with baking spray and pre heat the oven to 175º/350ºF.
Place hot water and sifted cocoa powder in a small bowl and whisk till thoroughly combined.
In a medium bowl with a hand held mixer whip egg whites, red food gel or coloring, and vanilla just until lightly combined.
In another medium bowl sift flour, sugar, baking powder, and salt.
In the bowl of a standing mixer, with the paddle attachment, mix oil and coco liquid on medium speed for about 2 minutes. Add the flour mixture and buttermilk starting and ending with the flour mixture, on low speed. Keep the speed on low until the dry ingredients are moisten. Raise the speed to medium for 2 minutes. Scrape down the bowl and paddle.
Starting on medium-low speed gradually add the egg mixture to the batter in 2 parts, make sure the egg white mixture is homogenized after each addition. With a spatula scrape the batter into prepared pans and smooth the top evenly with an offset spatula.
Bake the cake for 25 to 30 minutes or for cupcakes 20 to 22 minutes. The cake is finished when it springs back to the touch or an inserted cake tester comes out clean.
Allow the cake to cool in its pan on a wire rack for 10 minutes. Gently loosen the sides of the pan with a little metal spatula, invert the cake onto a wire rack. Cool completely prior to frosting.
Crème Frîache White Chocolate Frosting:
Prepare mise en place and a bain-marie
100 grams/ 5/8-cup White chocolate
113 grams/ ½-cup mascarpone cheese
113 grams/ ½ -cup cream
28 grams/ 2-Tablespoons butter, not quite room temperature
55 grams/ ¼ – teaspoons crème fraîche
½-teaspoon vanilla extract
Melt the white chocolate in a bain-marie, stirring the chocolate frequently. Remove from the heat and continue to stir with a silicone spatula until the chocolate is fully melted. Allow the white chocolate to cool down to room temperature.
In a food processor fitted with the stainless steel blade, place mascarpone cheese, butter, and crème fraîche until smooth and silky. Add the cooled melted chocolate and pulse it a few times until incorporated and silky smooth. Add the vanilla extract and pulse again.
Assembly:
Frost and decorate the cake or cupcakes!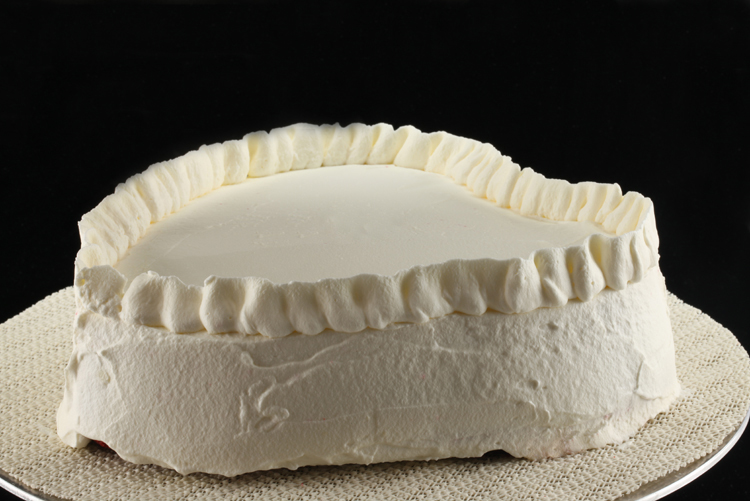 Happy Valentine's Day