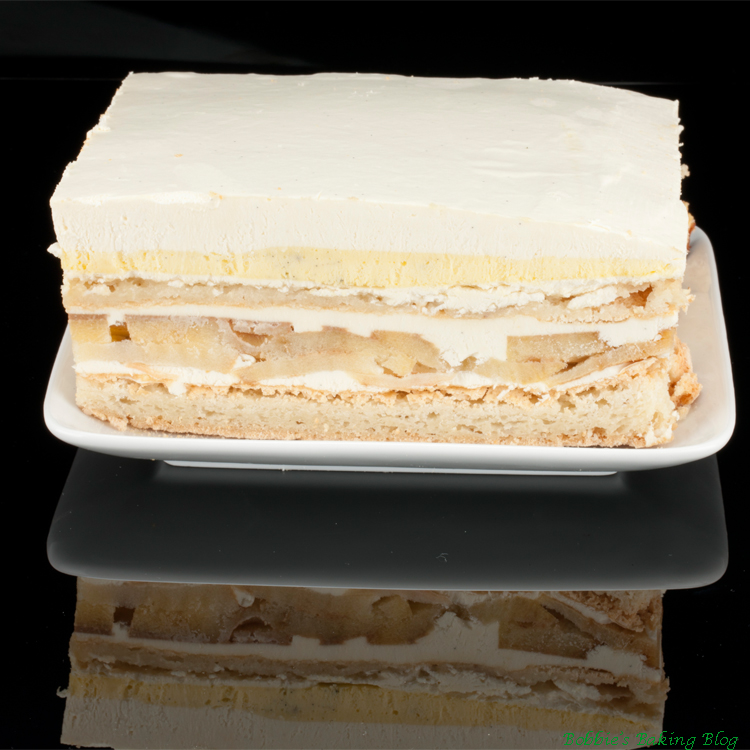 Layers of Crème Anglaise, Apples,  and Dacquoise "Oh My"
I have never named a dessert after myself before; this one just seemed to match my name. When I agreed to be DF's wife the initial thought that entered my brain was: Bobbie Noto sounds like a caramel crunchy dessert.I promised myself that one day I would design a dessert that would accompany my name. This cake has a daquoise sponge bottom, layer of caramel, a layer of crème anglaise, another layer dacquoise sponge, a layer of honey crisp apples, and a large top layer of Bavarian Crème; absolutely my kind of pastry!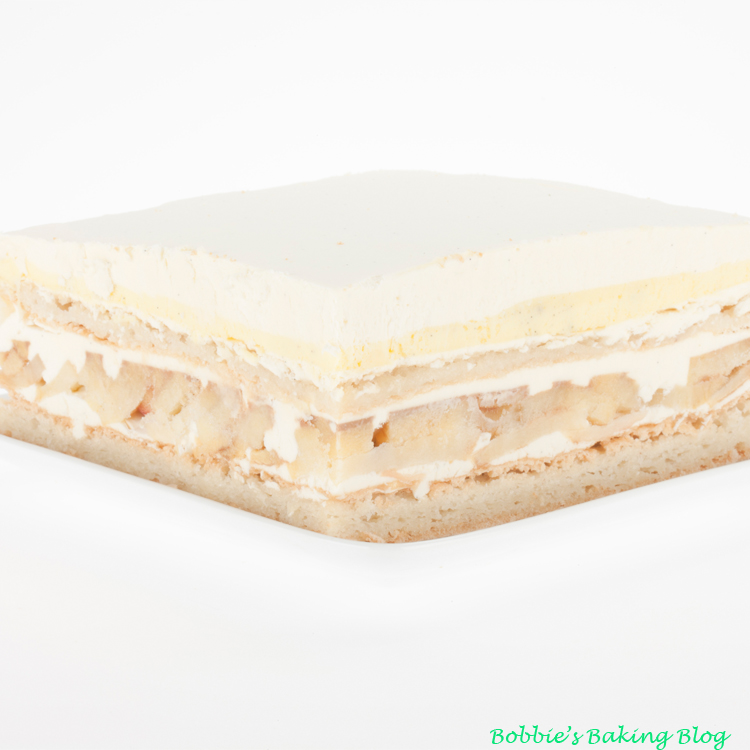 I love taking the same picture on opposite backgrounds
The idea for the cake actually began with baking Sydney some Strawberry Macarons, while we prepared our mise en place I asked Sydney what type of dessert she would be, if she was a dessert. She proclaimed quickly crème brûlée; I was prompted to ask her what type of dessert she thought I may be, again proclaiming without hesitation: a caramel apple cake. I pondered her reply for about three minutes and agreed with her assessment, adding a dacquoise, bavarian crème (I adore bavarian crème) and crème anglaise for Sydney together we began writing and testing Bobbie's Caramel-Crème Anglaise Apple Tatin.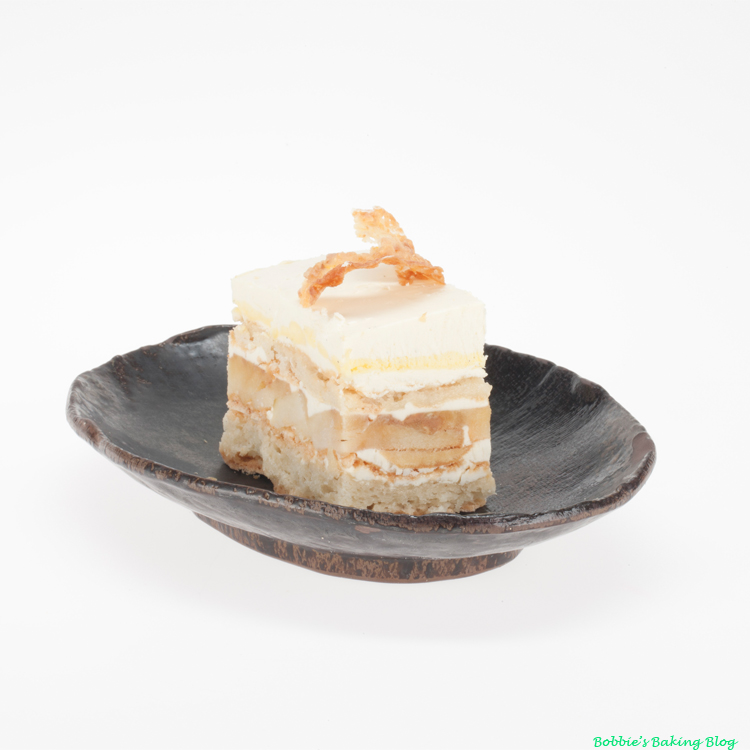 Just the right size..for me
Last March when sydney and I visited Paris we shared a Coeur de Velours/ Velvet Heart; I can still taste the silky smooth flavor. The pastry was delightfully elegant, with just enough crunch to satisfy anyone's taste buds. The Velvet Heart was a chocolate lovers dream come true, although chocolate is not my favorite flavor this dessert won me over.
I wanted our pastry to tantalize all of the senses in the same manor the velvet heart had. So as we tested and re- tested, poor Sydney was becoming frustrated at how picky I was. I knew we finally had just the right flavor combination and color when all five of my senses began to "dance." Visually I couldn't take my eyes off of the cake, the sound  of the cake crunching with each bite was like a musical note. The aroma of the apples baking in the oven with the créme anglaise actually brought DF  into the kitchen. The flavor was smooth with delicate creaminess and the texture between the bavarian crème and the dacquoise was heavenly.
Bobbie's Caramel-Crème Anglais Apple Tatin:
Vanilla Crème Anglaise:
150 grams/ 2/3 cup cream
152 grams/ 5/8 cups whole milk
140 grams/about 6 egg yolks
100 grams/ ½ cup sugar
2 vanilla pod
Preheat the oven to 100ºC/212ºF.
In a heavy bottom saucepan infuse the vanilla bean with the cream and the milk, while bringing it to a gentle boil.
While the cream mixture is heating whisk egg yolks and sugar together till ribbons form and the yolks turn pale yellow.
In a steady stream, pour ½ of the hot crème over the egg mixture, stirring with the whisk continuously. (Do not beat to minimizing foaming). Be sure to scrape the yolks from the sides and bottom of the bowl and stir until thoroughly blended. Pour the egg crème mixture back into the pan. Using a wooden spoon in place of the whisk, stir continuously until you can see clearing the sides and bottom of the pan. As the sauce heats do not let it boil when it becomes thick, test the mixture: when it coats the spoon well, a trail will remain when you draw your finger across it, and the mixture registers 74 degreesC/165 degrees F. Immediately remove from the heat and pour the sauce through a sieve.
Pour into a flexipan, which has been placed close to the oven to prevent spills.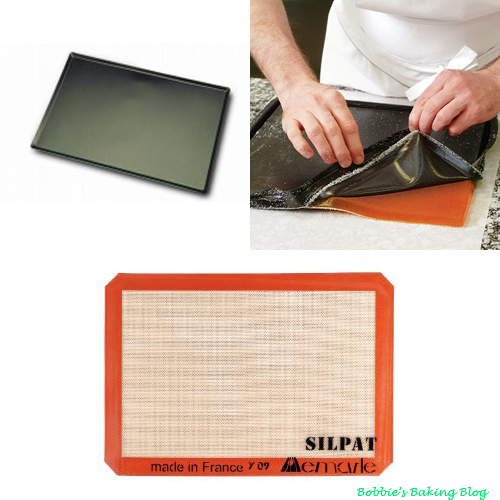 Bake for about 35 minutes and than freeze
Apple Caramel Tatin:
100 grams/ ½ -cup sugar
29 grams/1/8 cup water
20 grams glucose
75 grams/ 1/3-cup heavy cream
10 apples, peeled and sliced thin
Pour water into a 2-quart heavy-bottomed saucepan; add glucose, melt for about 30 seconds, and sugar to center of pot to keep granules from adhering to sides of the pot. Bring to a boil over high heat, covered. Uncover the pot once boiling, insert candy thermometer, and continue to boil until syrup is thick and straw-colored. It should register to 300 degrees F on candy thermometer, about 15 minutes. Reduce heat to medium; continue to cook until sugar is deep amber, begins to smoke, and registers 350 degrees on the candy thermometer, about 5 minutes longer. Meanwhile, when temperature of syrup reaches 300 degrees, bring cream and salt to a simmer in a small, heavy-bottomed saucepan over high heat. (If cream reaches a simmer before syrup reaches 350 degrees, remove cream from heat and set aside).
Remove sugar syrup from heat. Pour about one quarter of hot cream into the sugar syrup; let bubbling subside. Add remaining cream; let bubbling subside again. Whisk gently until smooth; and cook over medium heat for 5 to 10 minutes, until the mixture reaches 248 degrees F.
Place a flexipat on a silpat in order to catch apple juices.
Pour about 2/3 cup of the caramel onto the flexipat, spread around with a whisk.
Arrange thinly sliced apples (best to use a mandolin) on top of caramel closely packed together, and pour the remaining caramel onto the apples.
Bake in 160ºC/320ºF oven on a flat baking sheet for 40 minutes. Once finished baking carefully lay another silpat over the top of the cooked apples and press down to pack, allow to cool and freeze.
Dacquoise Sponge:
Preheat oven to 160ºC/320ºF.
250 grams egg whites
250 grams/  1 1/4 cups  sugar
250 icing/ 2 1/8 cups sugar
200 grams/ 1 7/8-cups grounds almond flour
50 grams/ 3/8-cup flour
Sift the almond flour, icing sugar, and flour in a big bowl.
In the bowl of a standing mixer, on low speed, whip egg whites till foam forms, add salt and continue to whip. Slowly add ½ the super fine sugar, raise the speed to high till soft peaks form. Add zest and another ½ of sugar continue whipping till stiff peaks form.
Gently fold, using a rubber spatula, the sifted almond flour mixture into the meringue. DO NOT over fold the meringue will deflate.
Pipe with a plain tip or spread with an off set spatula lightly, as not to deflate the Dacquoise, and bake for about 20-25 minutes. Unmold when slightly cooled.
Calvados Bavarian Crème:
506 grams/ 2 1/8-cupwhole milk
125 grams egg yolk/ about 6- 7 egg yolks
140 grams/ 2/3-cup sugar
15 grams/ 7 sheets gelatine
87 grams/ 3/8-cup calvados
330 grams/ 1 1/2-cups whipped cream
170 grams/ 3/4-cup crème fraîche
Make custard with the milk, sugar, and the egg yolks.
Bring the milk to a light boil, while heating the milk whisk egg yolks and sugar to ribbon stage and pale yellow. Drizzle a fine line of hot milk to egg yolk mixture. Add the entire custard back into saucepan cook till 85ºC/185ºF until mixture just begins to thicken. Strain through a chinois and add soften gelatin. Cool the custard.
When the custard is almost cooled, add the fine calvados and whipped cream.
Assembly:
Place the Dacquoise sheet sponge at the bottom of frame then combine the square of frozen apple tatin with a layer of Bavarian créme, make sure the créme is sandwiched between the layers of sponge and apples. Add a thin layer of Bavarian créme before adding another layer of  the Dacquoise sponge. Then comes a further layer of Bavarian créme before inserting the square of crème brûlée. To finish add the rest of Bavarian créme, smooth the top.
Freeze the entire frame. When ready to serve leave out for about 15 minutes prior.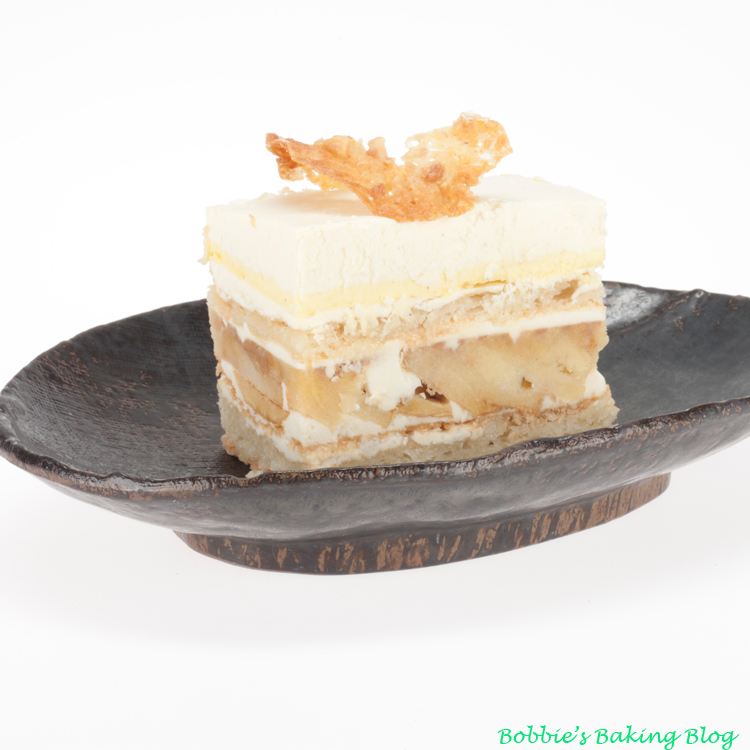 That piece lasted just for this photo, before my family and I had to taste this wonderful cake!