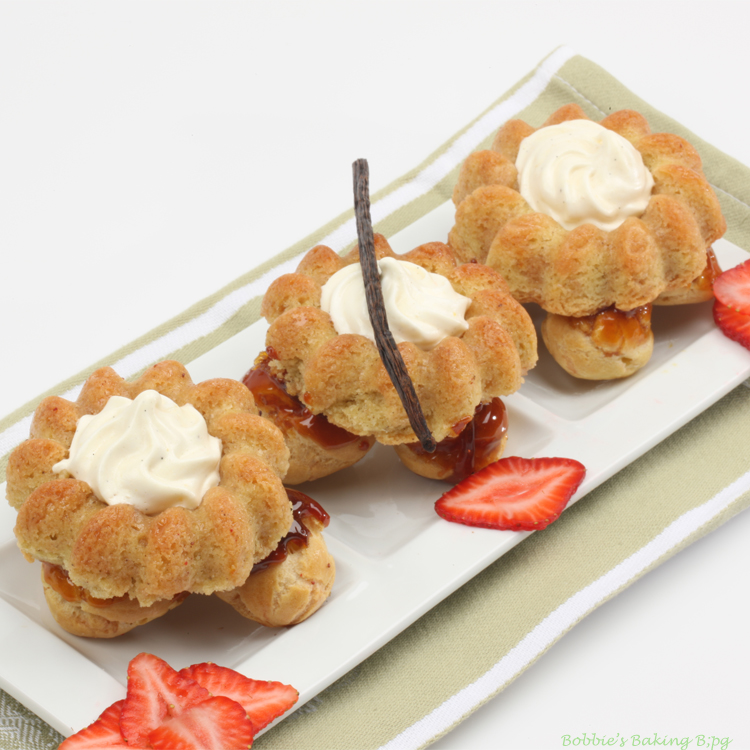 The Triplets of Yumminess!
I was lost in thought reminiscing with my memories of the trip Sydney and I took to Paris, France, when I realized  it was just about the anniversary date of that prodigious trip. France, it self is a magical place, but that particular trip was the first mother and daughter vacation we had ever taken together. Our vacations have always been the three of us, The Noto Unit. Please don't miss understand, I adore our family vacations, having fourteen days with Sydney all to myself was immeasurable. It reminded me of trips to Disney World, watching her eyes grow big with anticipations as she discovered the city of lights.  She was also working on her graduation thesis: The culture of food between France and The United States, but we found plenty of time to bond, play,shop and salivate each wonderful morsel and patisserie.
Since grabbing the next flight to Paris is a little extreme, I decided to recreate a traditional Parisian patisserie: Gateau Saint Honoré. This pastry holds a unique place in any pâtissier's heart and soul; it is the accomplishment quadruple axel of pastries. Although, to date the quadruple axel has yet to  be successfully landed by a figure skater in competition, the Gateau Saint Honoré has and can be achieved. Just like the the axel there are four and one half elements, the Pâte Brisée, Pâte à Choux, Caramel, and Crème Chiboust, with all four elements amalgamating into one spectacular patisserie.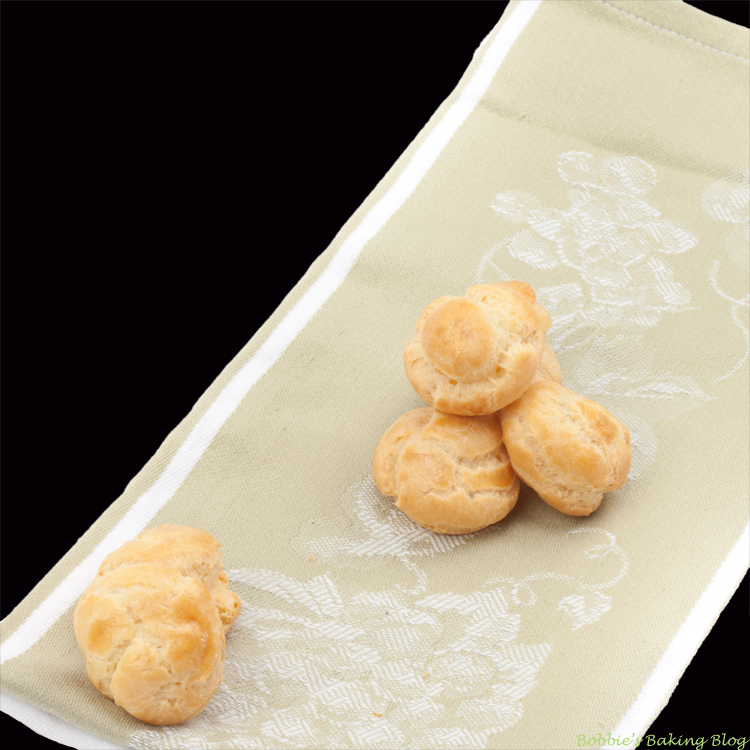 Pâte à Choux
"Pâte à Choux"  is a light pastry dough used to make profiteroles, croquembouches, eclairs, French crullers, beignets, St. Honoré cake, Indonesian kue sus, and gougères. It contains only butter, water, flour, and eggs. In lieu of a raising agent it employs high moisture content to create steam during cooking to puff the pastry."Pâte à Choux" is the most versatile pastry recipe to repository.
As we were dipping the Pâte à Choux in caramel DF popped one in his mouth, besides burning the roof of his mouth (the caramel was  extremely hot) he announced the little puff ball was tasteless. I believe his taste buds were expecting an eclair. Their lack of taste is why they can be used in sweet or savory dishes. Think of Pâte à Choux being the color white, you are able to just fit about anything with it, but alone it can be boring. I am using these little puffs to create a portion of the delightful pastry; Gateau Saint Honoré.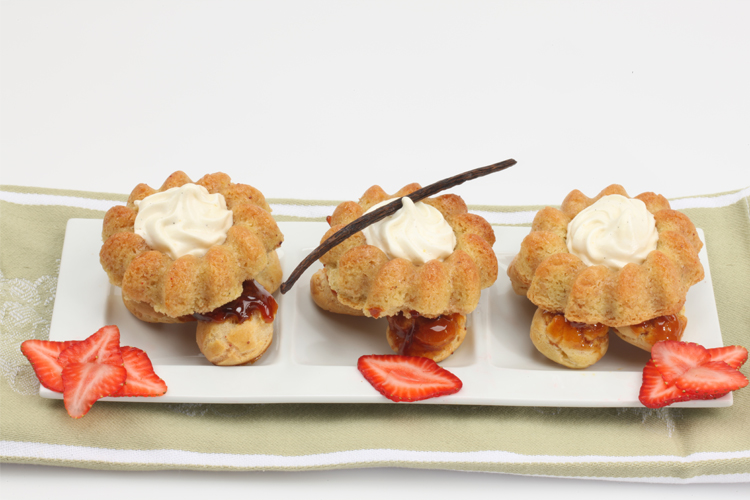 The Pâte Brisée
The Pâte à Choux may be tasteless, but I can a sure you the the Pâte Brisée is brimming with saver (flavor). I decided in leu of fabricating a puff pastry to create our Pâte Brisée ,  I would substitute a sweet dough recipe I was testing, to my surprise the little treats were a show stopping hit. While Sydney and I were in France we spoiled ourselves by visiting a patisserie each morning; sharing an delectable pastry. The Gateau Saint Honoré was our introduction to a delight french breakfast and the first patisserie we shared.
The outer elements of this heavenly delicacy are crunchy, sweet, a tad chewy from the caramel; the inside is soft filled with vanilla and has a mousse like texture.
Here is my version of Gateau Saint Honoré :
Gateau Saint Honoré:
Sweet Dough:
160 grams/7 to 8 egg yolks
290 grams/1 1/2 -cup sugar
290 grams/1 1/4 cups butter
1 gram/1/2 teaspoon vanilla powder
360 grams/ 3 3/8 cup cake flour
65 grams/5/8-cup almonds flour
13 grams/5/8-cup baking powder
Prepare your mise en place. Sift together the flour, almond, baking powder and salt, set aside.
Whisk egg yolks and sugar to a pale yellow, light and creamy. Beat in soften butter and vanilla powder, and stir in the sifted flour-almond mixture.
Mix to a firm dough, cover with cling film and rest in the refrigerator for 2 hours.
Once rested roll out to 1-2cm thick and cut into rounds cover loosely and refrigerate for 30 minutes and rest.
Preheat the oven to 170 degreesC/340 degrees F.
Pipe into Saint Honoré mold or pipe into shapes and bake for 8-10 minutes.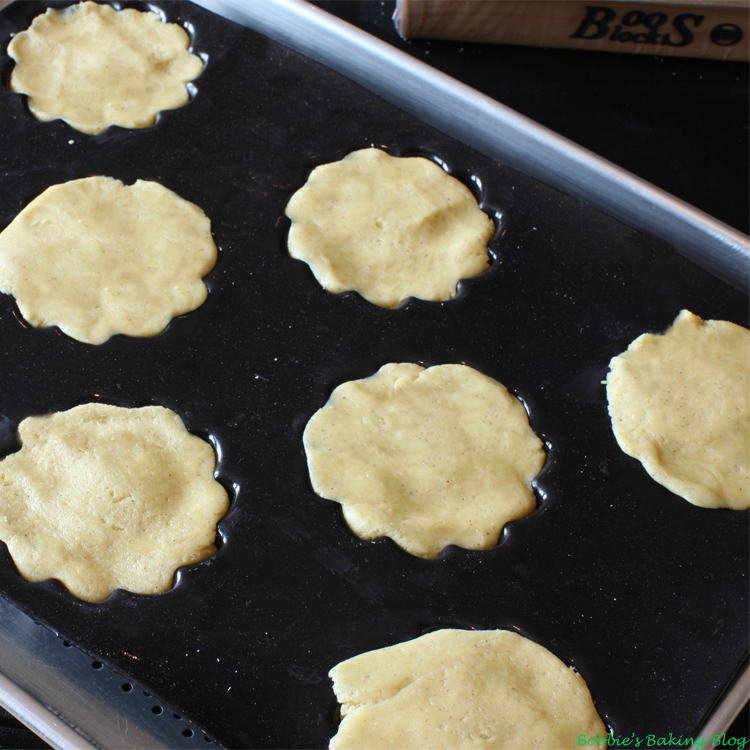 Pâte à Choux:
250 grams butter, cut into small pieces
3/4 teaspoon sugar
¾ teaspoon salt
474 grams/ 2cups water
340 grams flour
10 -12 eggs
Egg wash
Prepare your mise en place and preheat the oven to 233 degrees-C/ 450 degrees-F. Line a jellyroll pan with a silpat and set aside.
Combine butter, sugar and salt with water in a heavy bottom stainless steel pan over high heat and bring to just a boil. DO NOT allow the water to boil for any length of time. Once at a boil remove from heat, using a wooden spoon quickly beat the flour.
Return to the pan to medium-high heat and continue to cook for 30 seconds. The mixture should begin to thicken, dry out (dessécher) and form a mass. A thin film should form and the bottom of the mixture should begin to pull away from the sides of the pan. Take care not over cook the mixture. The fat might separate. Using a rubber spatula scrape the mixture into a bowl of a standing mixture fitted with the paddle attachment, on medium low speed and allow the steam to escape and cool down. (This is important so you do not end up with scramble eggs).
Add one egg at a time, beating consistently until the paste is smooth and shiny. You will know when enough eggs have been added when
A)a ribbon of dough forms and does not break when the paddle is lifted.
B)A spoon runs through the paste and leaves a line in its place, that fills in slowly.
C)A dollop of paste lifted on a spatula curls over on it's self and forms a hook.
The pâte à choux is ready, place the dough into a pastry bag and pipe it in alternating rows 1.3 cm/1/2-inch rounds on to the prepared baking sheet. Lightly brush egg wash, using a pastry brush, on each little round.
Place the pâté à choux in the preheated oven and turn off the oven. Bake with out the oven on for 15 minutes, then turn the oven back on to 177 degrees C/ 350 degrees F. for an additional 20-25 minutes, or until the pâte à choux are golden brown.(The inside color should match the outside color) check the bottom of the pastries for cracks to make sure they are finished.
Remove from oven and allow to cool for 20 minutes.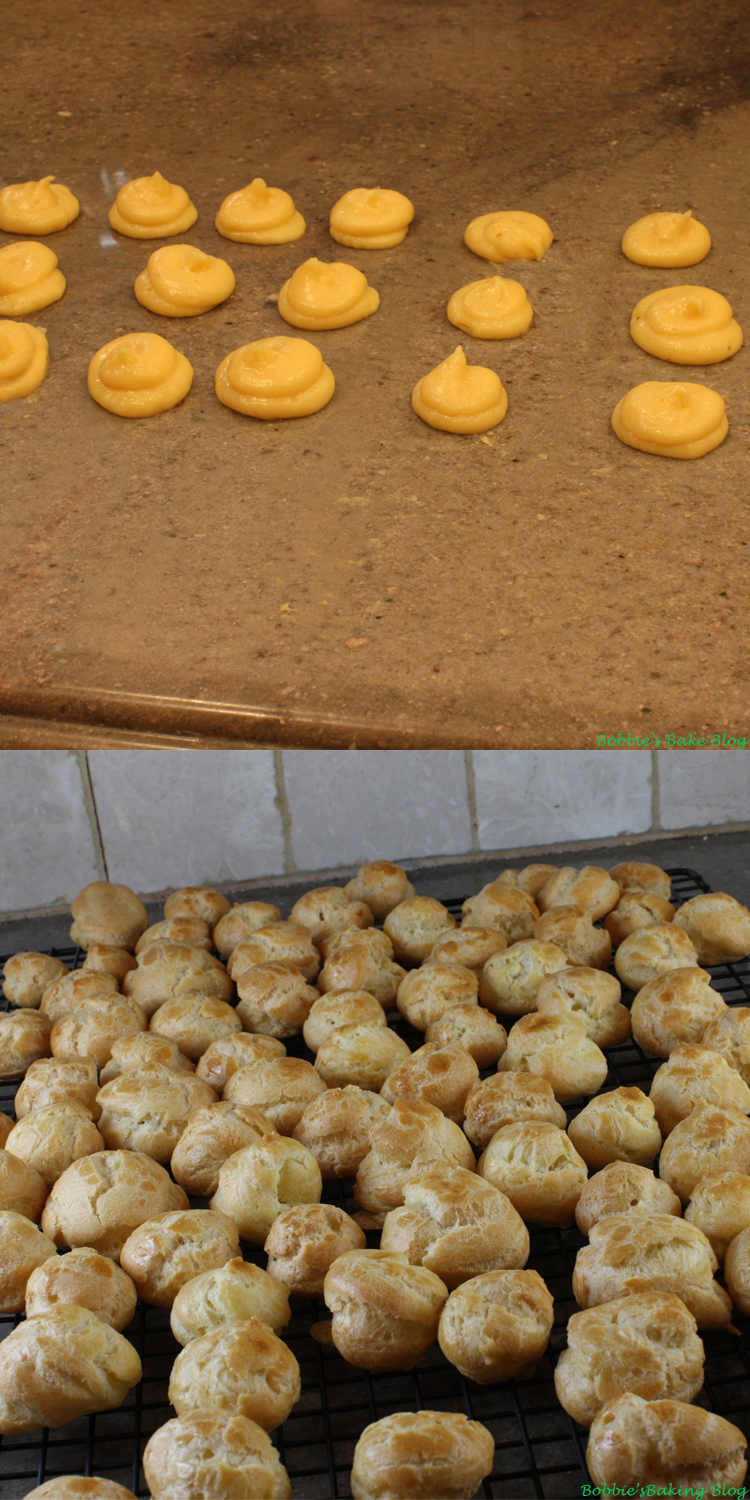 Top: Piped Bottom: Cooling and Cooked
Caramel:
250 grams/1 1/4 cup sugar
Preheat heavy bottom saucepan.
Heat the pan over medium heat till hot, add the sugar and allow to cook. Stir the sugar often to prevent lumps from forming for about 7 minutes till golden brown with a sweet caramel smell.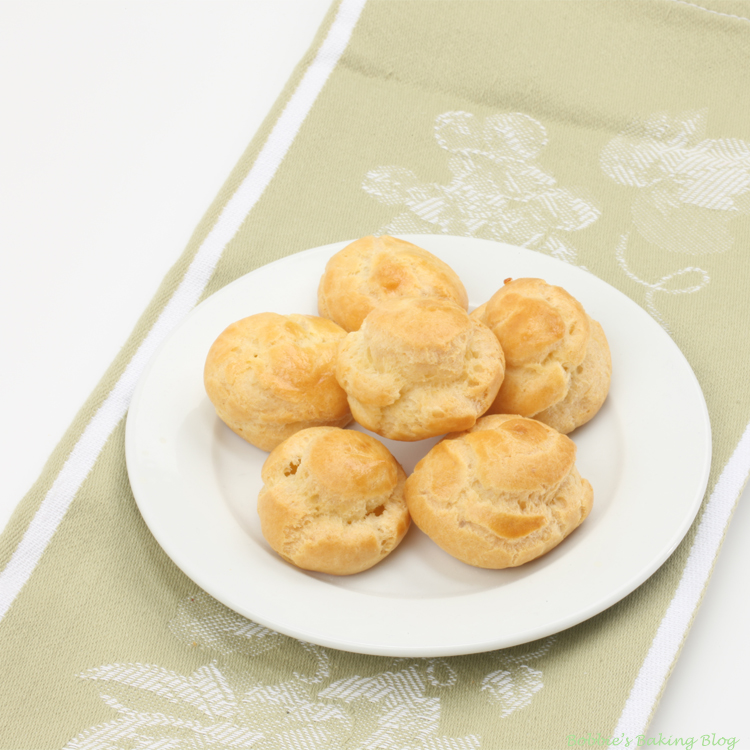 Carefully dipped the Pâte à Choux
Crème Chiboust:
7 grams gelatin sheets
40 grams sugar
60 grams/3 large egg yolks
14 grams cornstarch, plus 1 grams vanilla powder
175 grams whole milk
½ vanilla bean
Prepare your mise en place.
Place gelatin sheets in ice-cold water and set to the side.
Combine half the sugar with the egg yolks and pastry cream (cornstarch) in medium heatproof mixing bowl, whisking to combine well. Set aside.
In a medium heavy bottom pan place milk with remaining sugar, vanilla pod  over medium heat, and bring to a boil.
Remove the hot milk from the heat, scrape out seed from pod. Whisking continuously, pour about 1/3 of the milk into the egg yolk mixture to temper.
Still continuously whisking pour the egg mixture back into the milk. Return to a medium-high heat and cook, stir continuously with a spatula, until the mixture comes to a boil. Boil and constantly stir for an additional two minutes.
Remove from heat and add gelatine and stir.
Cover the surface of the cream with plastic wrap to prevent a skin from forming, and set aside
Italian Meringue:
use your favorite Italian Meringue and follow the instructions below.
Fold the warm meringue into the warm cream, taking care not form lumps.
Transfer the entire meringue cream to a pastry bag and pipe while still warm, no colder than room temperature.
Assembly:
As the Pâte à Choux are cooling begin the caramel, and allow the caramel to cool down just enough to work with, but not harden. Dip each Pâte à Choux not the caramel, attach three to the bottom of the cooled sweet dough. Once all the sweet dough has been attached with three "puff balls" set aside and begin to start the Crème Chiboust. It is extremely important to pie the Crème Chiboust while still warm to place it in a pastry bag with a star tip (if the Crème Chiboust cools beyond room temperature it will become to hard to pipe).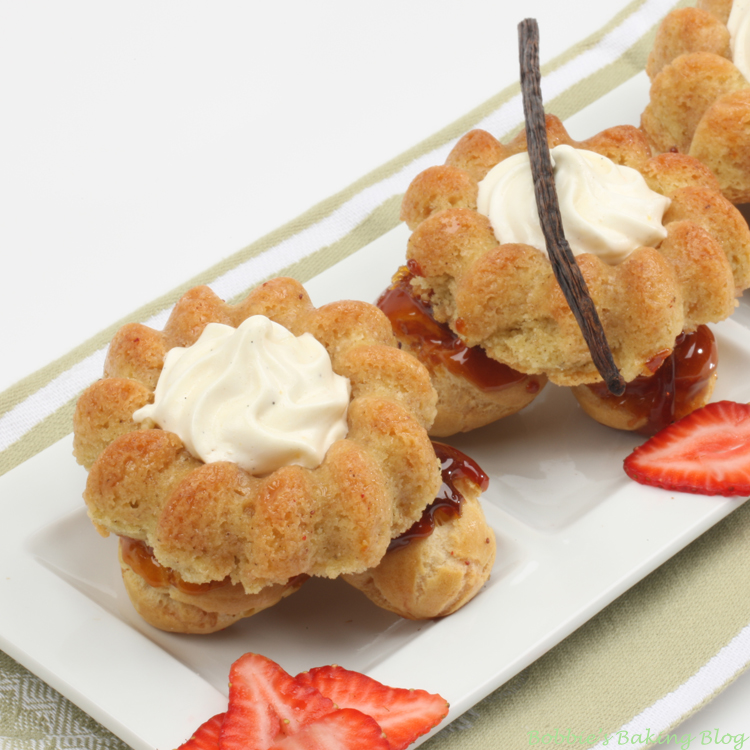 Voila!