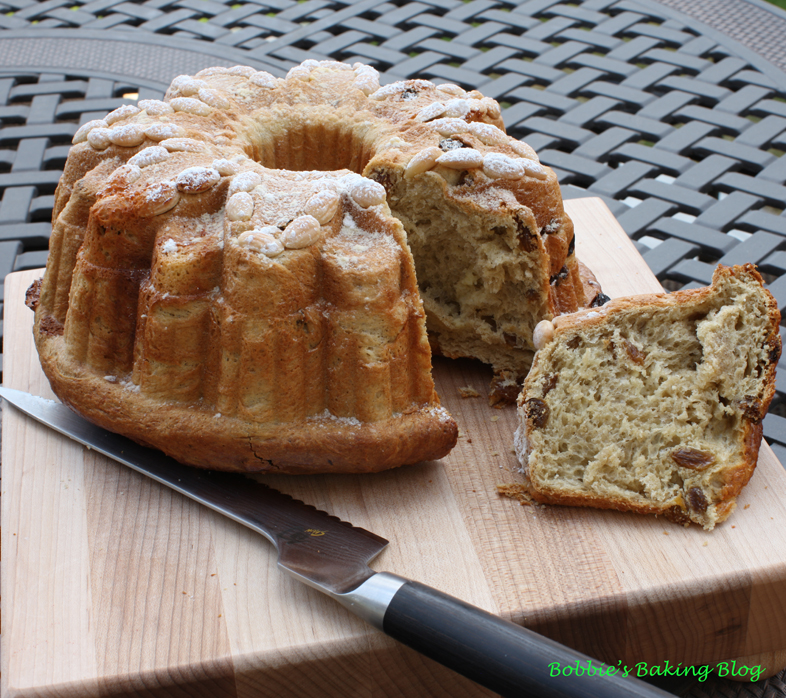 Cake or Bread Still Delicious
This Article also appears on AskMissA
There is an entire historical culinary battle to Kugelhopf, the German's claim they invented the cake-bread and the French claim it was there innovation. Kugelhopf, a cake known in Germany since the Middle Ages, was resurrected in 1840 by an Alsatian pastry maker, Georges, who opened a boutique in the Chausée d'Antin  in Paris. The  kugelhopf, became a Viennese specialty, a sweet yeast-bread similar to brioche ; the traditional version generally contains yeast, raisins  and is decorated with almond baked into the top and a snowy layer of powdered sugar. It was a favorite of the Austrian princess Marie Antoinette.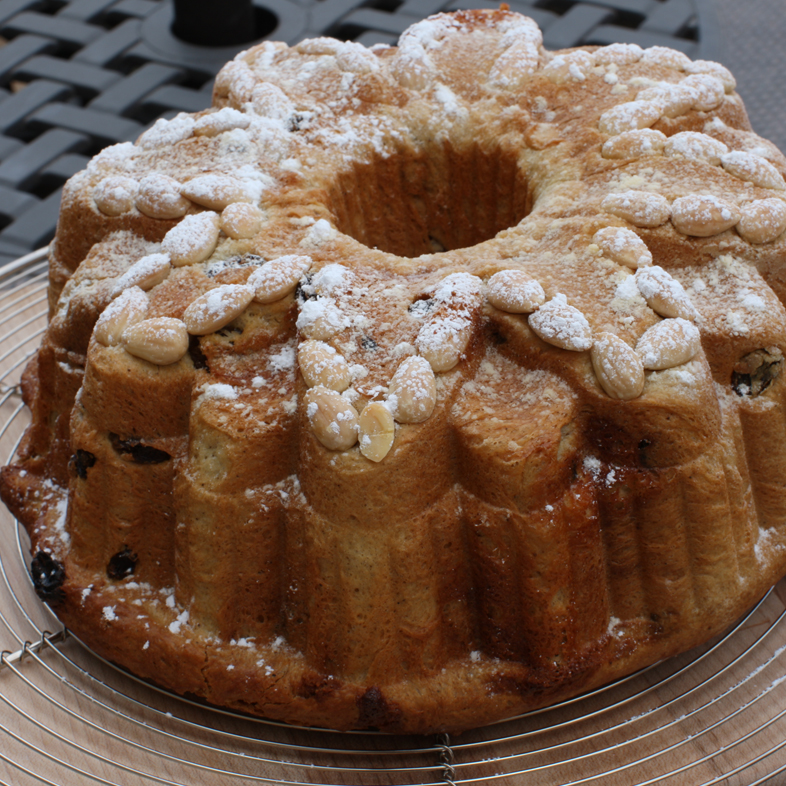 Decorative Almond Top
A friend of Sydney's became engaged; her bridesmaids decided to entertain a girls night out engagement party. The schedule is to have a grand night downtown and arrive back at our house to sleep. Sydney thought it would be extra special if we host a morning  Patisseries and Viennoiseries breakfast, "baked goods made from a yeast leavened dough in a manner similar to bread, or from puff pastry, but with added ingredients (particularly eggs, butter, milk, cream and sugar) giving them a richer and/or sweeter character, approaching that of pastry." Kugelhopf is perfect because though it looks like a cake, kugelhopf is a breakfast patisserie, and large enough to only need to bake one for 16 to 20 people.
Crêpes, danishes, and croissants are also on the morning menu.
Kugelhopf With Almond Pastry Crème:
The sponge:
150 grams/ 5/8-cup warm milk, about
35 grams fresh yeast
150 grams flour
1-teaspoon sugar
If using dry yeast: proof the yeast with the milk, sugar, and yeast. Adding the yeast to the warm milk and then the sugar allowing it to sit for about 7 minutes.
If using fresh yeast
a. Dissolve 1 teaspoon sugar in 61 grams (1/4 cup )90°F – 95°F milk
b. Add crumbled Cake Yeast to sugar solution.
c. Stir yeast until completely dissolved.
d. Let mixture stand until yeast begins to foam vigorously (5 – 10 minutes).
e. Add mixture to remaining ingredients.
The Dough:
1oo grams yellow raisins
140 grams butter, room temperature still cool slightly
4 grams icing sugar
4 grams vanilla powder
37 grams/ 3 tablespoons sugar
Pinch of fresh nutmeg
Zest of 1 lemon
100 grams/ about 2 eggs, room temperature
250 grams bread flour
pinch of salt
50 grams/ ¼-cup warm milk
Cooking spray
Blanched almonds
55 grams/1/4-cup rum
In a small bowl rehydrate the raisins in rum while prepping.
Prepare your mise en place.
In a medium bowl, whisk the flour, nutmeg, and set aside.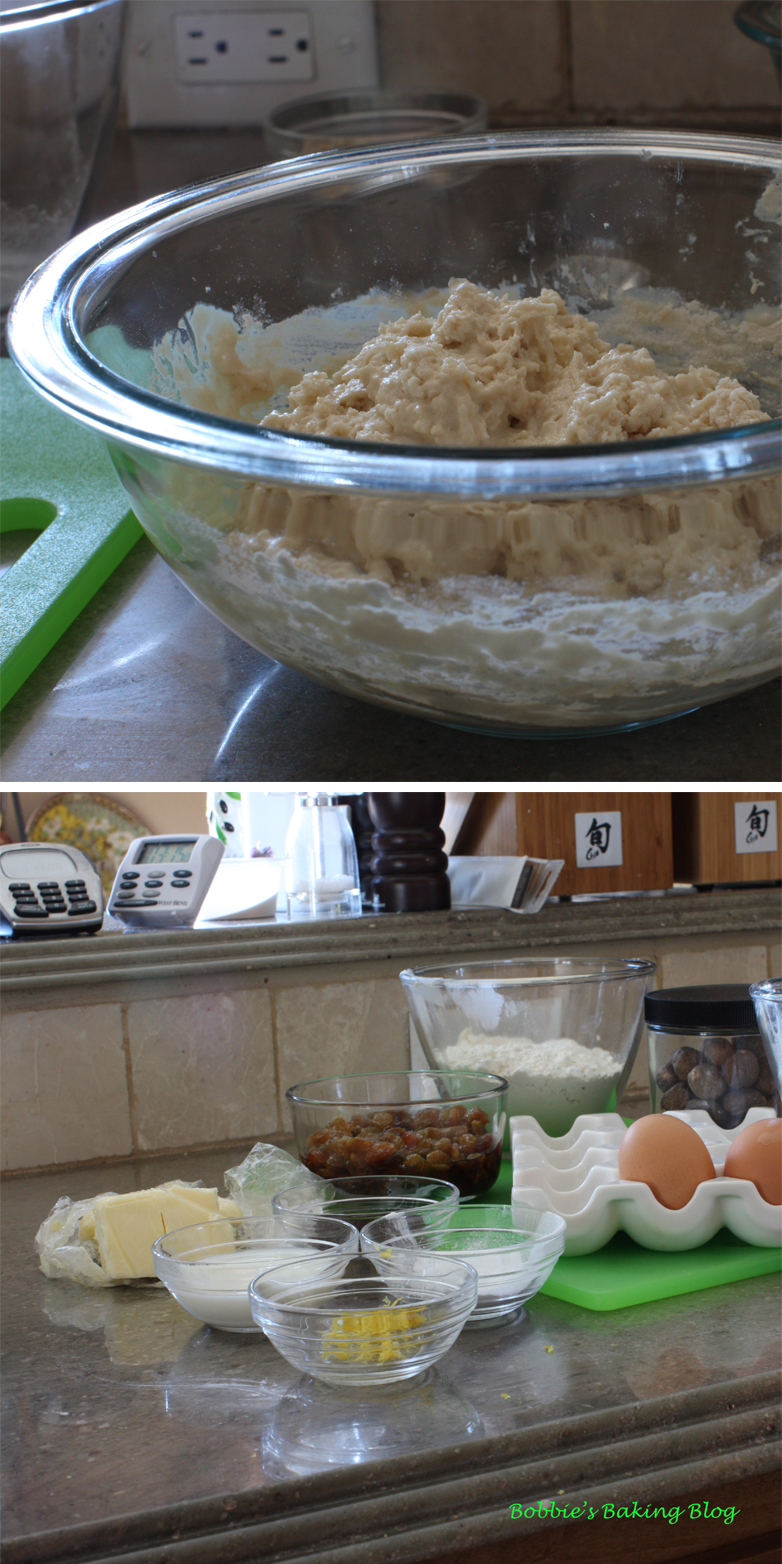 In the bowl of a your standing mixer, fitted with the paddle attachment, beat the butter on low speed until very soft. Add the icing sugar, vanilla powder, sugar, salt, and lemon zest; raise the speed to medium and beat till light and fluffy about 4 more minutes. Scrape the sides down as needed with a sprayed, rubber spatula (baking spray).
Remove the bowl from the mixer and whisk by hand  the eggs; one at time. whisking  each egg until completely incorporated before adding the next egg or moving to the next step.
Remove the paddle attachment for the dough hook, add the sponge, that has now doubled in size, and incorporate on low (#2 if using a KitchenAid). Begin alternating the flour-nutmeg with milk, starting and ending with the flour. Raise the speed to medium low (#4 if using a kitchenAid) knead four about five minutes. The dough should be shiny, very elastic, and tacky, but not enough to stick to your fingers.
Drain the raisins, reserving the rum for later, pat them dry, dust your working surface with flour and knead the raisins by hand into the dough.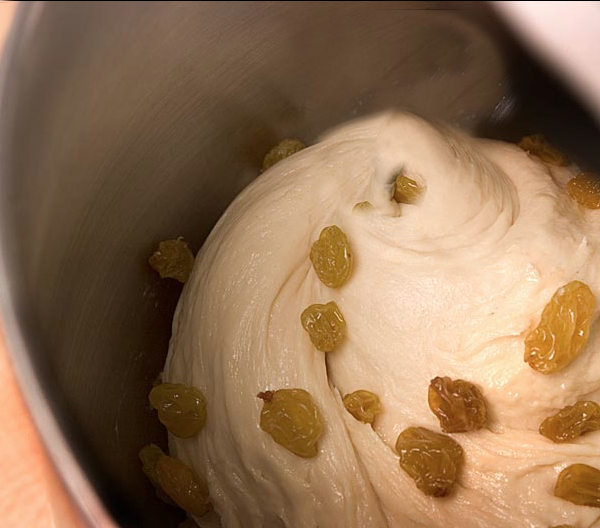 Spray a dough bucket or bowl with baking spray and gently place inside, cover with the lid or plastic wrap, and proof for 30 minutes.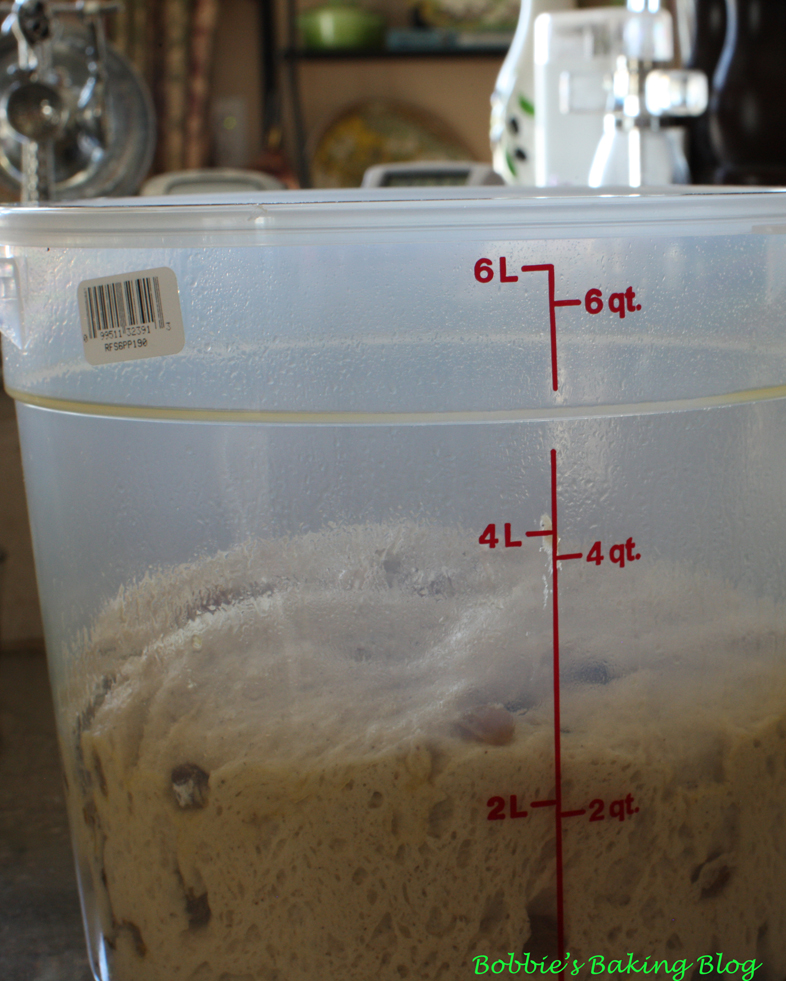 Spray the Kugelhopf mold with cooking spray and arrange the almonds in a decorative circle at the bottom of the mold.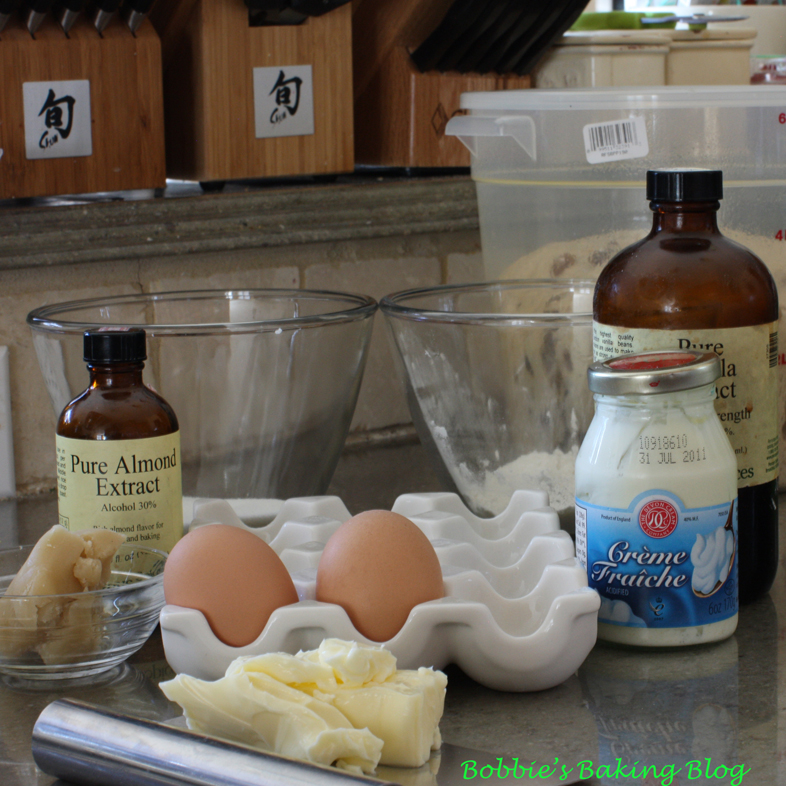 Almond Filling:
125 grams/ ½-cup almond paste
56 grams sugar
56 grams unsalted butter, cut into 3 pieces
1 egg, room temperature
½ teaspoon almond extract
½ teaspoon vanilla extract
24 grams/ 1-Tablespoon cornstarch
While dough is proofing begin preparing the almond filling.
Whisk egg and extracts together in a small measuring jug, set aside.
In a food processor pulse the almond paste and sugar, until the almond paste is in fine particles. Add the butter, process until the mixture is light and fluffy and completely combined about 4 minutes. Scrape the side of the bowl. Pour the egg- extract mixture through the feeding tube and process till incorporated. Add the cornstarch and pulse to a soft cream.
Crème Frâiche Filling:
110 grams/ ½-cup crème fraiche
116 grams/ 1/2 mascarpone cheese
50 grams/1 large egg
100 grams/ ½ cup sugar
72 grams/ 3-Tablespoons cornstarch
Pearl sugar
In a food processor add crème fraiche and egg together till combined. Then add sugar and cornstarch pulse until amalgamates.
Remove the dough with an oiled scraper and lightly flour your work surface. Lay the dough and roll out to a 17-inch by 14-inch rectangle, flouring lightly as necessary. With an off set spatula smear the crème frâiche and then smear the almond filling on top, leaving a ½-inch border on the top and bottom, and 1/4 –inch borders on each side. Carefully roll the dough, from the long edge. Sporting the roll as you go by slipping a plastic ruler slightly under the dough and use it to help you lift it up.
DO NOT RUSH! Roll and brush excess flour, pinch to close the dough.
Carefully lift the dough and proof for 40 to 90 minutes.
The Almond Crème Filling is optional, if you choose to only want the Kugelhopf: remove the dough with a dough scraper or rubber spatula stayed with baking spray and gently transfer to any type of bundt pan or a kugelhopf pan.
Traditional Kugelkopf Pans
Preheat the oven to 180 degrees C/ 350 degrees F. Prepare an egg wash with 1 egg and 1 Tablespoon of water, when the dough has proofed gently brush the egg wash on the dough with a pastry brush.
Bake for about 40 minutes the kugelhopf should dark golden brown and retain the shape of the mold.
Glaze, Optional:
The remaining rum from the raisins
120 gram icing sugar
¼-teaspoon vanilla
Whisk all of the ingredients together and pour over cooled cake.
Or
Dust with icing sugar for a traditional Kugelhopf look.