The holiday season has officially begun with the month of October and Halloween; from now until Jan 1st celebrations will be happening each month. This month we have the opportunity to dress in costume, eat amazing goodies, help with school Halloween parties, and decorate our homes with scary witches, skeletons, webs, and spiders. When sydney was young I couldn't wait for this time of year to start, Sydney and I baked up a plethora of treats for her parties. Now we have the opportunity to bake for other little one's parties. This year we thought it might be fun to create brush embroidery witch fondant cupcakes with accented bats, the cupcakes are dulce de leche flavor!
Brush embroidery can have an elegant vintage look to flowers and leaves, but for the witches the technique gives a spooky, airy, and aged look. The perfect look for the Halloween cupcakes! It can be a fun technique to teach and create with children or a family evening event for the holidays.
Brush Embroidery Fondant Cupcakes:
Materials:
Fondant, white
Black fondant
Orange food paste
Leaf green food pate
Violet food Paste
Brown food paste
Super black food paste
Orange candy pearls, small
Cornstarch
Shortening
A small bowl of water
1-Recipe Ducle de Luche, 24 cupcakes
Tools:
PME flower leaf tool/pounce wheel
Brushes #2  flat and round
Fondant roller
Mini witch cutter
Mini bat cutter
PME #1 tip/tube
Disposable piping bags
Toothpicks
Gloves
Tweezers
Prepare your mise en place.
Cover one cupcake at a time with light orange fondant, or darker if you prefer. While the fondant is still soft gingerly impress an indentation of a witch with the mini witch cutter. Be sure to check the entire impression transferred to the fondant, and  allow the fondant to dry for at least two hours.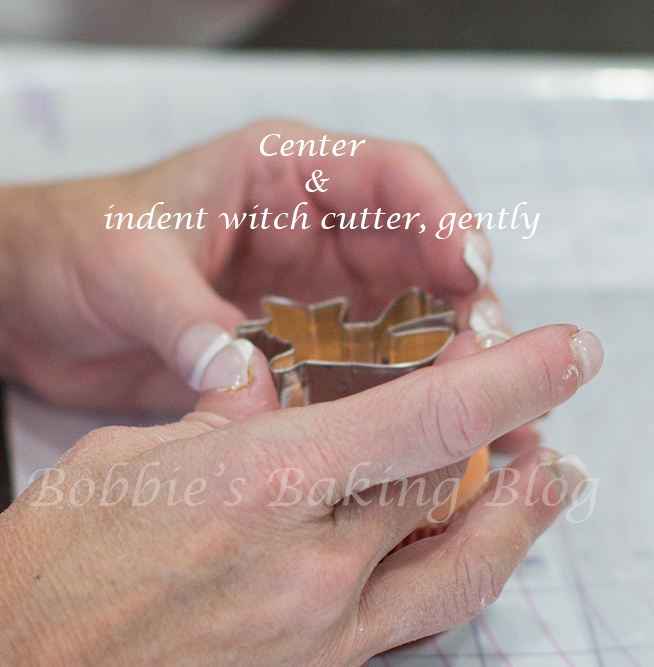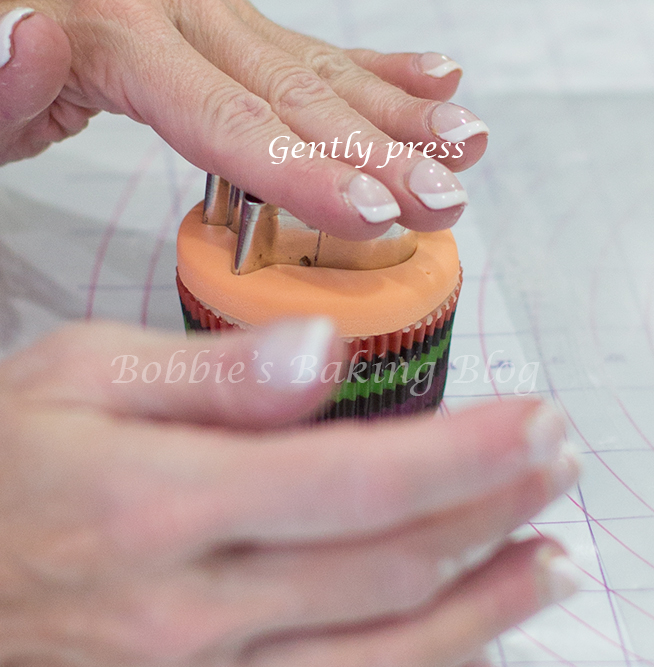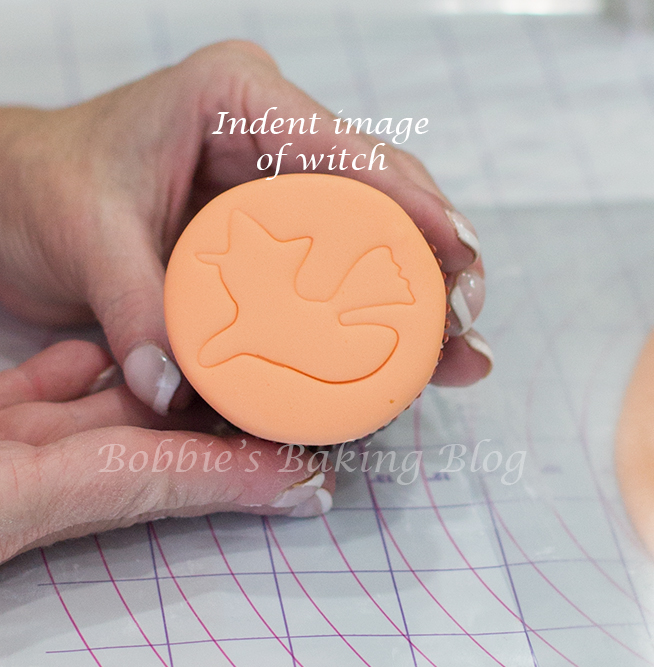 The witches were going to be black, so immediately prior to embroidering create the royal icing and color about 1/4 of the royal icing batch black. True black takes mixing a few other colors leaf green, brown, violet, and super back, have three toothpicks ready for this and gloves to protect your hands. Using the royal icing you have already separated from the batch of royal icing add between 1/4 and 1/2 tooth pick of leaf green, brown, violet, and 6 drops super black food paste, using a rubber spatula (that has never been used with a fat product) mix until amalgamated. To assure there are no air bubbles are expelled from the colored royal icing you need to use a rub down technique, with a palate knife on a non stick board rub the icing back and forth, add a few drops of cold water and rub the icing until the icing has an soft-peak consistency. A must have book for royal icing techniques is by Eddie Spence.
Now that your royal icing is ready, prepare a disposable pastry bag fitted with a #1 PME tip, outline the indent impression of the witch in small sections brush from the outline edge to the center with a dampen brush, continue until the entire witch has been outlined and brushed. Make sure to not use too much water on the brush or the fondant will get too wet. Allow to dry for several hours.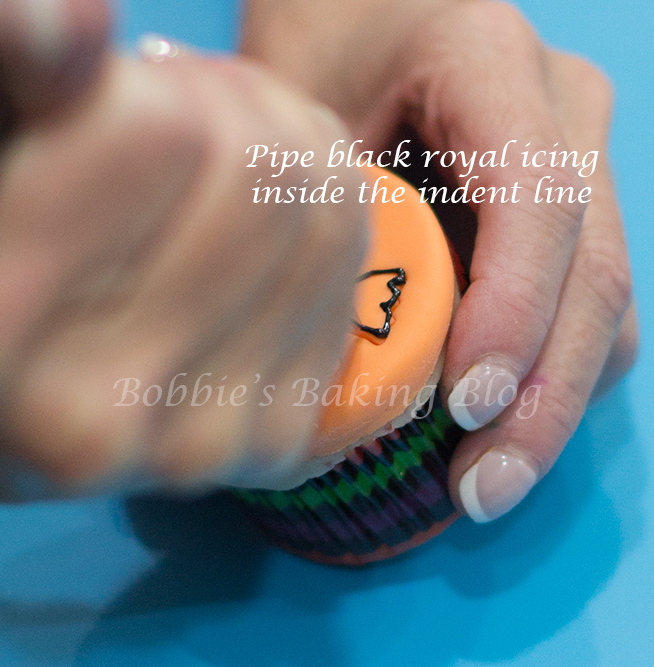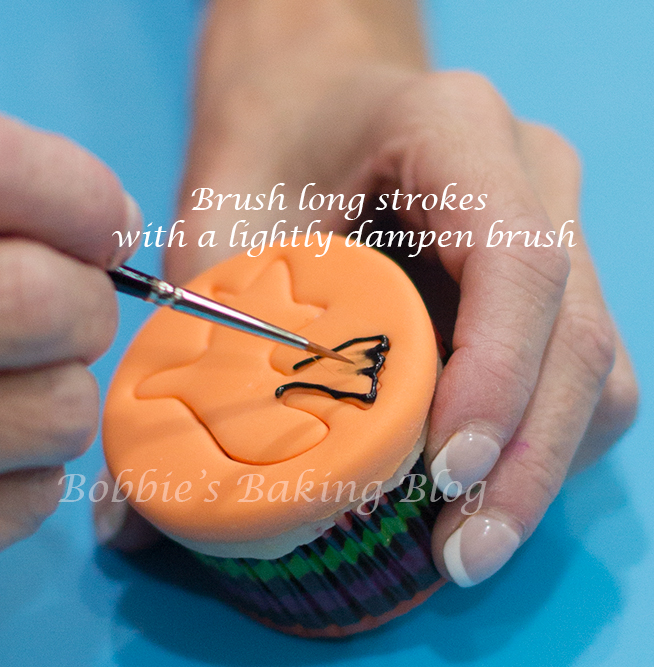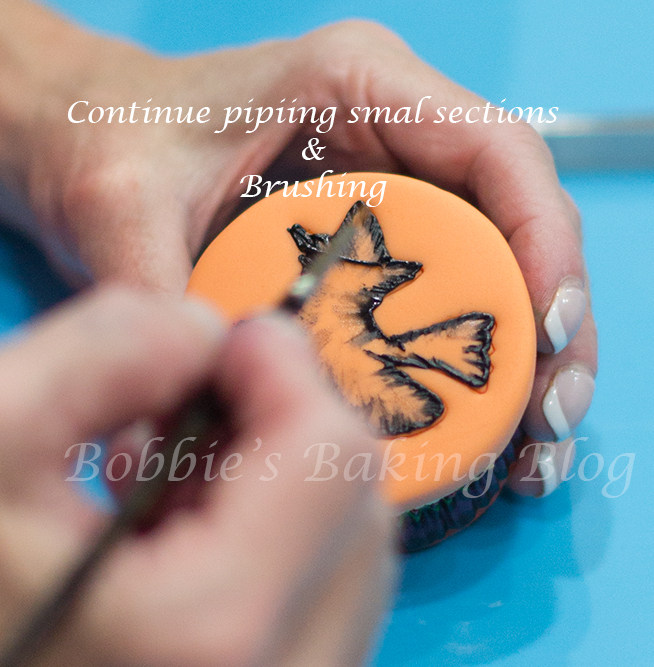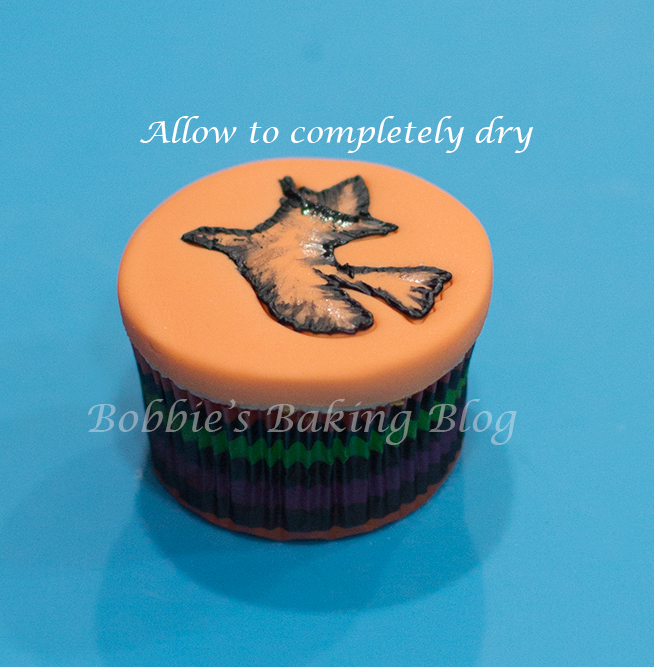 You can color your own white fondant black, but true black uses a few colors and it can be tedious to acquire, besides the prepared black fondant is just as great. Knead the black fondant, roll thin (about .31 cm/1/8-inch thick) cut 94 bats (we placed four bats on each cupcake). Vein three detailed lines into the bats wings with a the leaf tool, using the rounded point of the leaf tool create two indents for eyes, the opposite side of the tool has a small toothed wheel, use the wheel to impress teeth. Add a bead of white or black royal icing in the eye impressions, and attach with tweezers, two small orange candy pearls to the royal icing to create the eyes. We used white royal icing, but 20-20 hind-side black would have worked out better!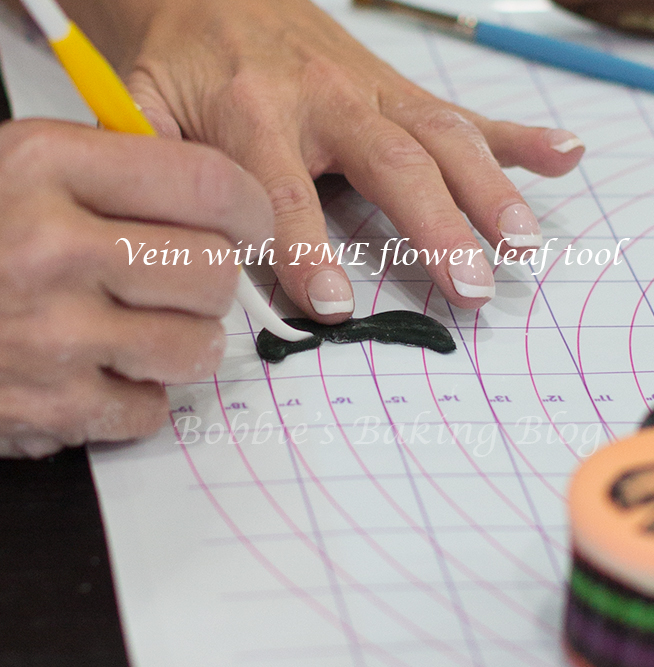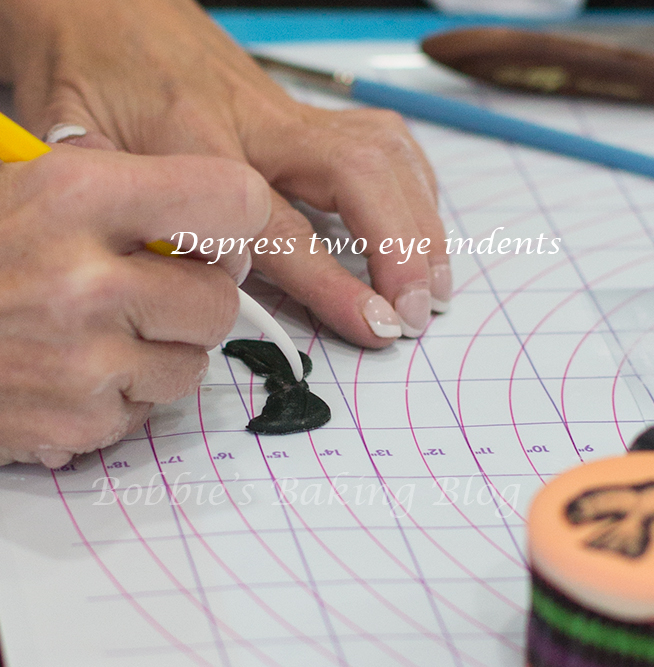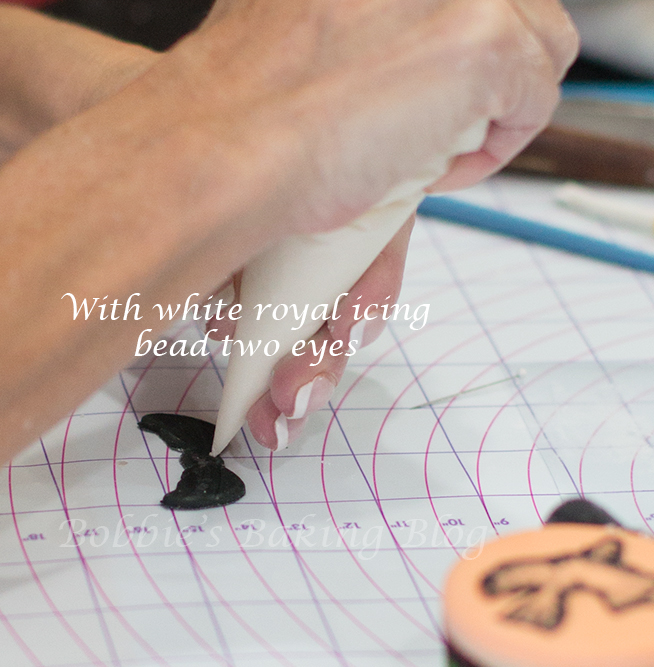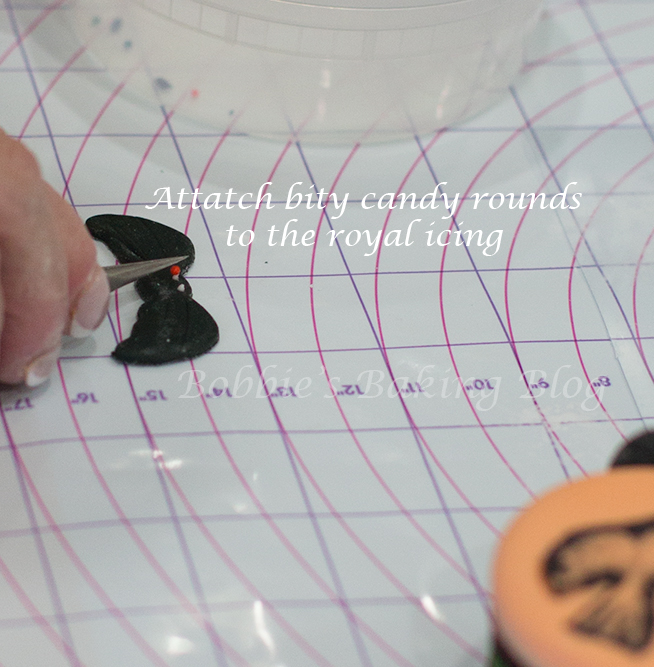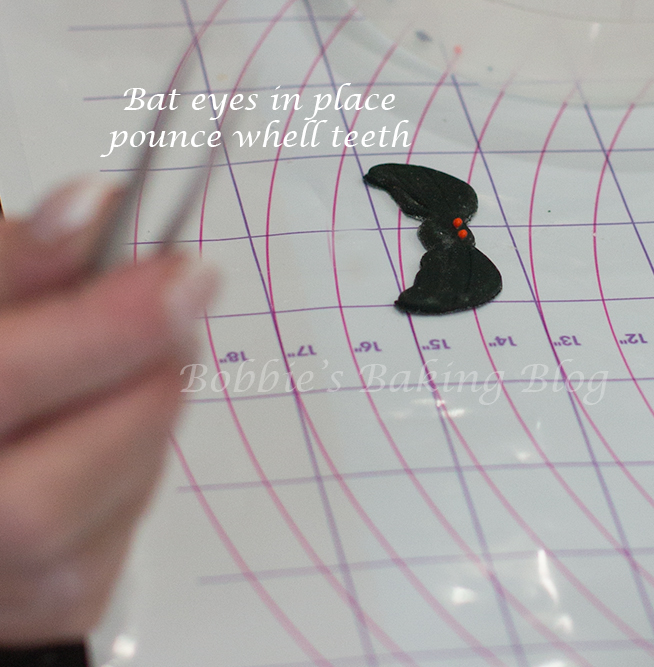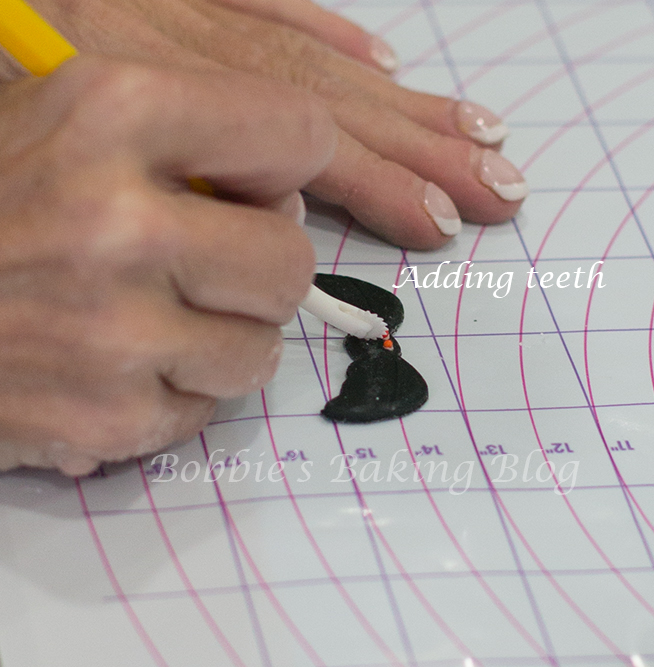 To assemble the cupcakes, be sure the brush embroidery icing is dry, with three beads of royal icing placed on the sides of the fondant gently press the bats to the royal icing, place the wings how you want them, place three more bats equally spaced around the cupcake.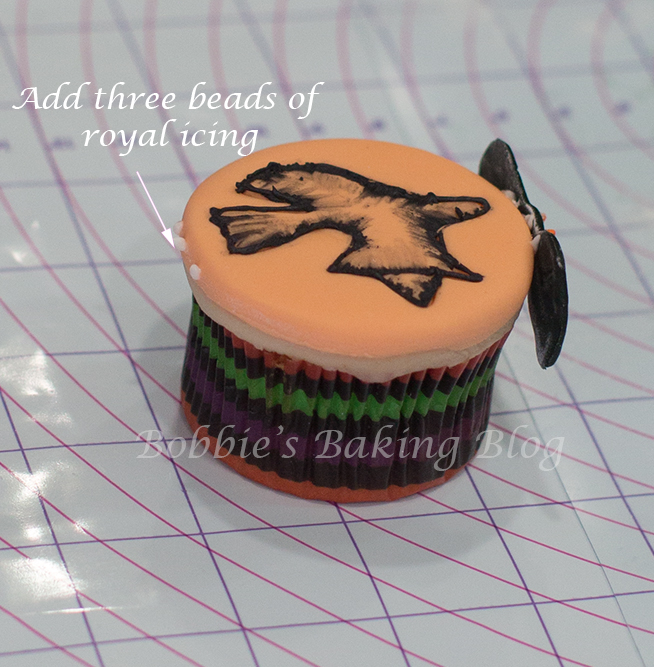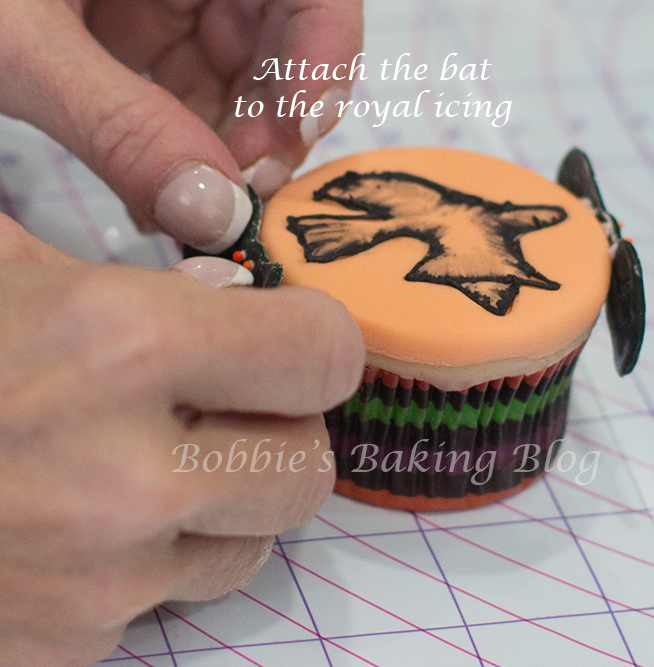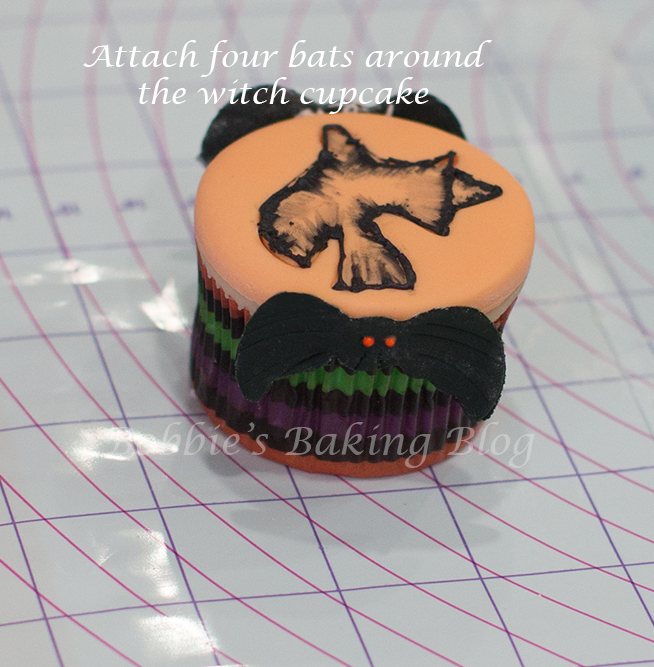 Halloween baking can be the optimum time to plan decorating dates with your entire family, your children and their friends, or college friends letting off study steam.
Have Fun!