The day after Thanksgiving our family's tradition is put up the trees and decorate them and the whole house while waiting for Sydney's favorite holiday tart, an almond cream tart. The recipe has been handed down from my great great grandmother, through the years I am sure each generation has changed the recipe a little. My change was to use crème frâche versus mascarpone, but this year I also caramelized the pears. I actually added crystalized sugar and flamed them with a torch. I must admit neither Sydney nor I had intended to flame the pears, but I accidentally didn't poach the top of the pears and was concerned they would oxidize. My first thought was to prepare a neutral glaze which would add a beautiful sheen and let the pears keep their lovely vibrant green color. Sydney thought it would be original to "crème brûléé" them for a lack of a better description. To everyone's surprise the flavor was luxurious!
Almond Custard Pear Tart
Pastry Dough:
Equipment:
9-inch tart shell
Ceramic pie beads or dry bean
Foil
Materials:
180 grams/ 1½-cup all purpose flour
50 grams/ ¼-cup superfine sugar
114 grams/8-Tablespoons unsalted butter, cubed very cold
59-74 grams/ 4 to 5 Tablespoons ice cold water
Pinch sea salt
Prepare your mise en place.
 In a food processor fitted with the stainless steel blade sift flour and salt together, pulse 3 times. Add the cubed cold butter, and pulse till pea size. Begin adding the water, 1 Tablespoon at a time. Continue to pulse till water is JUST incorporated. Remove the dough and any bits left in the bowl before a ball forms. Do not process after a ball forms (the dough will be tough).
Dump the dough onto plastic wrap. Enclose the dough in the plastic wrap, knead together, and pat the dough into a disk. Wrap in a clean piece of plastic wrap, and chill for a least 1 hour. The dough can be left up to 2 days in the refrigerator.
Preheat the oven to 375 degrees.  Roll the chilled dough large enough for a 9-inch tart shell pan, fold gently in quarters, place the corner of pastry dough in the center of tart pan, and without stretching the dough unfold the dough. Press the dough into the fluted sides of the tart pan. Prick the dough with a fork to allow steam to escape. ( I like to roll the dough between two pieces of wax paper). 
Blind bake the tart, line the dough with foil and place ceramic beads or beans on top of the foil. Bake for 15 minutes, remove the foil with the beads and continue to bake for 8 to 10 minutes. You want a lightly brown crust. Let the cool.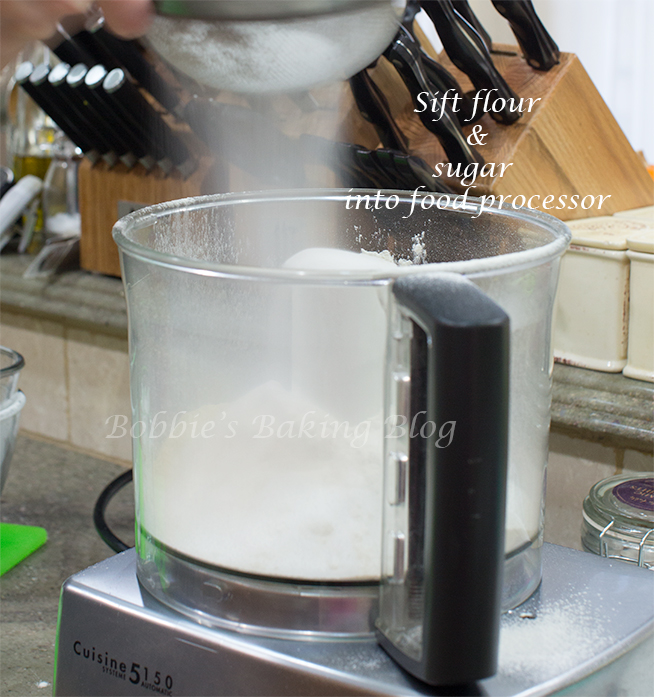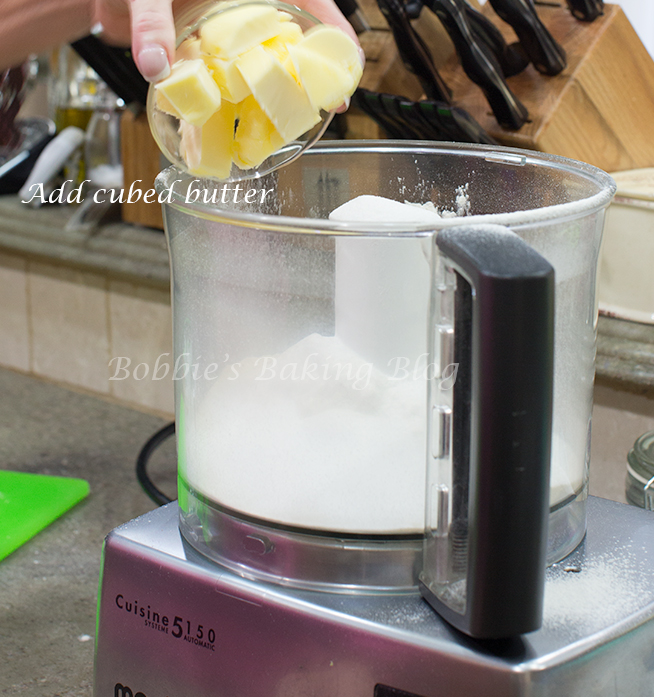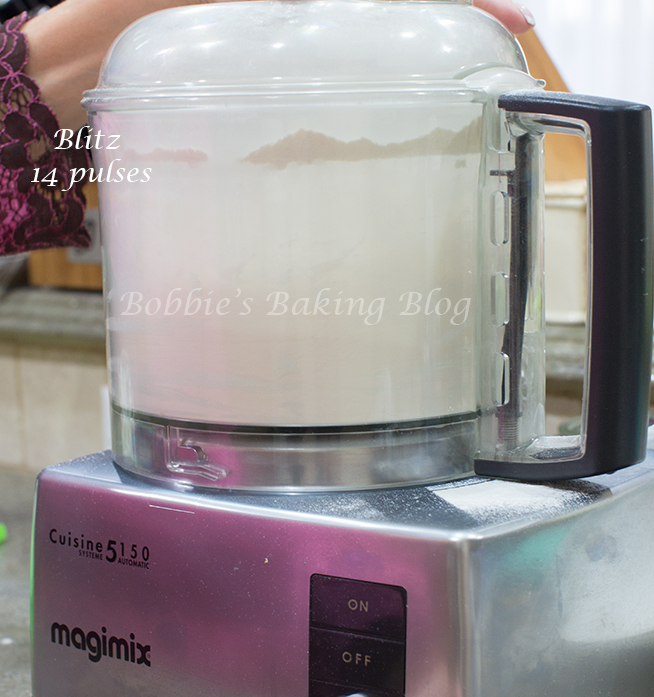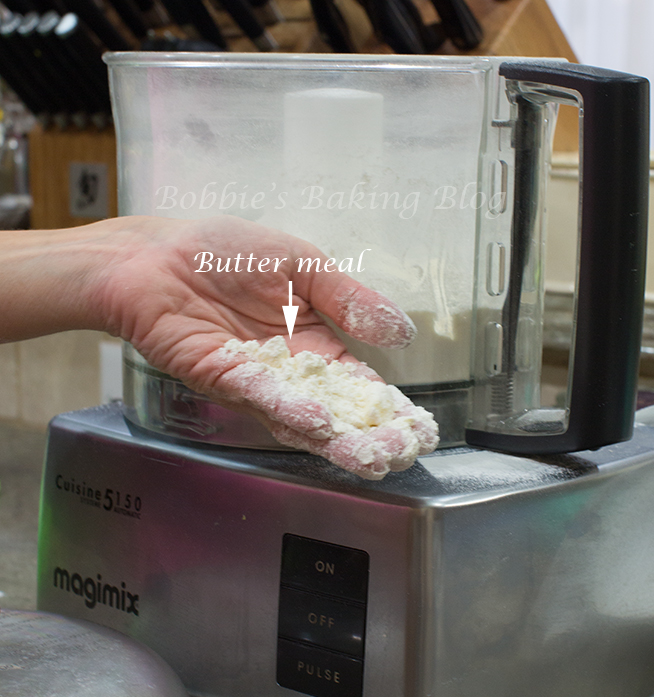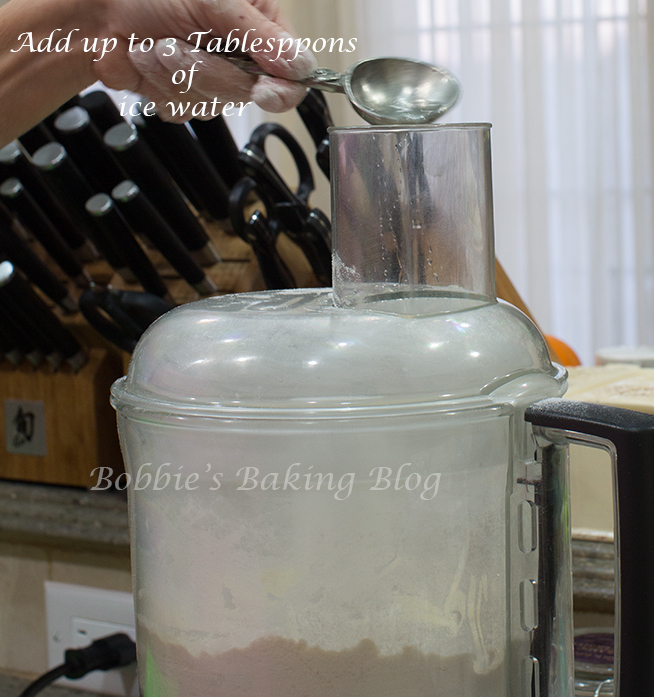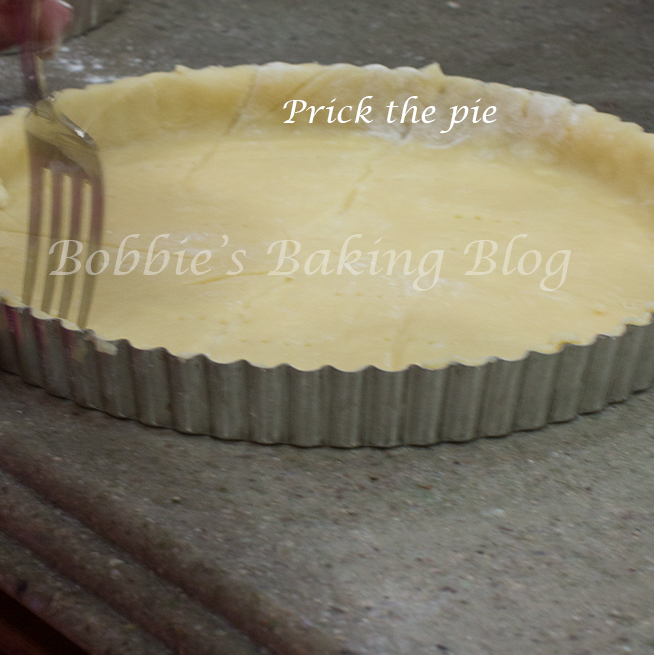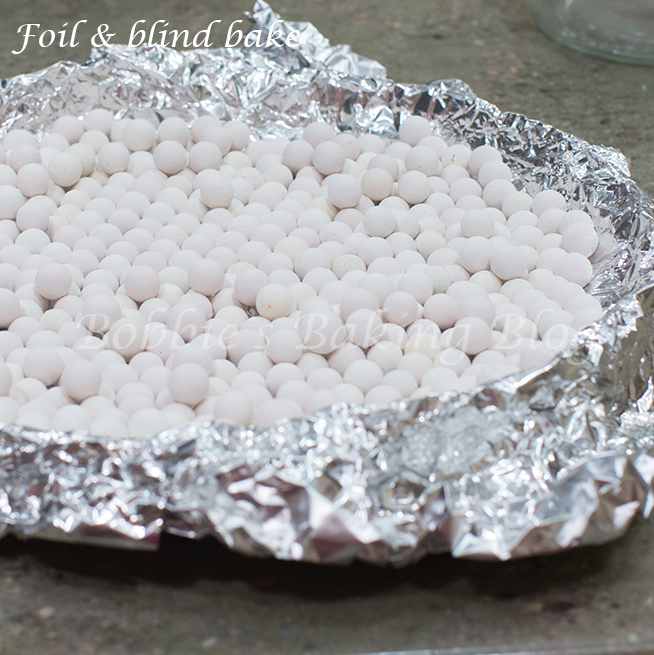 Almond Crème Custard:
Equipment:
• food processor
Materials:
198 grams/ 7 ounces almond paste
15 grams/ 1 Tablespoon ameretto
15 grams/ 1 Tablespoon pear brandy
147 grams/ 2/3 cup creme fraiche
73 grams/ 1/3 cup cream
61 grams/ 1/4 cup whole milk
1 egg
2 egg yolks
Prepare your almond crème custard mise en place.
 Combine the almond paste, ameretto, egg, egg yolks, creme fraiche, cream and milk in a food processor.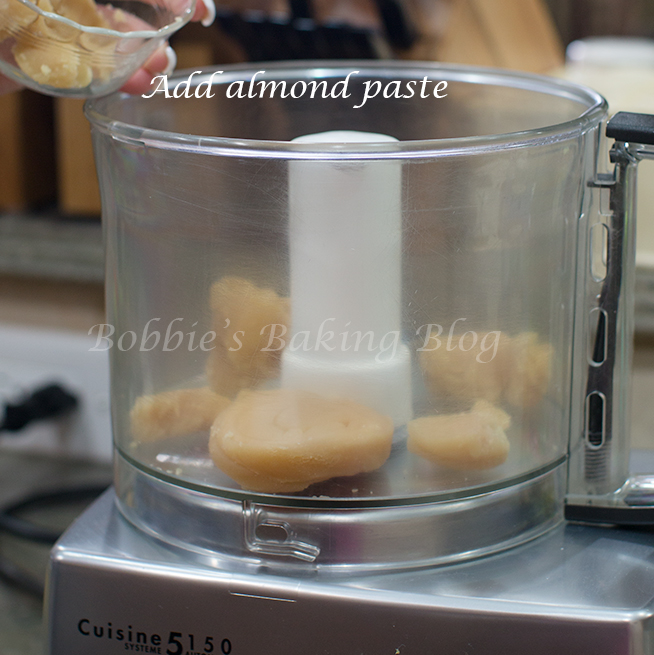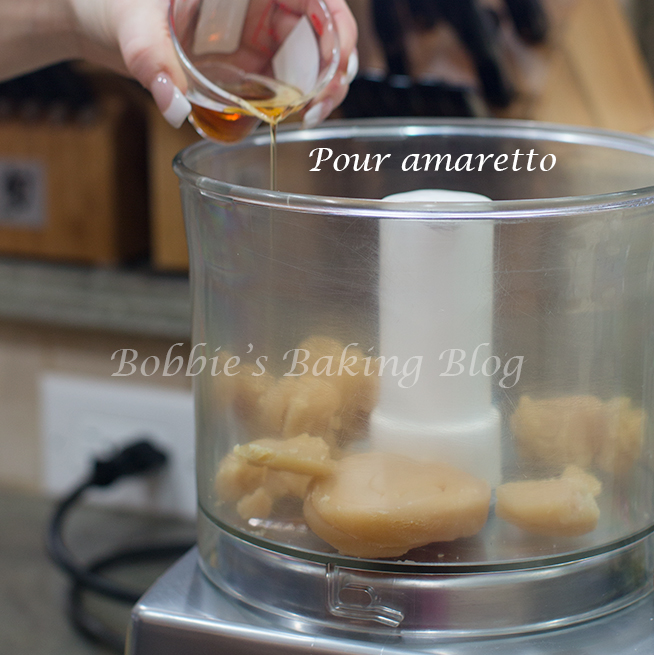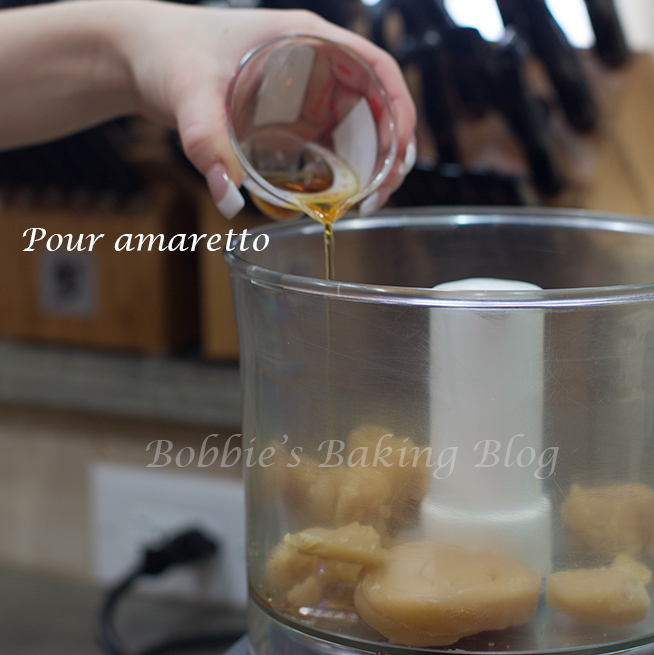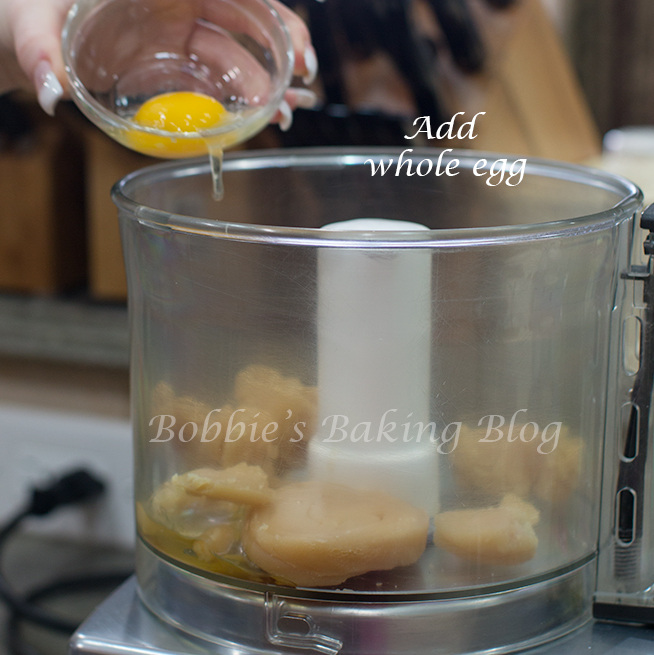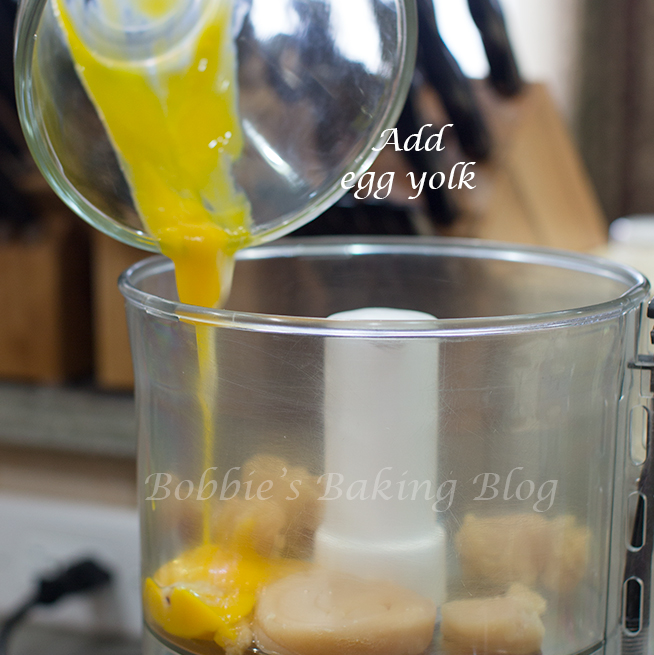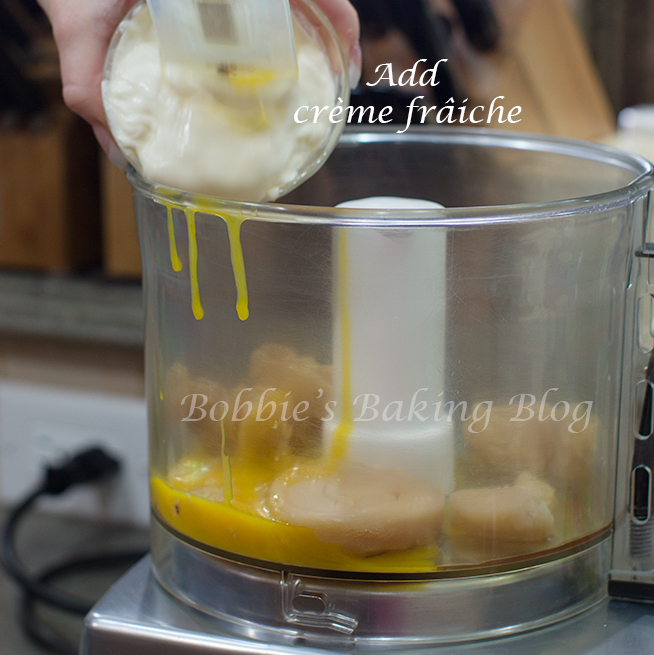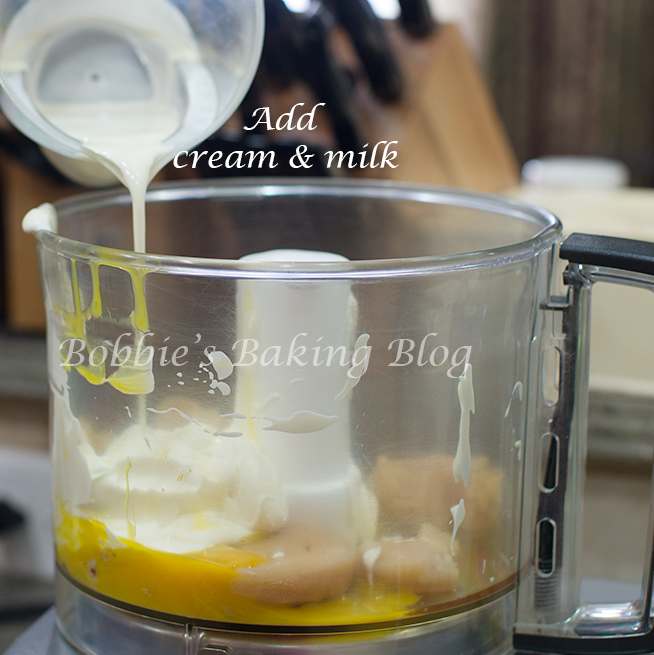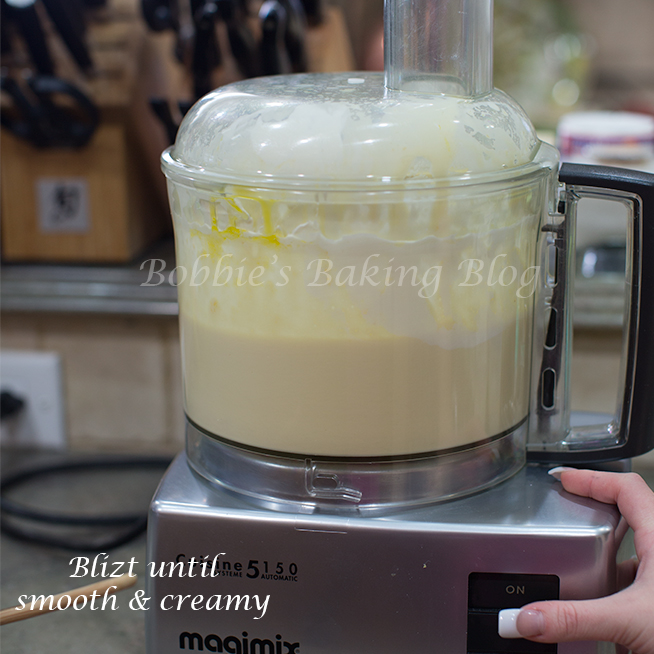 Pour into the cooled tart and bake at 375 degrees until the custard is set, but still jiggles, about 10-15 minutes.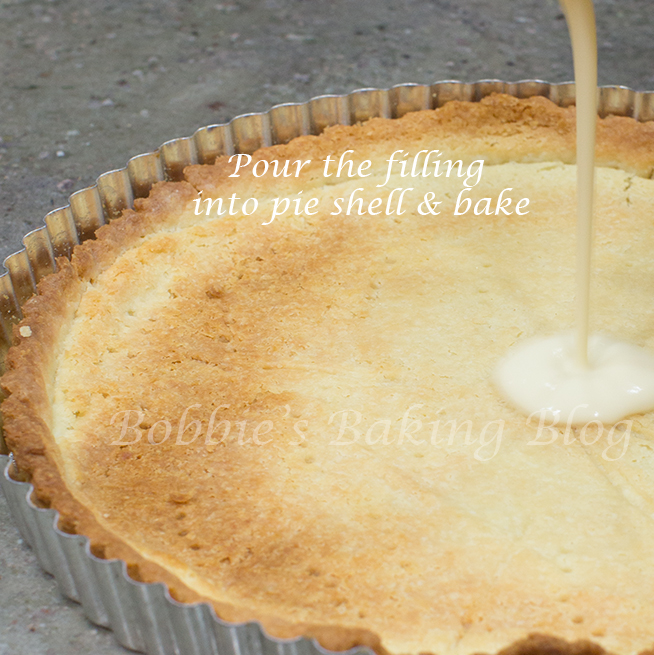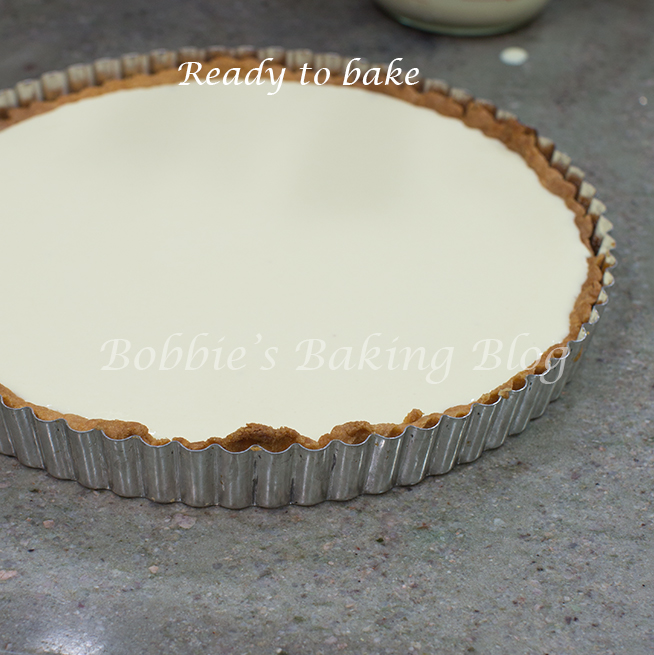 Pear Wine Syrup:
Equipment:
Materials:
344 grams/ 1-cup Abbazia Di Novacella (floral Italian white wine)
3-4 green pears
50 grams/ 1/3-cup sugar
15 grams/ 1-Tablespoon Poire Williams eau de vie (pear brandy)
2-teaspoons lemon juice
Prepare the poached pear mise en place.
 Place the wine, sugar, Poire Willams eau de vie, and lemon juice with the sugar in a deep saucepan and dissolve the sugar. Add the pears and bring the liquids to a boil, reduce to a simmer for about 8-10 minutes. Test the pears with a cake tester for firmness.
In case you are wondering what Poire Williams eau de vie looks like and if you are wondering how the very large pear ended up in the bottle:
The bottle is attached to a budding pear tree so that the pear will grow inside it is quite a sight!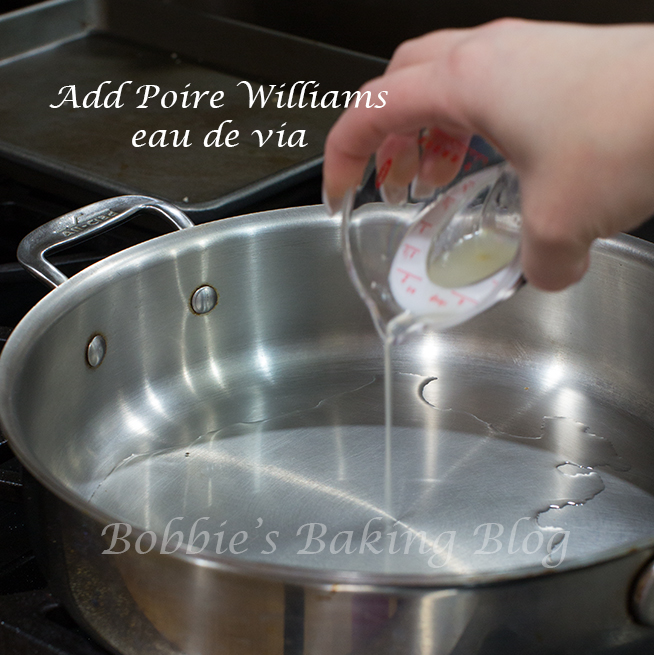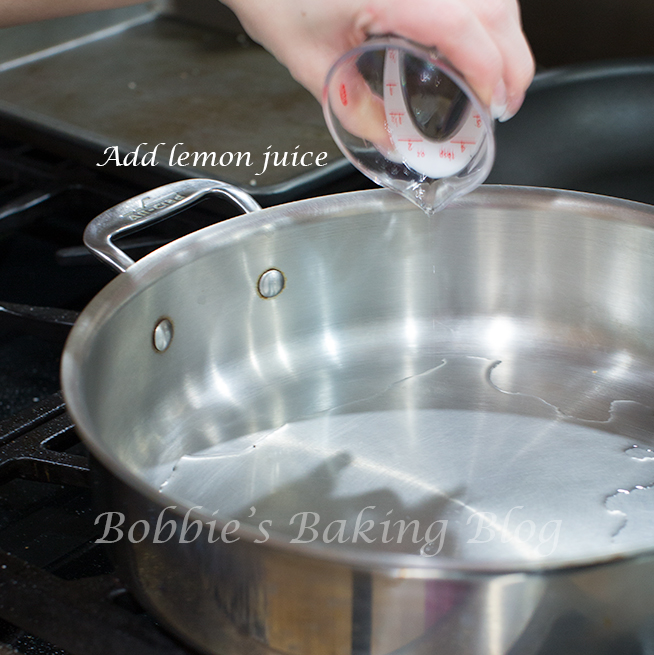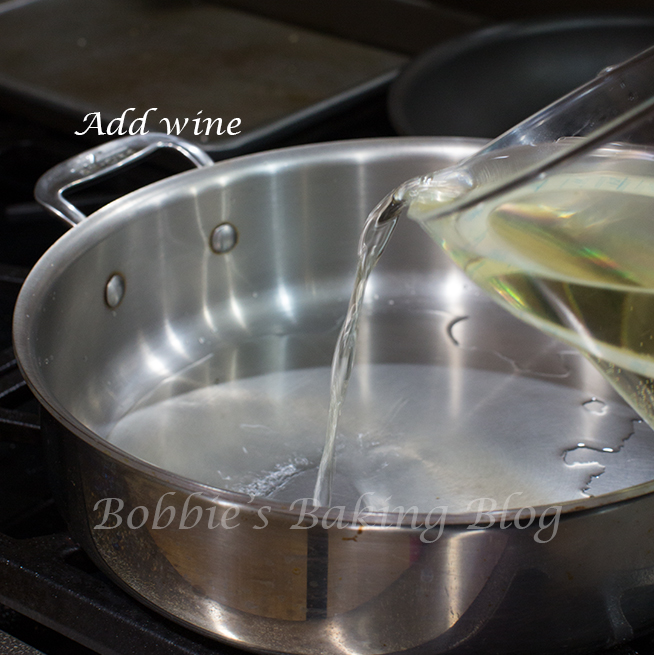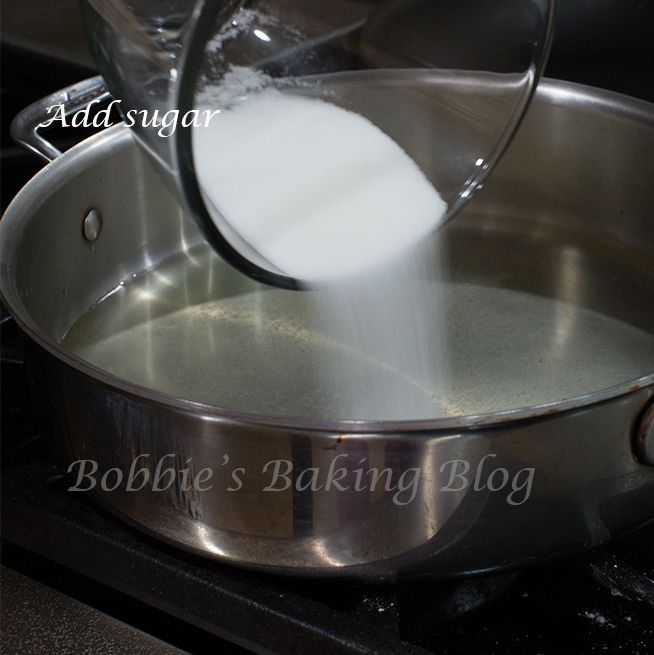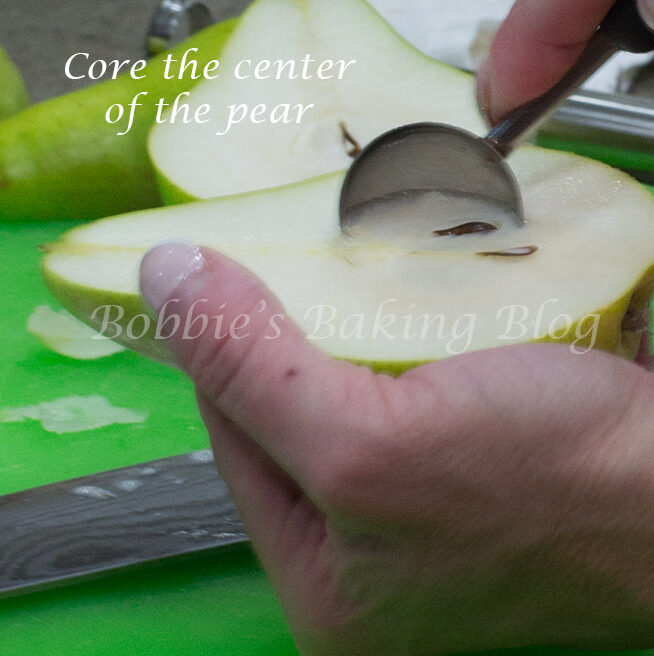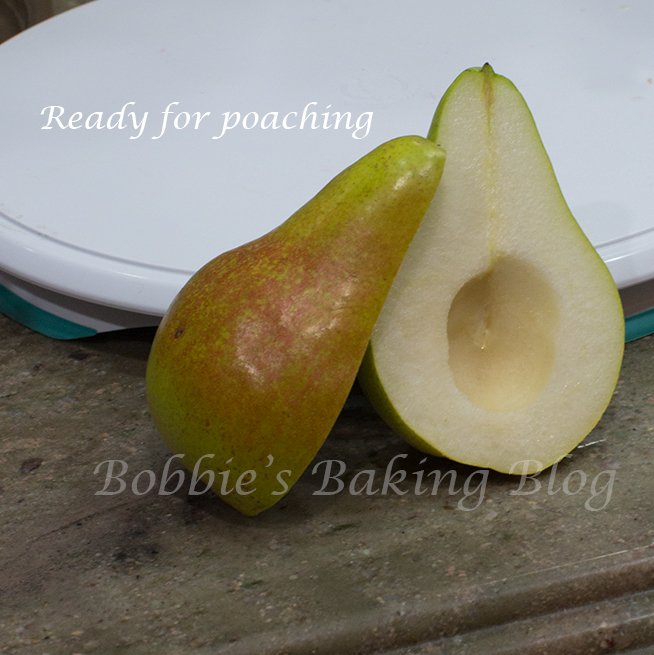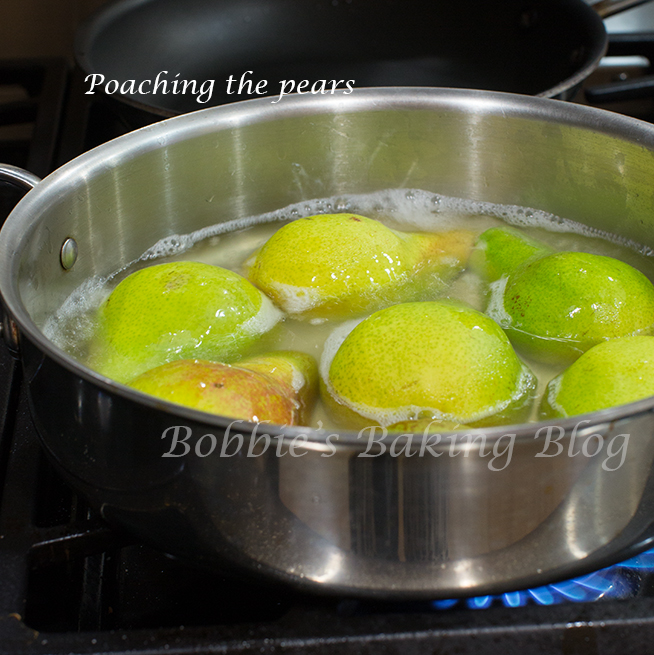 Cut the pears length wise and fan the pears around the tart. Sprinkle with crystal sugar and flame with a torch (this step is optional and fun)!
[/tabs]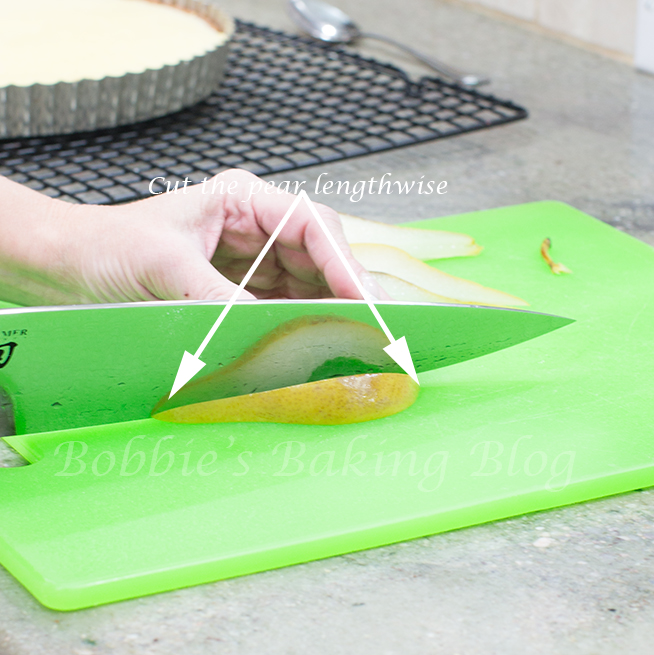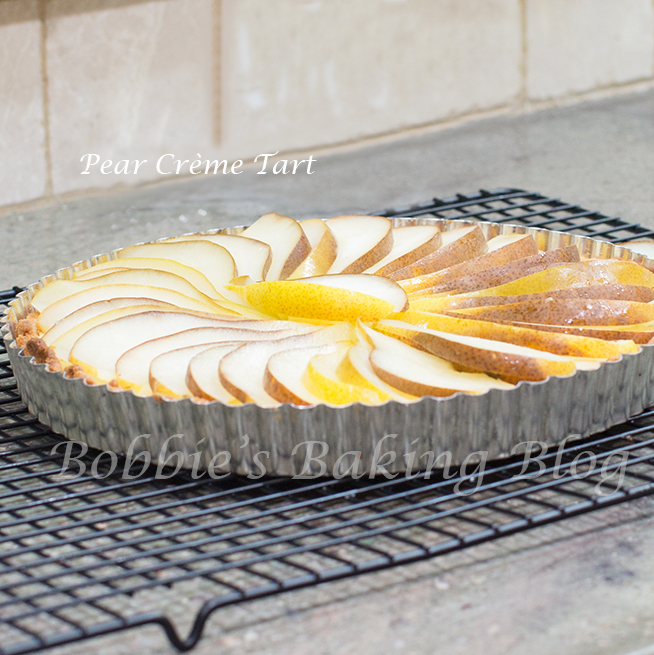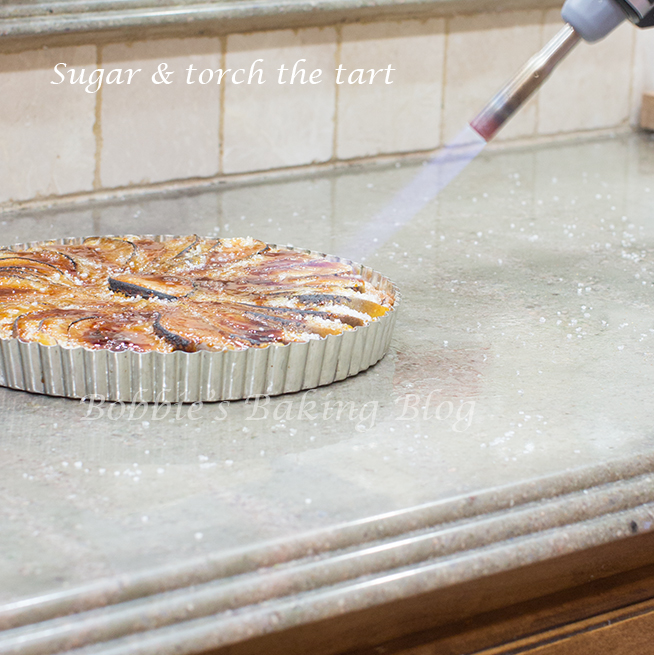 This time of year is filled with family traditions  and sharing them with the next generation. Sydney altered  our family pear almond tart recipe and will carry on with our holiday decorating dessert custom.
I hope you will try this amazing dessert!
Enjoy!