I wanted to share a fun Valentine's Day tutorial with you (my way of saying Happy Valentine's Day)!  I  began by baking up a batch of cupcakes and a batch of royal icing, while the cupcakes were doing their own thing, baking, I used the time to sketch some ideas rattling around in my brain. I wanted the cupcakes to be stunning yet simple.
I remembered I purchased a ClearView key and lock mold before Christmas, that is when I experienced a Eureka moment! While the cupcakes were cooling I prepared the heart lock and key. If you don't own a lock and key mold, no need to despair…You can pipe the lock with royal icing. Trace a lock and key image from google images. I will explain the method below with a video tutorial. The champagne cupcake recipe can be found here.
You Hold the Key to My Heart Cupcake:
 Equipment:
Key and lock mould, Clearview
PME #2 nozzle, or Wilton #2
2 paper cornet, or disposable piping bag
Soft artistic brushes
Styrene ball (to dome the cupcake top)
Scriber
Materials:
1-recipe Bobbie's champagne cupcakes, or your won favorite recipe
1-recipe royal icing recipe
250 grams fondant
50 grams gumpaste
Food paste Dust Pink, Sugarflair
Lustre duste
Fairy Pink/Peony Pink mixed
Silver
Small dish of cooled boiled water
EverClear or Lemon extract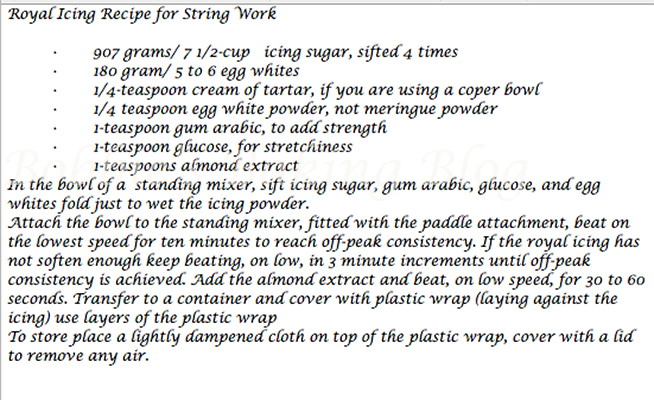 Cover your cupcakes with your domed fondant, allow to set for a least 6 hours to over night. No need to worry the cupcakes will remain fresh, soft, and moist!
To condition your white gumpaste use a small amount of Crisco and knead the gumpaste. Once your stiff gumpaste has transformed to soft, stretchy, and pliable, it is ready to use.
Prepare your keys and lock embellishments, allow them to dry for at least 6 hours to over night.
As I mentioned above you can still construct the same lock and key embellishment without the special mould.
Once you have found the lock and key image you like (check for copy right), trace the image and tape the corners to your work surface. Place a piece of clear cellophane over the traced image and tape the corners down. If you are a talented drawer draw your own design (you will not need to worry about copyright). Now with a #2 PME nozzle pipe with soft peak consistency royal icing outline the image.
Next fill in the outline with flood consistency royal icing. Set the images to the side and allow to dry for two days. If you choose the royal icing image method you will want to pipe the lock and key prior to baking the cupcakes.
You Hold the Key to My Heart Video/Tutorial:
The Border:
You can either pipe the snail trails border before decorating the cupcakes (you will need to let the border dry completely), or pipe the snails trail last.
Happy Valentine's Day!
Enjoy!