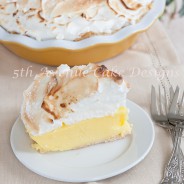 I can't think of anything more enticing than Lemon Meringue Pie. Not only does it scream Spring/Summer is here, but it is the perfect pie for mom! The tart lemon curd combined with the fluffy meringue on a flakey homemade crust is heavenly. I wanted to share with you a tutorial showing how to create the best lemon meringue pie. Once you have a bite of 5th Avenue Cake Designs lemon meringue pie you will never use another recipe. I have broken down each step from crust to meringue. The technique might seem a little daunting, however you...
read more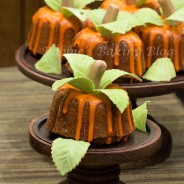 This time of year pumpkins and gourds are everywhere; we plan trips to arboretums to find that perfect pumpkin worthy of carving and placing on or near the front porch. I vividly remember carpooling a car of excited three and four year olds for their first arboretum. Sydney and her friend's energetic excitement  became contagious and exhilarating; we began going each year as a family.  Sydney and I were reminiscing our Autumn arboretum ritual and thought creating mini pumpkin shaped bundt cakes, orange flavored, would be a great way...
read more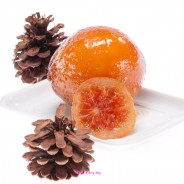 I have always wanted to create the delicate glacé whole orange; the correct and proper instructions seem to be a vaulted secret. There is a wonderful confectionery market in Nice France, The Confiserie Florian; they have almost every type of glacé fruit and maroons glacés(candied chestnuts) each piece is more extraordinary than the other. So it was no surprise Sydney and I wanted to recreate the magic for Christmas. After about 4 trial and errors (we started our experiment on November 1st) we finally developed a a glacé that we were...
read more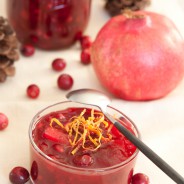 Cranberry sauce, is almost on every Thanksgiving table, it is expected. I remember, the first Thanksgiving I hosted as DF's wife. I was excited, a little nerves, and meticulously designed a menu. I have to admit I was a tad neurotic, nothing could go wrong, and had I taken a moment I would have realized perfection is over rated (boring too!). Finally it was time for the Thanksgiving feast, all of our friends and family were sitting at the table, nothing was missing as I carried the beautifully carved turkey into the room. I placed the...
read more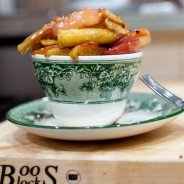 There is something about Honey Crisp apples and green pears that scream Fall is here. For years I have wowed friends, business colleagues (of my husband), and family alike with my flaming fruit. In the Summer months nectarines, peaches, and mangos are perfect; this flaming dessert is season versatile (almost any fruit works and taste great!) If you have some under ripe fruit, brown sugar, and rum in your cupboard last minute guests become a breeze (at least the dessert portion). I have lost count of the numerous incidents DF, my Husband, has...
read more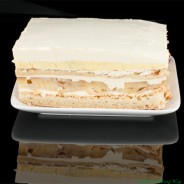 Layers of Crème Anglaise, Apples,  and Dacquoise "Oh My" I have never named a dessert after myself before; this one just seemed to match my name. When I agreed to be DF's wife the initial thought that entered my brain was: Bobbie Noto sounds like a caramel crunchy dessert.I promised myself that one day I would design a dessert that would accompany my name. This cake has a daquoise sponge bottom, layer of caramel, a layer of crème anglaise, another layer dacquoise sponge, a layer of honey crisp apples, and a large top layer...
read more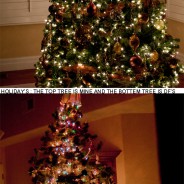 With one day to go and still so much left to do, I must admit I  feel like a child waiting anxiously  for Santa. I actually become a santa helper on Christmas Eve Day. Sydney and I run all around Denver and hand out our homemade goodies to all the people who are special to us. I am sure that there are some of the same people in your life, the ones we tend to take for granted. I am speaking of the the postman,UPS driver (I know mine), the hairdresser, esthetician, the group of men and women who graciously pick up our trash, and maybe your...
read more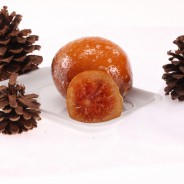 It is my favorite time of the year, which I am sure has been said and sung about a zillion times in the past, however it really is my favorite time of the year. Generally the air has gone from crisp to chilly, the "Uggs" are awaken for a long awaited appearance, the smell of cinnamon, nutmeg, cloves, and citrus is in the air. That is how the idea of candying a whole citrus fruits began, I yearly create candy zest from citrus fruit for recipes and gifts. This year I wanted to try an entire citrus fruit, sounds easy right? Actually...
read more