Rum Caramel Cups have to be the most sought after dessert in our household; Sydney knows if she doesn't count her half and hide them in the refrigerator DF will eat the entire batch. We generally have them throughout the year, but during the holidays, especially during Halloween we have dozens more on hand. Sydney claims they're addictive. One year I thought it would be brilliant to prepare half carmel and half peanut butter; I quickly found my idea was not met with the same excitement, in fact the opposite occurred.
Sydney and I have a Halloween ritual of preparing treat bags for the "special" friends and family; almost everyone who receives a treat bag goes for caramel rum cups first, except for my nephew he likes to savor his cups. When all the others have finished their cups he pulls his out , licks his lips, slowly takes a bite as the caramel drips down his chin, and his mouth is chocolate coated. Just about that point I hear several little voices loudly pleading for him to share the rest of his Chocolate cups.
Chocolate Caramel Cups:
Caramel:
400 grams/ 2-cups granulated sugar
118 grams/½-cup water for soft caramels
113 grams/1/2-cup heave cream
113grams/ 1/2-cup crème frâiche, for chewy caramel
or
165 grams/3/4 -cup heavy cream
165 grams/ 3/4-cups crème frâiche,  for oozing caramel
Fleur de sel salt
1-vanilla bean pood
1-teaspooon vanilla
29 grams/2-Tablespoons unsalted butter cold
40 grams/3-Tablespoons dark rum
375 grams/ 14-ounces bittersweet chocolate
Special equipment: a candy thermometer, two 12-count muffin pan
24 mini silicone cupcake cups & 2 mini muffin pans
Prepare your mise en place and line muffin pans.
For the caramel:
Pour water and sugar into a 2-quart heavy-bottom saucepan. Bring to a boil over high heat. Insert candy thermometer, and continue to boil until syrup is thick and straw-colored, registering 145 degrees C/ 290 degrees F on a candy thermometer, about 15 minutes. Reduce the heat to medium; continue to cook until the sugar is deep amber, begins to smoke, and registers 350 degrees on a candy thermometer, about 5 minutes longer.
I use a back up thermometer for complete accuracy.
 Meanwhile, when the temperature of the syrup reaches 150 degrees C/ 300 degrees F, bring crème frâiche, cream and a pinch of flour de sel to a simmer in a small, heavy-bottomed saucepan over high heat. (If cream reaches a simmer before the syrup reaches 180 degrees C/ 350 degrees F, remove cream from heat and set aside.)
Remove the sugar syrup from the heat. Pour about one quarter of hot cream into the sugar syrup; let bubbling subside. Add remaining cream; let bubbling subside. Whisk gently until smooth; and cook over medium heat for 5 to 10 minutes, until the mixture reaches 120 degrees C/ 248 degrees F.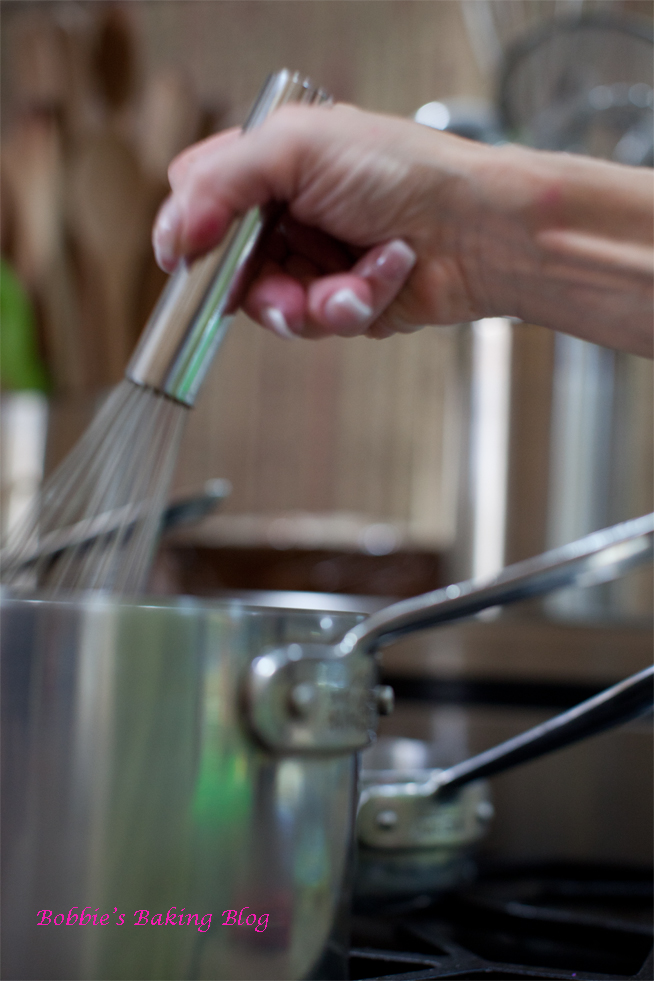 Be VERY careful, the mixture is HOT
Pour the caramel into a heatproof measuring jug and  let the mixture cool for 30 seconds; whisk in butter, vanilla and dark rum.
  Allow the caramel to cool slightly in the measuring jug, whisking itermediately  till the chocolate is ready.
Finely chop the bittersweet chocolate and place in a bowl or Bain Marie
Put the chocolate in a medium glass bowl or a Bain Marie. Set the bowl over a saucepan of barely simmering water and stir occasionally until the chocolate has melted, about 4 minutes.
It is now time to paint the chocolate onto the liners and turn them into cups; using a 1-teaspoon measure spoon dip the teaspoon into the chocolate, pour the chocolate into the liner, and paint the chocolate thinly and completely around the inside of the liner.
This step needs to be repeated three separate times, placing the painted cups into the freezer for thirty minutes between each addition.
Pour the caramel  into the cups that have been alternately painted with chocolate and rested in the freezer three times, sprinkle a smidgenof fleur de sel over the caramel, using 1-teaspoon measurer spoon fill  a little less then a full teaspoon over the caramel, use the back of the spoon to smooth the chocolate to the edges and completely cover the top. Freeze 4 hours to overnight. When the chocolate cups are completely frozen remove the liners (trust me nobody wants to eat them). Serve or place in an air tight container in the refrigerator.