I have been dining daily for lunch at "Sushi Den" for over twenty years, through the years I have become friends with some of the staff. Sydney and I bring them treats to show our gratitude. About two years ago, Travis, a server at Sushi Den, asked if we could bake pumpkin cookies. We both answered in unison "yes." I proceeded to ask what type of pumpkin cookie did he like. We both were taken back by his answer: "I don't like pumpkin." Puzzled I asked why he wanted to know if we could bake a batch of pumpkin cookies, if pumpkin was not a flavor he enjoyed eating.
His reply touched our hearts. When he was too small to remember how old he actually was (he thought maybe 3), his favorite aunt gave him some pumpkin cookies. He remembered the flavor for 25 years, so I had him describe the cookie. Travis is probably the most picky eater I have ever encountered, Sydney and I wanted as many details about the pumpkin cookie as he could remember. The only memory he clearly recalled was the cookie was very soft and did not taste like pumpkin; after clarifying he was not confused with flavor of cookie; we left the restaurant armed with creating a soft pumpkin cookie that did not taste like pumpkin. Sydney is not fond of pumpkin either, she generously agreed to  be the live taster. Finally after many long hours and dozens of cookies that happened to have a strong pumpkin taste eureka we created Pumpkin Pillows.
Pumpkin Pillows satisfy both pumpkin lovers and those who are less enthused with the pumpkin flavor. Amazingly everyone who has had the opportunity to try our Pumpkin Pillows, has become a fan.
Pumpkin Pillow Cookies:
Cookies:
120 grams/1-cup all-purpose flour, sifted
119 gams1-cup, plus 2 Tablespoons cake flour, sifted
5 grams/1-teaspoon baking powder
5 grams/1-teaspoon baking soda
3 grams/1-teaspoon ground cinnamon
1 grams/½ teaspoon ground ginger
½ teaspoon salt
113 grams/½ cup butter, softened
150 grams/ ¾ cups granulated sugar
147 grams/ ¾ cup lightly packed brown sugar
2 large eggs, at room temperature, lightly beaten
425 grams/15 ounces 100% Pure Pumpkin, 1 small can
1-teaspoon vanilla extract
Mascarpone Cheese Filling:
57 grams/ 4-Tablespoons unsalted butter, room    temperature
116 grams/ ½-cup mascarpone cheese, room temperature
28 grams/2-Tablespoons heavy cream
180 grams/1½-cup icing sugar
½-teaspoon vanilla extract
1 egg white, if needed
For cookies: Preheat the oven to 350 degrees F.
Line cookie sheets with parchment paper or silpat.
Prepare your mise en place. Sift cake and all purpose flour, baking powder, and baking soda, cinnamon, ginger and salt in a medium bowl, set aside.
In a standing mixer with the paddle attachment beat butter for 1 minute, scrape the bowl, paddle and add sugar on medium speed for 4 minutes.
Add eggs, one at a time, beating well after each addition.
Add pumpkin and vanilla extract; beat until smooth.
 Reduce the mixer to low speed and stir in the flour mixture until combined.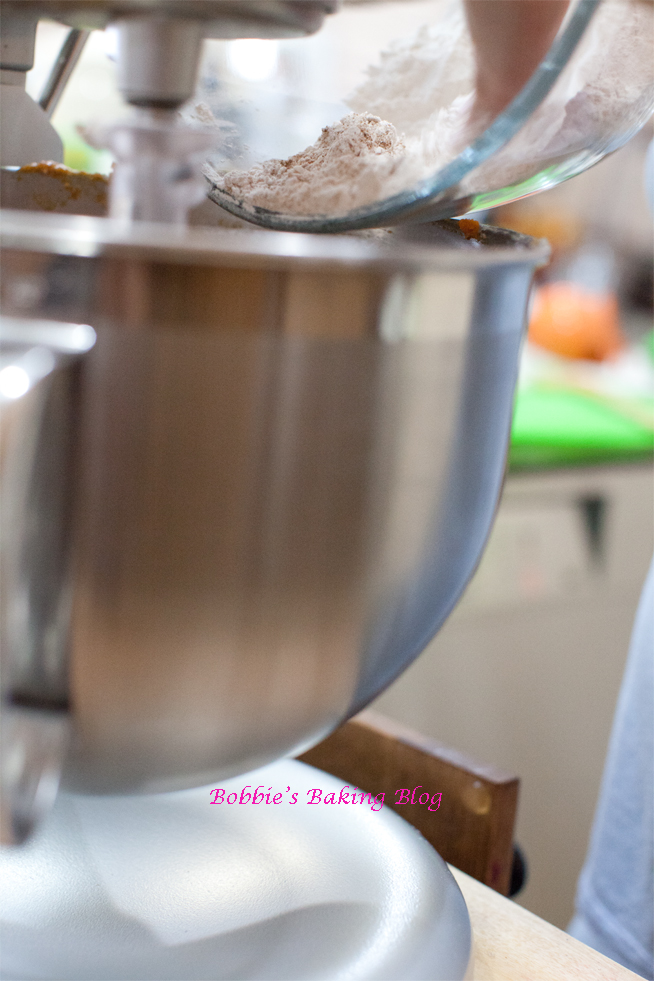 Drop by heaping measuring teaspoons onto prepared baking sheets. (There needs to be an even number of cookies).
Bake the cookies for 10 to 12 minutes or until springy to the touch.
Cool on the  baking sheets for 5 minutes; remove to wire racks to cool completely.
For Mascarpone filling: 
 Prepare your mise en place.
Beat mascarpone cheese, butter and vanilla extract in a small mixer bowl on medium speed until fluffy. Gradually beat in powdered sugar until light and fluffy. Add the heavy cream and continue to whisk till desired constancy.
Fill the pastry bag 3/4 of the way with the filling.
Pipe the filling onto the flat side of one cookie.
Top with flat side of second cookie to make a sandwich.
Repeat with the remaining cookies and filling.
Store in a covered container in the refrigerator. Serve.