A while back Sydney, DF and I were on vacation, while dining at a favorite restaurant we were offered a piece of chocolate belgium cake. My eyes widened  as my tastebuds danced with delight. The cake was moist rich and almost sinful; I realized Sydney was having the exact culinary experience…however, DF had finished his portion and inching his fork into our portions. Normally I am satisfied with a taste, however I was intent on finishing my share.
Sydney and I have for the past few years tried to recreate the fabulous palatable experience. We came close, but something was missing. Finally this past weekend we succeeded . The original cake had a bittersweet ganache top, but Sydney and I wanted to pipe rose buds and a shell border, we swapped the ganache for a rich chocolate buttercream. The next time we bake our version the Belgium chocolate cake ganache will be the topping of choice.
Although the cake is dense, richly moist, and intensely chocolate flavored, it is not heavy. The filling is a cross between a chocolate mousse and a chocolate pudding, which can be served as its own dessert in a ramekin with white chocolate curls or a dollop of whipped crème frâiche. The top can either be a chocolate buttercream like we created here or a bittersweet ganache. One bite is all it takes to become a fan!
Chocolate Belgium Cake:
30 grams/ 1/4-cup bittersweet chocolate
236 grams/1 cup boiling water
63 grams/3/4 cup cocoa powder, unsweetened
2-teaspoon instant espresso powder
326 grams/ 1 1/2-cup dark brown sugar
225/ 2 1/4 cups cake flour
1 teaspoon baking soda
1/2 teaspoon vanilla extract
226 grams/ 1-cup butter
58 grams/1/4-cup crème frâche, mascarpone or sour cream, at room temperature
200 grams/ 4 whole eggs, room temperature
236 grams/7/8- cup, 2% milk
 Prepare your mise en place.
Set a rack in the middle of the oven and preheat the oven to 180 degrees c/350 degrees F. Spray 2  8×2-inch round pans with nonstick baking flour spray, line with parchment paper, or line 1/2 baking sheet with parchment paper, sprayed with baking spray. When the cake have cooled use an 8-inch round ring and cut out two circles.( I actually prefer this method).  Set aside.
Whisk the boiling water, chopped bittersweet chocolate, espresso powder, and cocoa powder together in a small bowl, allow to cool to room temperature and set aside.
In a measuring jug add the eggs, crème frîache, vanilla extract, and milk. Whisk to combined, set aside.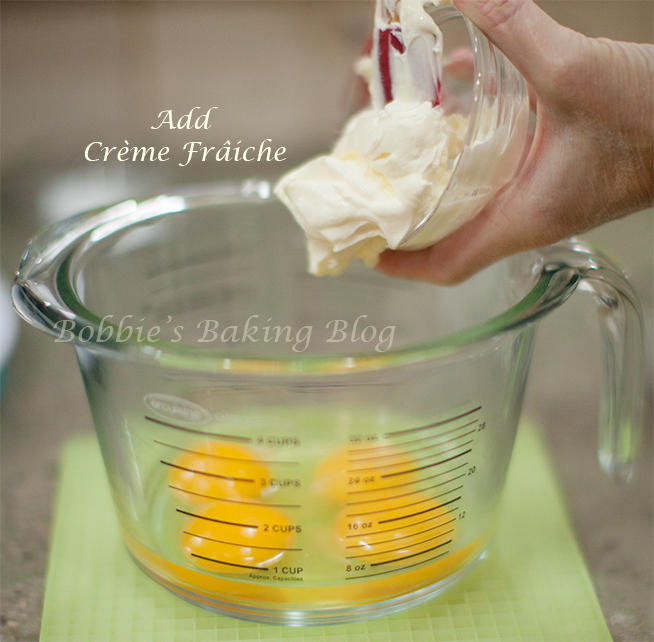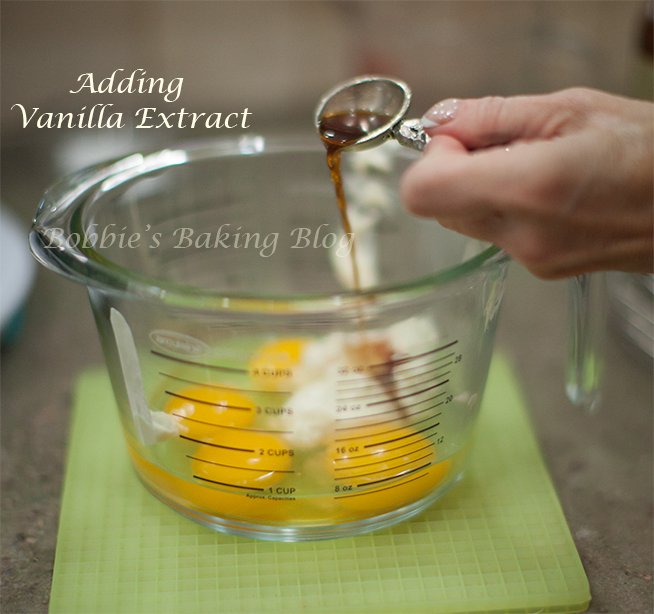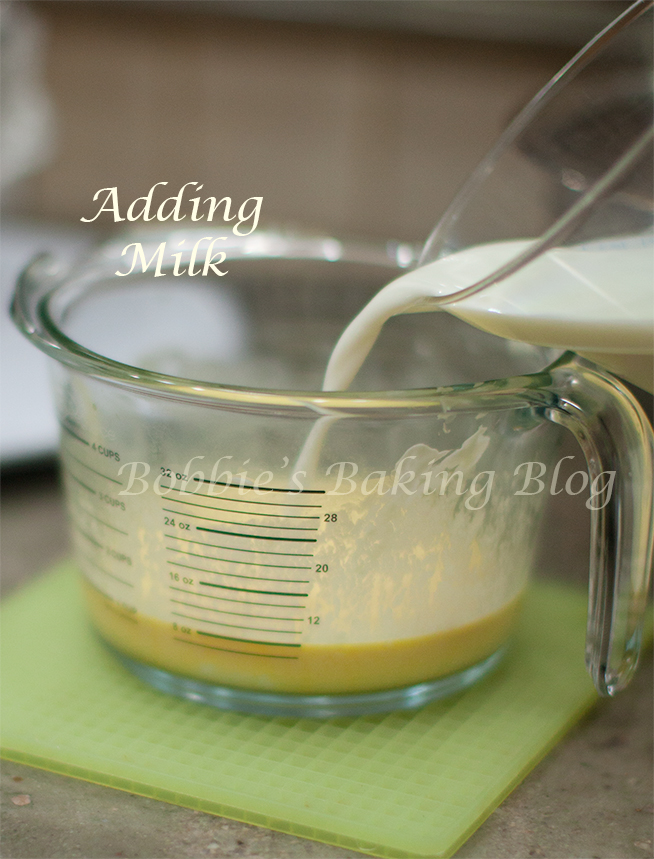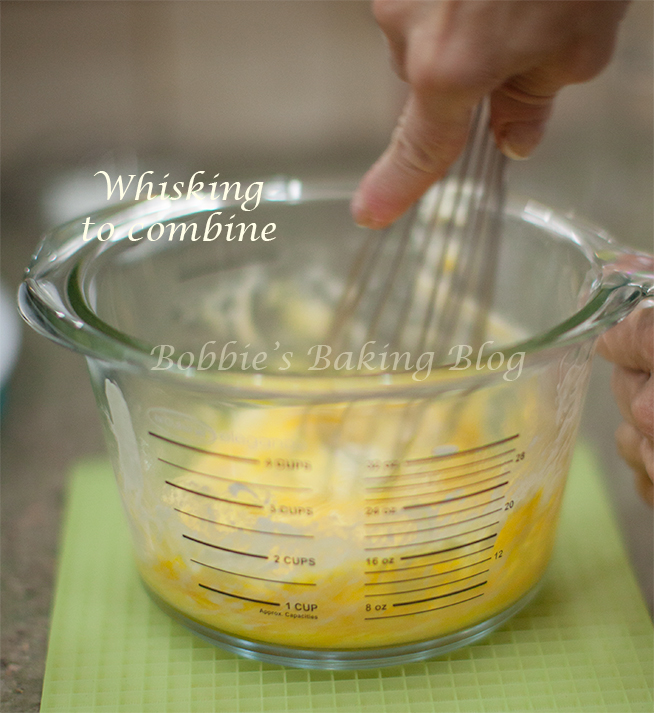 Combine the sugar, flour, baking soda and salt in the bowl of a stand mixer, fitted with the paddle attachment. Add cubed butter and milk mixture with the mixer on low, increase the speed to medium and beat for 2 to 3 minutes. (I used a French fleur de sel butter and omitted the salt).
 Reduce the speed to low add the cocoa mixture gradually in two batches. After each addition of the chocolate mixture raise the speed to medium for about 20 to 30 seconds.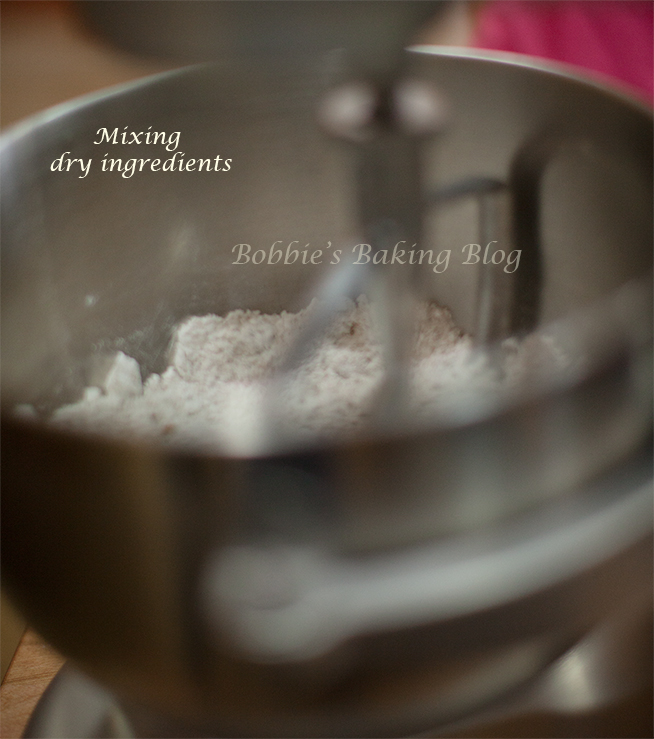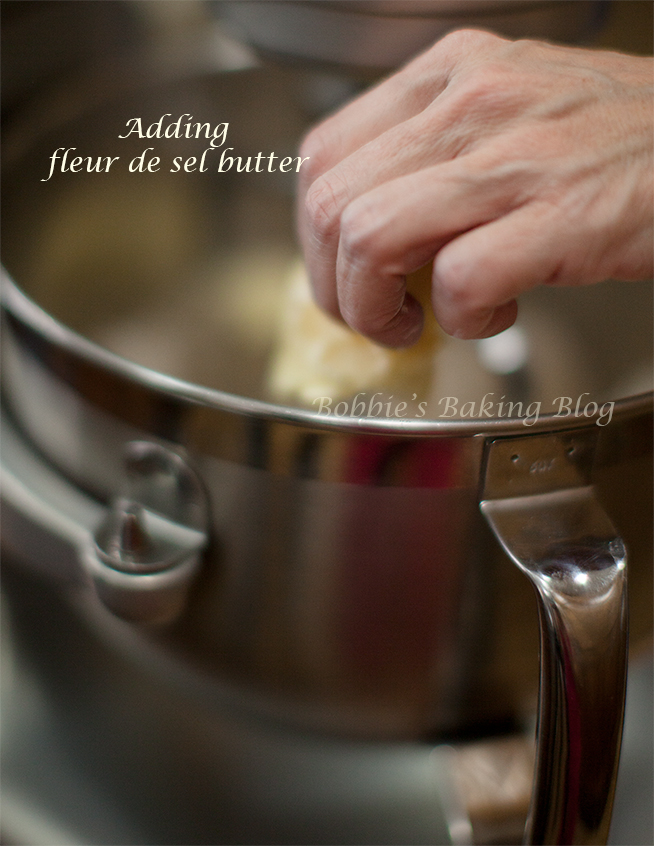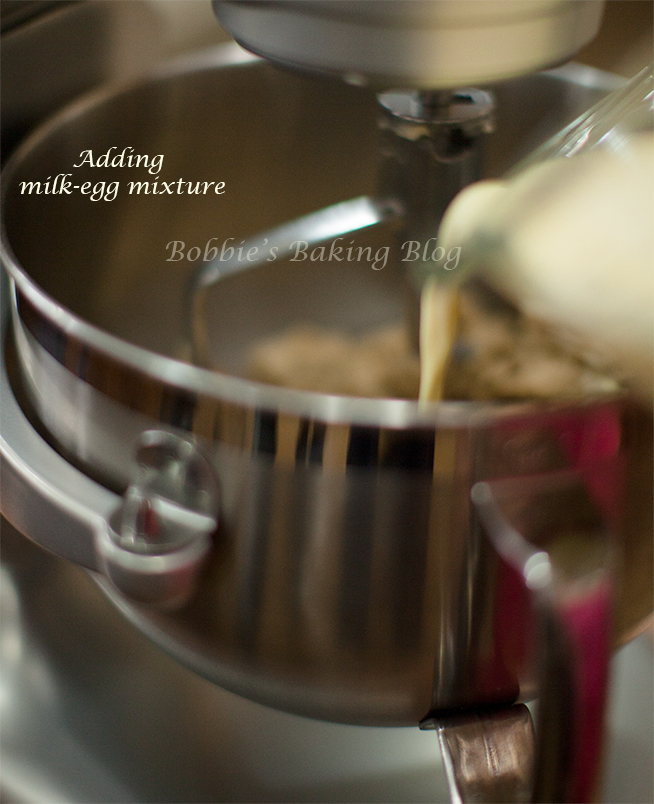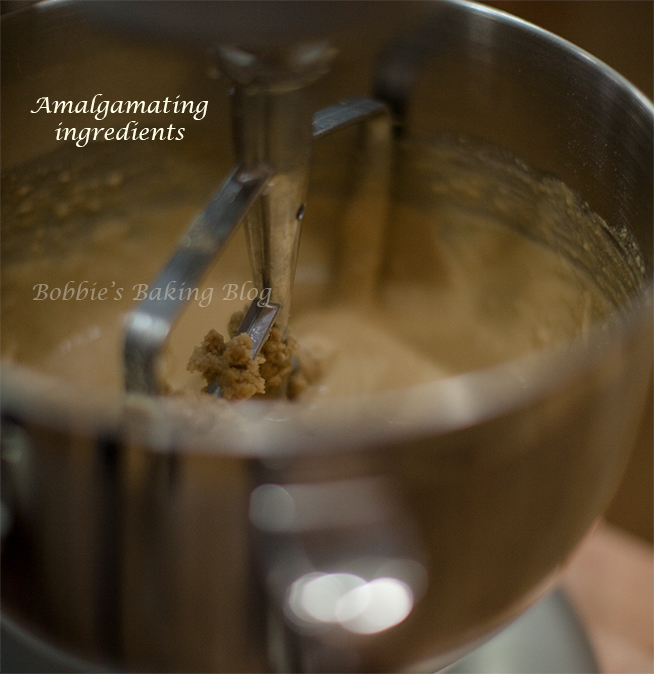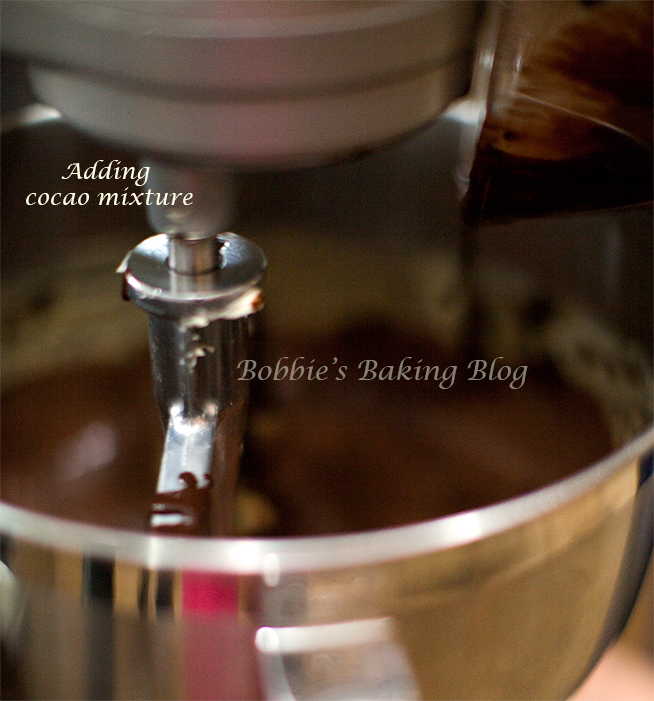 Pour the batter into a large measuring jug, this helps insure each 8-inch pan has equal amounts of batter, spread the cake batter with a metal spatula lightly.
Pour the batter into the prepared pan and bake, in the preheated oven, until the cake springs back when pressed and the house smells like rich chocolate cake; or when inserted with cake tester and the tester comes out clean from the center, about  30 to 35 minutes.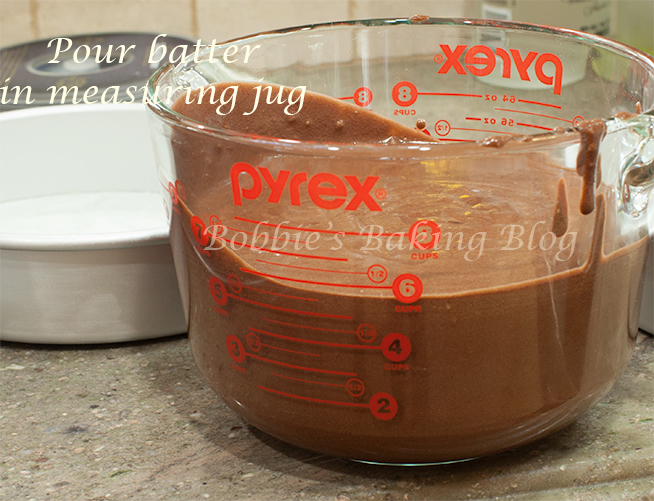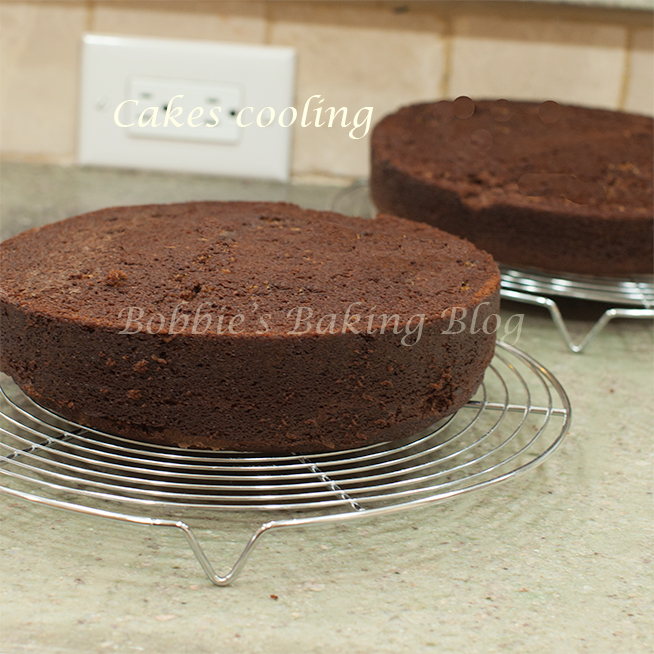 Cool in the pan on a cooling rack for 8 minutes, if necessary  run a small metal spatula between the cakes and the pan, invert on a round cooling rack, and reinvent so the cakes are right-side-up. Cool the cake completely prior to decorating about 1 hour. If decorating will be done the next day wrap the cakes in plastic film and place in the refrigerator.
Filling and Decorating the Cake:
Prepare the chocolate pudding filling.
 Chocolate mousse/pudding filling
Cut one of the two cakes in half, place on an 8-inch/ 20.32 cm cake round, and place on a cake turn table, I like using a large lifter with a handle. (Prior to placing the cake on the board place a dollop of the filling to keep the cake from moving).
Create a dam ring of the filling and add the filling into the center of dam. Spread evenly and place the second half of the cake on top, centered. I had enough of the chocolate filling to place a thin crumb coat around the cake, with an off-set spatula.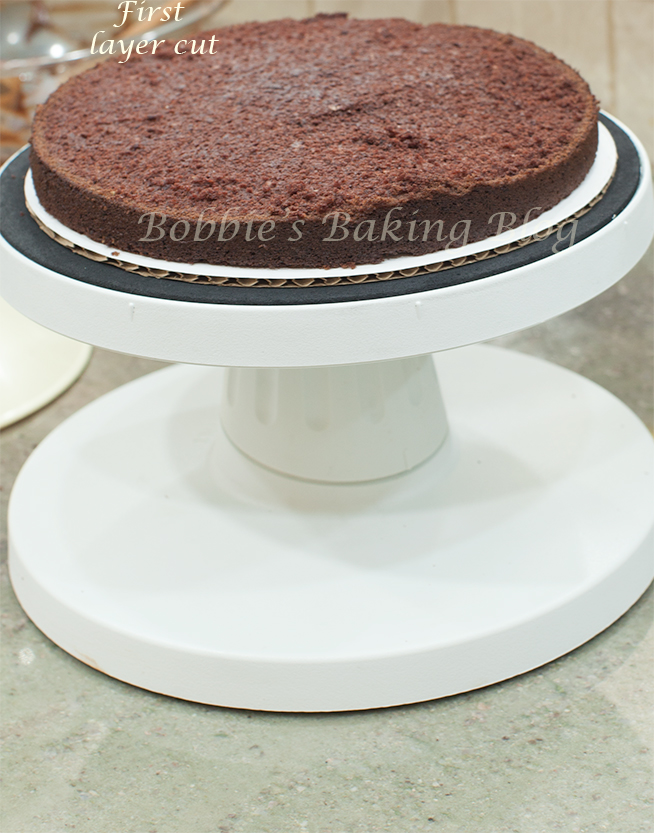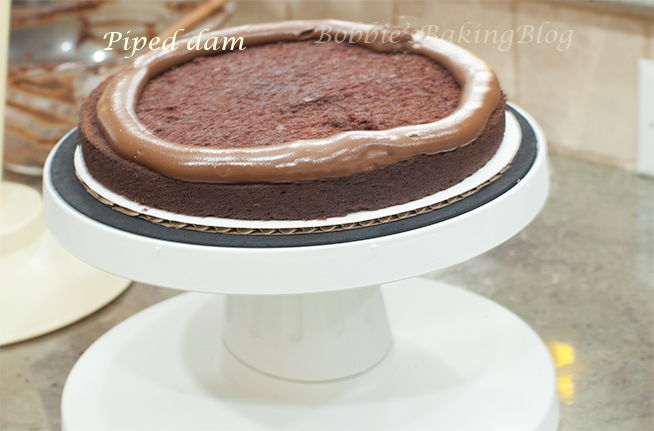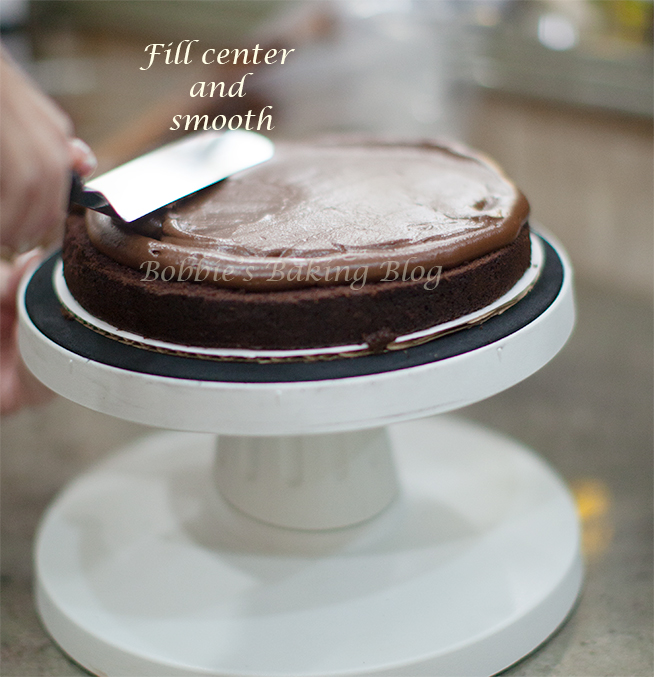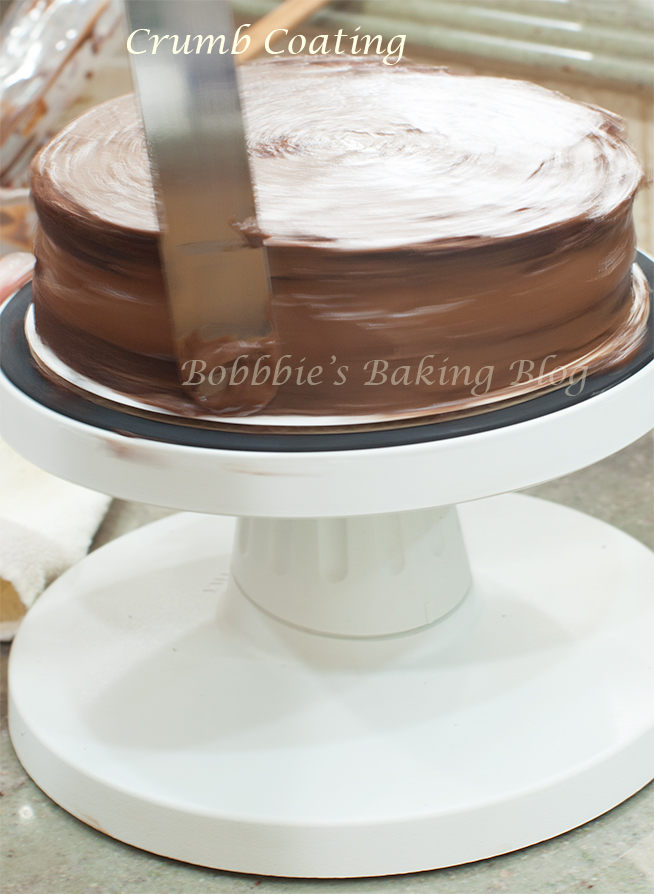 Italian Chocolate Buttercream:
 180 grams/ 6 egg whites
1/4-teaspoon egg white powder
Pinch of salt
200 grams/ 1-cup super fine sugar
25 grams/ 1/8 cup superfine sugar (for meringue/egg whites)
59 grams/ ¼-cup cold water
397 to 452 grams/ 1 3/4 -cups to 2 cups unsalted butter (should be about 17 degrees C/ 62 degrees F)
126 grams/  3/4-cup bittersweet chocolate
Cube the butter into 1-tablespoon sizes.
Prepare your mise en place.
In a heavy bottom saucepan over medium-high heat add water and pour sugar into the middle of the water swirl till combined.  Bring the sugar syrup to a boil and continue to heat till the syrup reaches 160ºC/240ºF.
 Separate the egg whites, at least 1 hour prior to using, Pour the egg whites and egg white powder into the bowl of a standing mixer fitted with the wire whip attachment. On medium speed add salt to egg whites beat till soft peaks form. Gradually add the 25 grams/ 1/8 cup of sugar to the egg whites, continue to beat on medium speed till stiff peaks begin to form. Carefully with the mixer running pour hot syrup, in a steady stream, onto the egg whites. Raise the mixer speed to high and beat till stiff and glossy.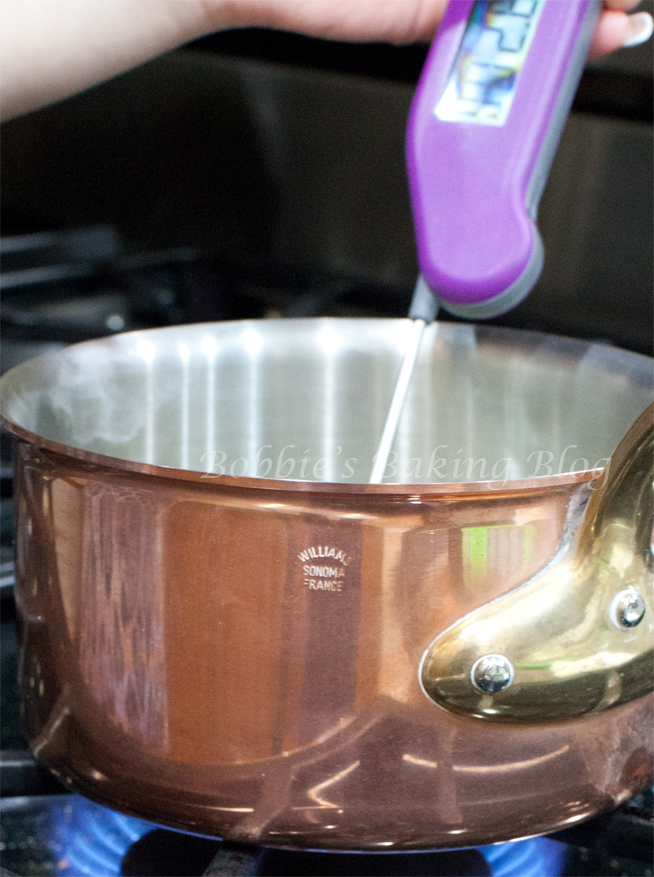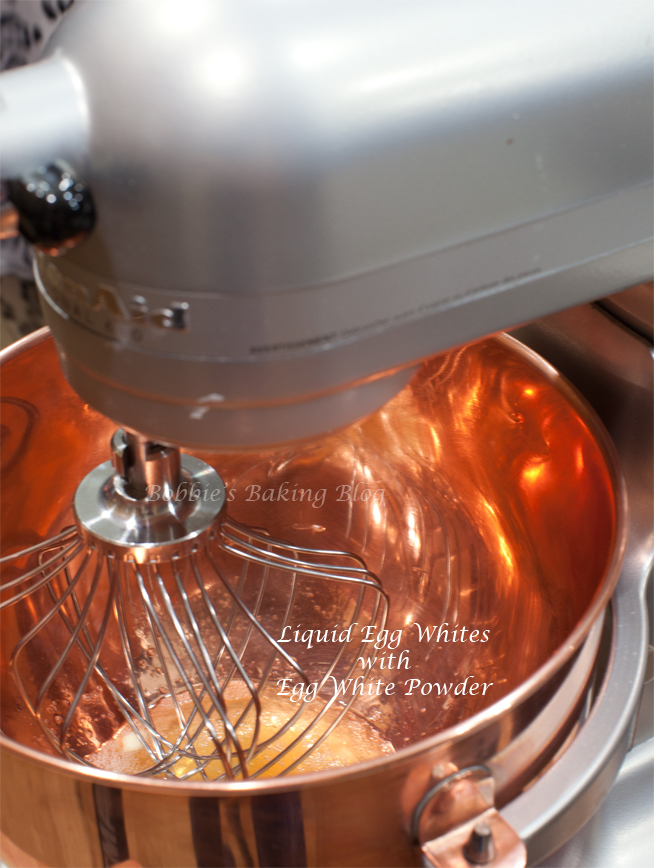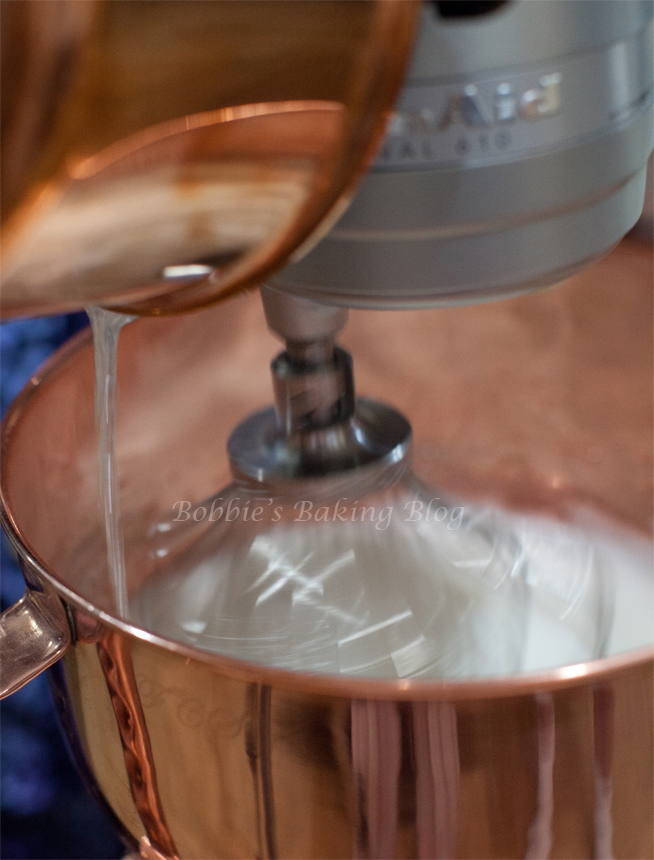 Once the meringue has cooled, after 1 to 2 minutes reduce the mixer speed to medium for 3 to 4 minutes, or until the meringue is cooled adding the butter 1 tablespoon at a time. increase the speed to medium-high until the butter is completely combined. Add the cooled melted chocolate and continue to whisk till amalgamate.
 **deflate your frosting a little to remove what may become obnoxious air bubbles. To do this, beat you frosting on the lowest speed possible of your standing/hand mixer for about five minutes, then proceed.
Begin to frost the cake with the chocolate buttercream icing, place equal amounts icing to the top of the cake, using an 8-inch/ 20.32 off-set spatula gently spread the icing to the sides creating a crumb coat. Finish icing with more of the chocolate buttercream and decorate.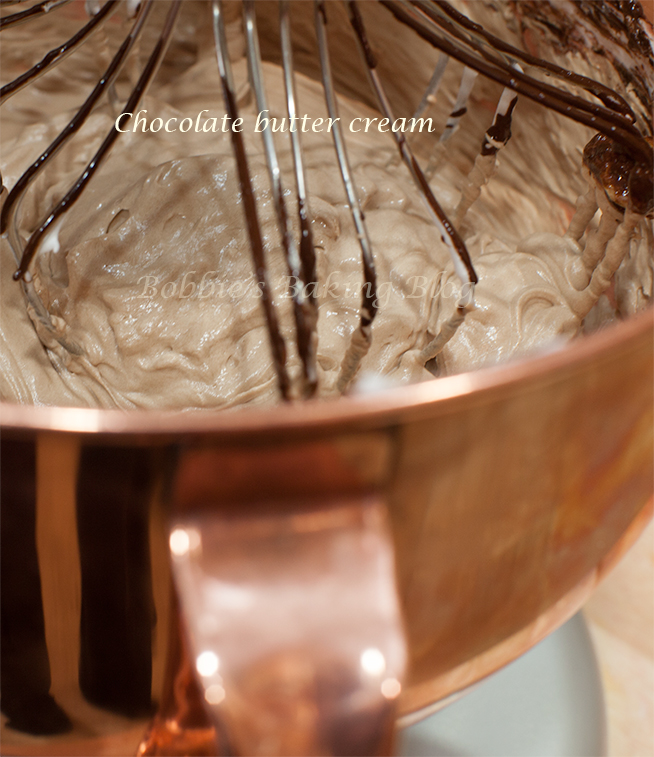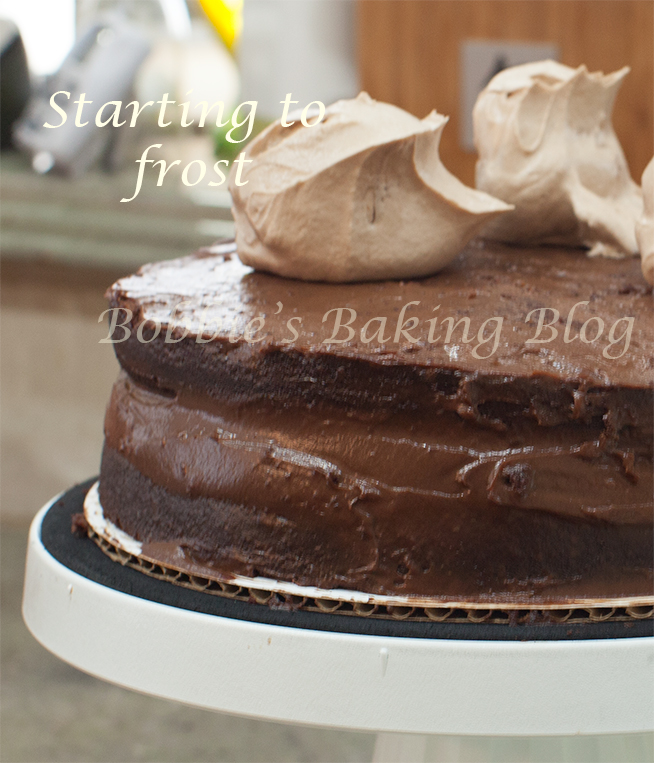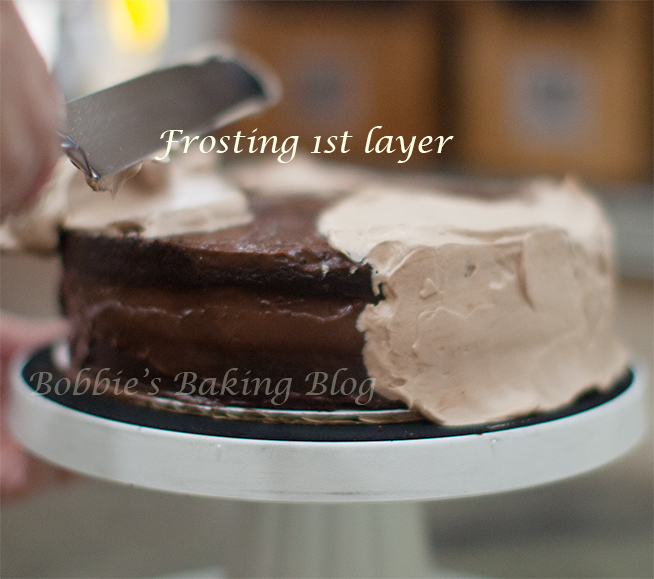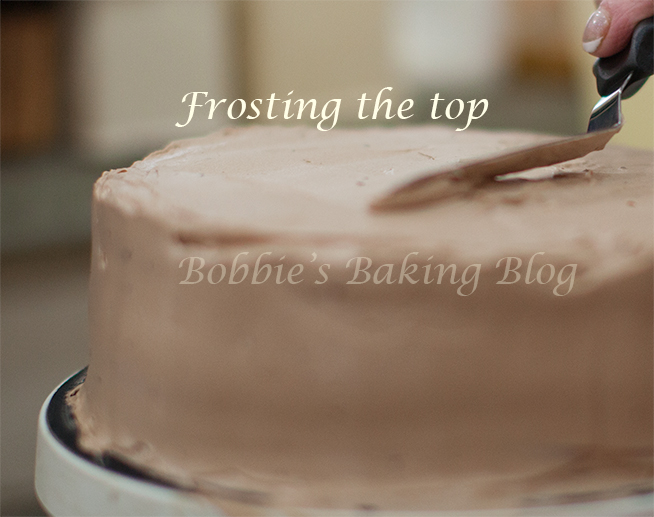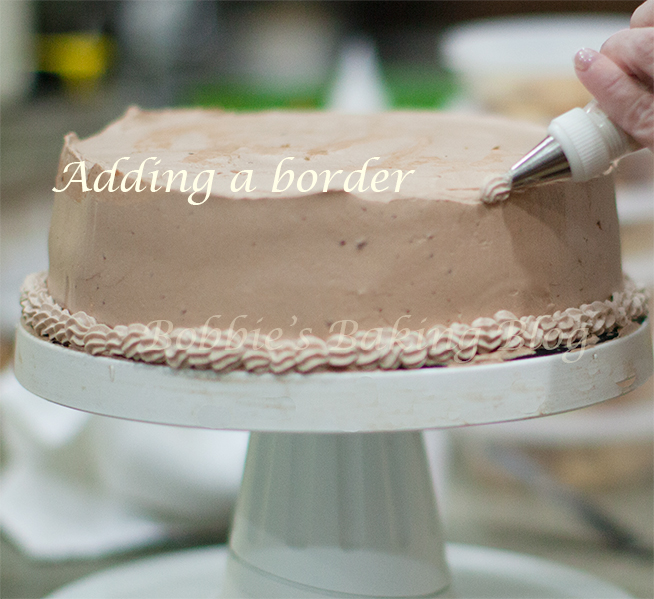 Sydney and I chose a shell border and rosebuds for the decoration.
I hope this cake is as delicious to all as it was to us!
Enjoy!