I am so pleased to be able to teach you how to  paint "Limoges" style roses on a cake, as well as cookies or anything else you might cover in fondant. I am completely infatuated with hand painted fondant; brushstrokes on a smooth fondant surface allows for more detailing than most cake decorating mediums. Hand painted cakes are a delicate work of art, image how special a friend or client will feel being the recipient of this type of cake. Whatever your eyes and taste buds want hand painted cakes has it all, if your flavor is subtle, exquisite and inconspicuous or bold, fun-loving, and adventurous than a hand painted cake will definitely reflect your style and complement your design on that special day.
It is a pleasure to teach you my technique to painting cakes and cookies! As always if you have any question please leave a comment and I will answer you!
Hand Painted Cakes or Cookies:
Equipment:
Scharff brushes, 1/2 shader, 3/8 shader, 1/4 shader, #2 flat, 1/4 rosebud brush and #1 round
Painting palate
Acetate sheet
Paper towel
Painting basin, or large glass to hold the water
A design, I was inspired by a birthday card from Sydney
Cake stand
 Plexiglass or an acetate sheet.
Material:
Food paste
Colours and brands, Sugarflair- Dusty Pink Claret, Gooseberry
Wilton Moss Green, Cornflower Blue, and Violet
Ateco Spectrum white
Cooled boiled water
Everclear or lemon extract
Cookie, cake, or cupcake covered in fondant
1- Cake cover in fondant
 Before you start,  have all your materials ready. You will want to soak your brushes for at least an hour before you begin to paint with them (this prevents the food from entering into the ferrule).
Find a comfortable chair and place your cake on a cake stand.
I will be referring to serval parts of the artist paint brush, the chisel, the toe, the heel, and ferrule.
I will also be referring to side loading the brush, if you already know skip this lecture, if do not know here is the explanation.
Generally,  when painting with normal paints you would load your brush with water, blot a little off, and grab your side load color with the toe of the brush and  wipe the  brushed chisel against your art paper.
For Side Loading Food Paste for Cakes: 
You will blot the brush almost completely dry, load the brush with everclear or lemon extract, blot a little off, and grab your side load color with the toe of the brush and wipe the brushed chisel against plexiglass or an acetate sheet.
Now the Video:
How To Hand Paint Cakes:
 If you need a refresher on the topics not covered in this video, please visit Learn How to Hand Paint Flowers on Fondant.
I painted three cakes using the method in this video; I only had time to paint the detail in the cake from this video, but I thought it might be fun to show you all three: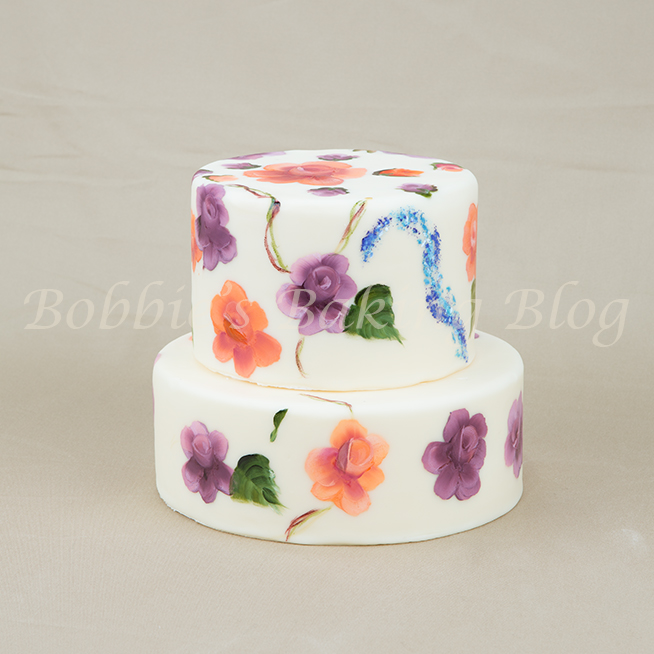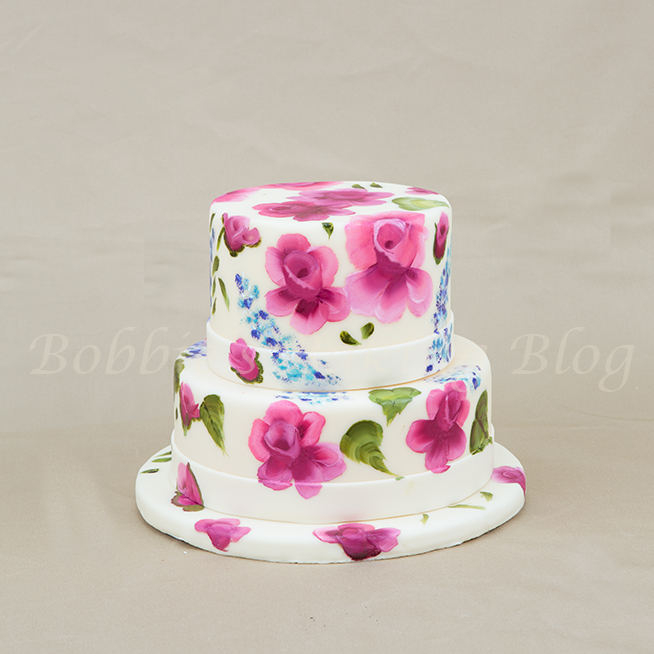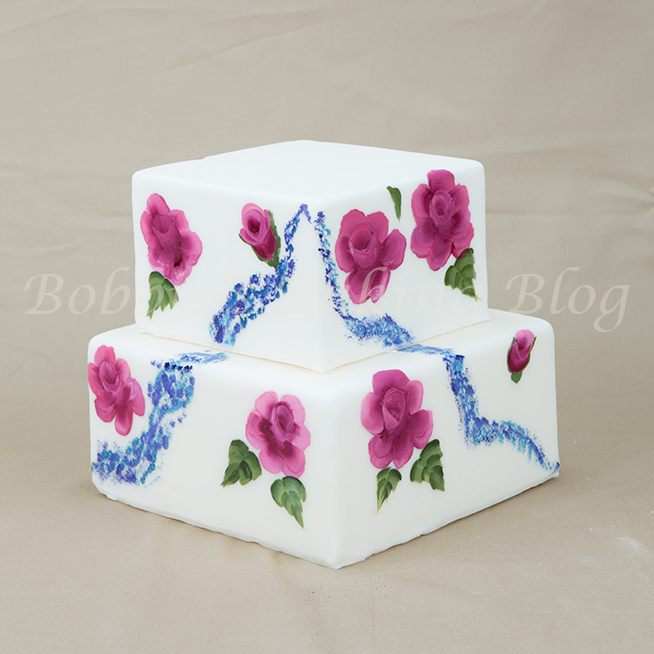 Painting on fondant has become a new cake decorating passion, along with so many other cake decorating passions. Hand painting cakes is just an added new passion, but amazingly relaxing as well!
If sugar cookies are your flavor than you  only need the a 1/4-inch angle shader, with a 1/8-inch angle shader for detail, along with #2 flat, 1/4 rosebud brush and #1 round.
Enjoy!